Ashes 2019: Steve Smith lights up Day 1 with an astounding century.
Steve Smith stroked a gritty ton as Australia and England share the spoils on the Day 1 of Ashes 2019.
ASHES: FIRST TEST, DAY ONE
AUSTRALIA: 284/10 in 80.4 overs
Steve Smith: 144(219) | Stuart Broad: 5/86
ENGLAND: 10/0 in 2 overs
Jason Roy: 6(8) | Pat Cummins: 0/3
MATCH SUMMARY
Ashes 2019, First Test- Day 1: Steve Smith saves Australia from shambles, with an innings of absolute grit and determination.
The first day of the Ashes series lives up to its hype as we witnessed a brilliant day of play. England's bowling line up, considerably without the services of ace pacer Anderson, strangled the fragile Australian batting line up. However, an innings full of character from Steven Smith made it up, big time.
Earlier, Tim Paine won the toss and elected to bat on a lively pitch, under overcast conditions. The decision backfired as Australia were left tottering at 35-3 in the 15th over of the innings. Steve Smith then paired up with Travis Head to stitch a substantial partnership. They succeeded partially as they put a 64 run partnership.
England's premier pacer James Anderson bowled only 4 overs up front as he struggled with a stiff calf. During the lunch break, it was sure confirmed that Anderson wouldn't be turning up on the field, anytime soon. The England Cricket Board too tweeted, confirming the injury scare.
Update: Jimmy Anderson has tightness to his right calf and will have a scan this afternoon. A further update will be given later today.

He felt tightness at the end of his fourth over.#Ashes pic.twitter.com/bQrrECkwOf

— England Cricket (@englandcricket) August 1, 2019
With so much happening around him, a certain Steve Smith didn't let anything stop him as he churned out runs at will. Travis Head's dismissal initiated a collapse as England's bowlers picked the fragile Australian middle order, leaving them reeling at 122-8.
The Ex-Australian skipper, Smith raised to the occasion as he stitched a wonderful partnership with Peter Siddle 44(85) and Nathan Lyon 12(26) to carry Australia to a respective total.
Steven Smith was dismissed, trying to up the ante as he was clean bowled by Stuart Broad, who picked up his 5th wicket of the innings.
The England openers came out to face two crucial overs. They survived as the hosts ended at 10-0 at the end of day's play.
THE CROWD TROUBLE

Australians were not just playing against 11 English players, but also against thousands of hostile English fans.
Cometh the Ashes, cometh the banter. The boos and the unfriendly welcome was expected, but the audience took it to the next level. Massive number of fans carried sandpaper trying to rile up and humiliate the trio(Smith, Warner and Bancroft) as they returned from the year long ban. 
Warner's dismissal ignited the crowd, as all the sandpapers waved in perfect sync. Bancroft and Smith too faced the same hostility from the crowd, but Smith silenced everyone in the crowd with his magnificent batting.
STEVEN SMITH SPECIAL
Edgbaston was treated to a Steve Smith special, as the Australian made the English toil, single-handedly. Early in his innings, Steve Smith was very cautious as Broad was in middle of a brilliant spell. Lot of plays and misses later, Smith built his innings in a sublime manner.
Farming the strike, taking singles of the last ball of the over and still scoring runs isn't an everyday thing, but Smith conquered all the inner and external demons. The one year ban has made him stronger and hungrier than ever.
We hope Mr. Consistent Steve Smith inspires Australia to an away-Ashes win.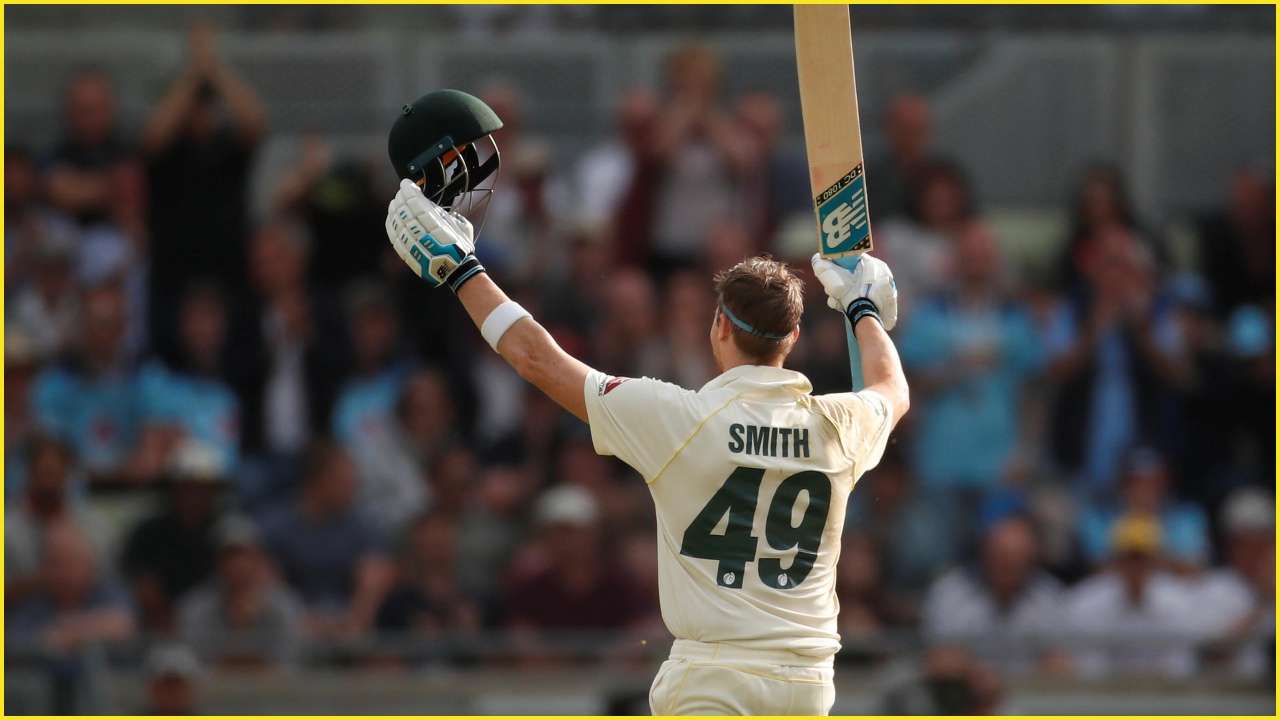 WHAT LIES AHEAD?
The first hour on Day 2 will be crucial for both the teams. The Australian pace battery would love to pick early wickets, and gain the upper hand early in the day.
On the other hand, Joe Root and his men would be looking to see off the new ball, and then lay a strong foundation for the other batsmen to cash on.
---
ALSO READ: Why Prithvi Shaw's suspension is a blessing for KL Rahul
---
©AK4TSay1 Cricket
Lakshman is an 18-year-old cricket fanatic. Just like millions of fans, his love for cricket is unparalleled. He has a passion for writing, and his emotion for the sport can be seen in his words.