Worls Cup 2019: India vs New Zealand Twitter Reactions
Twitter Reactions, India vs New Zealand: A shocking exit from World Cup 2019 sees Fans and Pundits consoling Team India for their successful campaign. 
Only 240 is what India needed to book a place in a World Cup final. But, fate had other ideas as a fighting Team India fell short of the target by 18 runs.
Who would have thought, one of the best batting line-ups of the tournament would go down chasing just 240?. Well, unthinkable does happen, and it was one of those rare collapses that cost India the World Cup.
MATCH SUMMARY:
After a determined show from Williamson and Ross Taylor, New Zealand gave India a target of 240 on what was supposedly a sluggish pitch.
Chasing 240, Team India's top-order failed miserably. Supposedly Team India's best batsmen, Rohit Sharma, Virat Kohli, and KL Rahul added just 1 run each.
With India reeling at 92-6 after 30.3 overs, Ravindra Jadeja then played the best knock of his life he scripted an amazing partnership with MS Dhoni to take the game as close as possible. However, with equation reading 32 off 14, Jadeja mistimed a slower ball, and then MS Dhoni had an unfortunate run-out that ended the hopes of a billion dreams as India fell short of the target by 18 runs.
It was indeed a disappointing end to a fantastic campaign for Team India as no one would have thought India would lose to New Zealand, and not make it to the finals. 
TWITTER REACTIONS:
Despite the disappointment, Fans and Pundits alike praised Team India for their superb campaign throughout the World Cup.
Here are some of the best Twitter reactions from India vs New Zealand first semi-final at World Cup 2019.
A disappointing result, but good to see #TeamIndia's fighting spirit till the very end.

India batted, bowled, fielded well throughout the tournament, of which we are very proud.

Wins and losses are a part of life. Best wishes to the team for their future endeavours. #INDvsNZ

— Narendra Modi (@narendramodi) July 10, 2019
Though they're a billion broken hearts tonight, Team India, you put up a great fight and are deserving of our love & respect.

Congratulations to New Zealand on their well earned win, that gives them a place in the World Cup final. #INDvNZ #CWC19

— Rahul Gandhi (@RahulGandhi) July 10, 2019
💔 just like every 🇮🇳 supporter.
A good fight put up by @imjadeja & @msdhoni but @BLACKCAPS were exceptional today.
Congrats to 🇳🇿 on making it to the Finals & all the best for the same.
I felt #KaneWilliamson's captaincy & composure played a crucial role in this result.#NZvIND pic.twitter.com/3sUlW21cgN

— Sachin Tendulkar (@sachin_rt) July 10, 2019
It was a wonderful World Cup campaign for team India, they played brilliantly and can be very proud of the way they fought.
Also many thanks to the Indian fans who were amazing and brought so much passion ,energy and so much life wherever they went. #INDvNZ

— VVS Laxman (@VVSLaxman281) July 10, 2019
Congratulations to New Zealand for making it to the final of #CWC19
Upward and onward for #TeamIndia from here on 🇮🇳🇮🇳 #INDvNZ pic.twitter.com/gsavYSJoyr

— BCCI (@BCCI) July 10, 2019
Well played India
It was a close game but New Zealand held the nerves better
Amazing knock by Jadeja
The team tried their best and we're all shattered like them
But a campaign to be proud of
We are all with you #MenInBlue

— Yusuf Pathan (@iamyusufpathan) July 10, 2019
Congratulations to New Zealand for making it to the final of #CWC19
Upward and onward for #TeamIndia from here on 🇮🇳🇮🇳 #INDvNZ pic.twitter.com/gsavYSJoyr

— BCCI (@BCCI) July 10, 2019
Well played #TeamIndia throughout the tournament!
We fought hard and took it close.#INDvNZ

— Ajinkya Rahane (@ajinkyarahane88) July 10, 2019
It matters how you fight and you fought brilliantly throughout the tournament. We are proud of you #TeamIndia. #CWC19#INDvNZL pic.twitter.com/aypHuiaPOn

— Priyanka Gandhi Vadra (@priyankagandhi) July 10, 2019
So disheartening… But still Great fight & we all are so Proud of you #TeamIndia … Big Salute !!

And somehow felt like crying to see Thala walking out after that run out…. Love you always MSD!! The LEGEND @msdhoni 🙏 pic.twitter.com/CpZYhw287h

— karthik subbaraj (@karthiksubbaraj) July 10, 2019
2003: 673 Runs 💔

2019: 648 Runs 💔

IT Hurt's 💔#INDvsNZ #TeamIndia #OneFamily #CWC19 pic.twitter.com/PlMQbMV7Qo

— MI Kerala FC (@MIKeralaFC) July 10, 2019
The Captain could be seen in Tears as well guys 💔!

Sad See to Any Indian Cricketer Like this 😔!

But We Faced it 2012 & 2016 T20WC & Today 😭!

Well Played #TeamIndia 🙏🏼💙🇮🇳! #CWC19

Proud of my Captain, Proud of my Team 🇮🇳!#ViratKohli #INDvsNZ pic.twitter.com/w1FdiCSviG

— V I P E R™ (@TheViper_OffI) July 10, 2019
I'm sad..!! Jus very sad.. #CWC19 #TeamIndia you deserved to be in the finals…🇮🇳🇮🇳🇮🇳 but it's a game and at the end of the day thank you for entertaining us nonetheless.we will always love you #dhoni..n support our team forever. #indiaforever #dhoniforever #thaladhoniforlife.. pic.twitter.com/NWlqXIkoaz

— varalaxmi sarathkumar (@varusarath) July 10, 2019
#INDvsNZ NEW ZEALANDISTAN!!!!!❤️…. And tough luck neighbours… But you played brilliantly in the tournament. Aglay worldcup mein miltay hain!

— Hamza Ali Abbasi (@iamhamzaabbasi) July 10, 2019
My team, my pride, my nation, my game. Proud of you team India. We lost the game but gave a good fight. It could have been anybody's game in the end. I stand by my team especially at the time of losses. 🇮🇳#INDvNZ #WorldCup2019

— Prajakta (@18prajakta) July 10, 2019
I'm not just a fan of winning team India I'm a fan of team India… #tomorrow #worldcup

— Irfan Pathan (@IrfanPathan) July 10, 2019
Rohit's 5 Centuries
Kohli's 5 Consecutive 50s
Dhawan & Rahul's Century
Shami's Hat Trick
Bumrah's 18 Wickets
Jadeja's Brilliant Performance in semi

Thank You Team India For Brilliant Performance In #CWC19

See You In Next WC….

— CricBeat (@Cric_beat) July 10, 2019
---
ALSO READ: World Cup 2019, India vs New Zealand: Fans furious over rain being a spoilsport in the first semi-final
---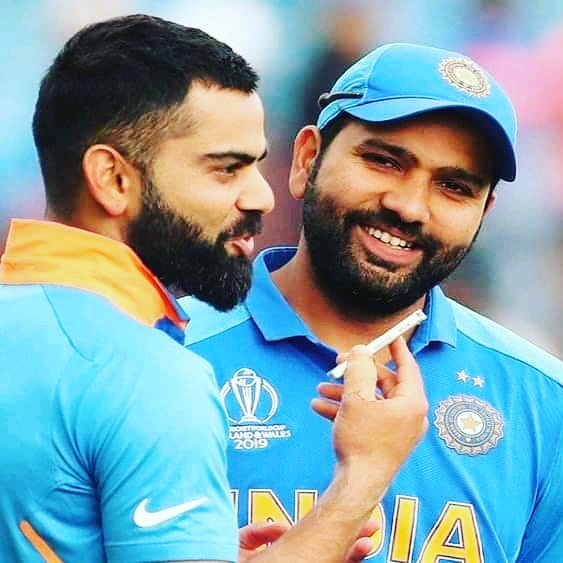 This is the official user profile for AK4Tsay1 Cricalytics