IPL 2019: Top 5 Exciting Moments- Week 1 | Part 2
Virat Kohli and Suresh Raina crossing 5000 runs, the key highlight as we look at the top 5 moments from part 2 of Week 1 of IPL 2019.
In our last article, we covered the part 1 of the top 5 most exciting moments of IPL 2019. In case you missed the article, here's the link. 
Concluding the week 1 of IPL 2019, we saw some adventurous batting display by Andre Russel,  class batting by Sanju Samson, power-hitting by David Warner, amazing death bowling by Jasprit Bumrah and much more. 
So, let's revisit the part 2 of the top 5 most exciting moments from week 1 of IPL 2019. 
#5: VIRAT KOHLI AND SURESH RAINA CROSS 5000 RUNS IN IPL
In the 7th T20 between Royal Challengers Bangalore and Mumbai Indians, Virat Kohli became the second batsman to complete 5000 runs in the IPL. In the process, he also became the quickest batsman to reach 5000 runs in just 157 innings.
Currently, Kohli has 5000 runs from 157 innings at an average of 38.16 and a strike rate of 130.61.
Previously, Suresh Raina became the first player to cross the 5000 runs in the IPL in the first T20 between Chennai Super Kings and Royal Challengers Bangalore.
Suresh Raina is currently leading the charts with 5034 runs from 174 innings at an average of 34.3 and a strike rate of 138.41.  
#4: ANDRE RUSSELL'S BLITZ TAKES DOWN KXIP
Another day, another Andre Russell's Blitz as Russell takes down Kings XI Punjab with some atrocious hitting. 
Russel came in to bat at 146-3 in the 15th over. KKR were already getting a move on after Rana tore apart the KXIP's bowling in the previous few overs. 
Russell, however, got a lifeline after getting bowled on a no-ball as only three fielders were inside the ring. Using the lifeline, Russell made full use of that as he made a mockery of KXIP's bowling. He first scored 20 of Bhuvi's 18th over and then 22 of Shami's 19th over. 
He ended his innings on a score of 48(17) with 3 fours and 5 sixes and an amazing strike rate of 282.35.
#3: THE MYSTERY SPINNER, VARUN CHAKRAVARTHY'S NERVOUS DEBUT
Varun Chakravarthy has been the talking point since the IPL 2019 Auctions took place. He was the highest sold uncapped player as he got sold for a record INR 8.4 Cr to Kings XI Punjab. 
Coming to his debut over in the IPL, Sunil Narine treated him like a gully cricket bowler as he smashed 6, 2, 4, 6 and 6 in the overtaking the tally to a total of 25 runs in his first over in the IPL.
However, Varun did come back stronger as he ended his spell on 3-0-35-1 with an important wicket of inform, Nitish Rana. 
Hopefully, he performs well in the coming matches.
#2: SANJU SAMSON HITS FIRST CENTURY OF IPL 2019
What a moment in the 8th match between the Sunrisers Hyderabad and the Rajasthan Royals as Sanju Samson scored the first century of IPL 2019. 
After a slightly modest start of 10(10), Sanju changed his gear quickly as he scored his 50 of just 34 deliveries, Sanju went into beast mode as smashed Bhuvneshwar Kumar for 6,4,4,2,4 and 4,  making it 24 of the 18th over.  
He didn't stop there as he smashed another six and a four to complete his 100 of just 54 deliveries.
In the end, he remained not-out on the score of 102(55) with 10 fours and 4 sixes at a strike rate of 185.4.
#1: JASPRIT BUMRAH'S MAGICAL DEATH BOWLING & NO BALL CONTROVERSY
The best moment belongs to the magical bowling spell by Jasprit Bumrah and the no-ball controversy on the final ball of the RCB innings.
In a match where AB de Villiers made a mockery of Mumbai Indians' bowling, Jasprit Bumrah bowled one of the best death bowling spells. 
RCB required 41 of the last 4 overs as Abd was tearing apart the Mumbai Indians bowling, and an RCB win looked more favorable. That's when Jasprit Bumrah brought all his experience into the picture to snatch the win out of RCB's jaws. 
His 17th and 19th over, read "W, 1, 0, 0, 0, 0″ and "1, 1LB, 1 Wide, W, 0, 1, 1″ as he gave only 5 runs in his last two overs as he finished his amazing spell on 4-0-20-3.
While other bowlers were getting hammered, Bumrah kept his calm, and produced a magical death bowling display to help Mumbai Indians get those 2 crucial points. 
NO-BALL CONTROVERSY
Coming to the no-ball controversy, RCB required 7 of the last ball. Malinga bowled the last ball, which was apparently a no-ball; a mistake, which wasn't spotted by the umpire. Shivam Dube, the striker could only score a single of that ball. 
Both the captains spoke strongly on the umpiring gaffe in the match. The losing captain, Virat Kohli, in particular, was very furious as he spoke in the post-match presentation. These were his exact words,
"We are playing at the IPL level and not playing club cricket. The umpires should have had their eyes open. That is a ridiculous call (last ball). If it is a game of margins, I don't know what is happening. They should have been more sharp and careful out there" – Virat Kohli, Captain of Royal Challengers Bangalore
In the end, Mumbai Indians won the match by 6 runs as AB De Villiers remained not-out on 70(41).
Given below are the key stats of IPL 2019 as of 29 Mar, 2019. 
IPL 2019 STATS- 29 MAR, 2019
Most Runs: 154 (David Warner, SRH)
Most Wickets: 5 (Yuzvendra Chahal, RCB)
Highest Score: 102* (55) (Sanju Samson, RR)
Best Bowling: 4-38 (Yuzvendra Chahal, RCB)
Thanks for reading! Which of the above mentioned moments from week 1 of IPL 2019 did you enjoy the most? Please, let's know in the comments. 
---
ALSO READ: IPL 2019: Analyzing Strengths and Weaknesses of Chennai Super Kings
---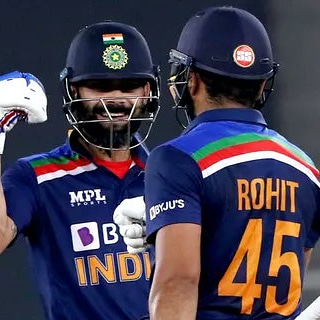 Adesh Kothari is the founder of AK4Tsay1 Cricalytics.
Cricket to him is like what 'Football is to Lionel Messi', 'Singing is to Lata Mangeshkar', 'Dancing is to Michael Jackson', and what 'Acting is to Clint Eastwood'.
Besides his effervescent love for Cricket, Adesh is an MBA by qualification.