No Hardik Pandya for Australia series- What next now for Team India?
Hardik Pandya has been left out of the Australia Series due to injury.
Team India are to play their final ODI series against Australia before the 2019 World Cup. Team India named a full-strength squad of 15, which is almost the side expected to travel to England for the 2019 World Cup.
However, before they could enter their ideal XI, Team India have suffered a major blow. Hardik Pandya, India's key all-rounder has been ruled out of the Australia series due to the stiff lower back. He has been replaced by Ravindra Jadeja for the ODI series.
It is a no brainer that Hardik Pandya is an integral member of the India side., and with him not in the side, the team combination changes drastically.
So, let's find out in what ways Team India can field their XI in the upcoming ODI series.
Is Vijay Shankar a like for like replacement?
Vijay Shankar displaced Ravindra Jadeja for the backup all-rounder spot with his consistent and impressive performance against New Zealand. Now that Hardik Pandya isn't there, is he good enough to fill in the shoes of Hardik Pandya? Let's analyze it from all angles
Batting:
This is one area where Vijay Shankar excels. His recent performances in New Zealand were proof of that. Now, he may not be as attacking as Hardik, but he has the skill and intent as seen from the matches he played recently.
Bowling:
Hardik Pandya and Kedar Jadhav were expected to complete the quota of 10 overs between them, and some times even more if the other bowlers get hammered.
For Kedar and Shankar, more than 10 overs in a match would be a huge task, but they can certainly complete the expected quota of 10 overs between them. 
Is Ravindra Jadeja a wise choice in absence of Hardik Pandya?
Jadeja may not be a like for like replacement for Pandya, but he brings his own strengths to the table.
Let's see how the team combination changes once he is drafted in the team.
Yuzvendra Chahal or Kuldeep Yadav misses out:
Jadeja is a bowling all-rounder, and that means, either of the two wrist spinners will have to sit out, and an additional batsman will need to be drafted in.
Rishabh Pant gets more game time:
Rishabh Pant was anyway expected to get more game time, but with Jadeja playing in the XI, he can get more games, and play as a finisher alongside Kedar at 6 or 7.
Analyzing the current situation, Vijay Shankar looks the best bet to play in place of Hardik Pandya.
Here's an ideal XI for Team India for the first match of the ODI series 
Batsmen: Rohit Sharma, Shikhar Dhawan, Virat Kohli, Ambati Rayudu and MS Dhoni
All-rounders: Kedar Jadhav and Vijay Shankar
Bowlers: Bhuvneshwar Kumar, Kuldeep Yadav, Yuzvendra Chahal, and Jasprit Bumrah.
What do you think of the current situation? Is it a blessing in disguise for the Indian team?
Thanks for reading! Will Vijay Shankar prove his worth? Please, let's know in the comments. 
---
ALSO READ: Six Interesting Takeaways from Ranji Trophy 2018-19
---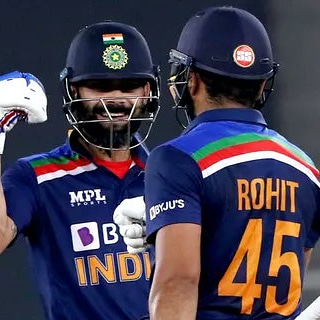 Adesh Kothari is the founder of AK4Tsay1 Cricalytics.
Cricket to him is like what 'Football is to Lionel Messi', 'Singing is to Lata Mangeshkar', 'Dancing is to Michael Jackson', and what 'Acting is to Clint Eastwood'.
Besides his effervescent love for Cricket, Adesh is an MBA by qualification.