Sachin Tendulkar asks for reunion suggestions with Vinod Kambli
Sachin Tendulkar and his childhood friend, Vinod Kambli share a nostalgic moment on Twitter. 
We all know Team India's batting maestro, Sachin Tendulkar & Vinod Kambli's friendship goes back to their childhood days when they started playing cricket together. 
They are well remembered for their mammoth 664 runs partnership playing for Shardashram Vidya Mandir against St. Xavier's in Harris Shield on February 24, 1988.
Do you know, It was the highest partnership for any wicket in any class of Cricket; the tournament organized by the Mumbai School Sports Association (MSSA).
31 years since, Sachin and Kambli's friendship is well intact, and has been spreading major friendship goals. 
Recently, the batting maestro took to Twitter to share their throwback pic. They are seen putting arms around each other as it brought their childhood memories to Sachin Tendulkar. 
Kamblya, found this photo of ours from our school days.
Memories came rushing back and thought of sharing this. pic.twitter.com/pUkOablTAX

— Sachin Tendulkar (@sachin_rt) August 3, 2019
To which, Vinod Kambli narrated his side of the story. Kambli said, he got scolded by their coach, Mr. Achrekar sir as he was seen flying kite in the middle of the playground; quite funny. 
This brought back memories, Master!😀
You remember this one time when we were batting & a kite fell on the pitch. I took the kite & started flying it.
You saw Achrekar Sir coming my way but didn't tell me and we both know what happened next! 😡 🥊

Aathavtay ka? https://t.co/42a0pvoQd3

— VINOD KAMBLI (@vinodkambli349) August 3, 2019
Sachin Tendulkar, who felt so nostalgic and emotional after hearing Kambli's story that he couldn't resist asking Vinod Kambli to come over to do have fun. 
Kasa visru shakto!
Miss our playing days.🏏
Why don't you come over, we'll do something fun.
Guys, any suggestions?😀 https://t.co/TIoABbfdGM

— Sachin Tendulkar (@sachin_rt) August 3, 2019
Sachin then asked Twitterati to come up with suggestions for a fun reunion. 
Twitterati as we know isn't far behind when it comes to unique, out of the box, and funny comments on such occasions. Here are some of the most awesome tweets on Sachin Tendulkar's suggestion for a fun reunion.
Sachin 11 Vs Kambli 11 😀

— Tajinder Pal Singh Bagga (@TajinderBagga) August 3, 2019
Score another 600+ partnership at Shivaji Park this time…

— Hariharan Durairaj (@hari_durairaj) August 3, 2019
Master we need & want charity matches or Any league dying to see you in between those 22 yards 😭

— Sachin🇮🇳 Tendulkar FC CrickeTendulkar (@CrickeTendulkar) August 3, 2019
Instead of "you come over" say "i am coming" 😊

— Amit (@gargamitk) August 3, 2019
Underarm gully cricket with those typical rules like –

1 tip – 1 hand out.
Direct hut to the wall – out

— Pranjal Chaudhari (@PranjalC23) August 3, 2019
Remake your old pics! And post "then" and "now"

— Gaurav Gupta (@gauravgupta1500) August 3, 2019
Break your school record again

— Anirudha Mhatre (@a8m4) August 3, 2019
A cricket chat show of your own! Both of you as anchors.

— Ric J. 🇮🇳 (@ric_2009_j) August 3, 2019
क्रिकेट ऑल स्टार्स चा नवा सीझन ? २२यर्डस मध्ये आमच्या सचिनला बघण्यासाठी डोळे तरसून गेलेत 😭😭

— Sachin🇮🇳 Tendulkar FC CrickeTendulkar (@CrickeTendulkar) August 3, 2019
कर लो जो करते हो अम्पायअर की ज़रूरत हो तो बता दियों 🧢

— Dadi Chandro Tomar (@realshooterdadi) August 3, 2019
Remember that kite that was injured on your balcony – go check on the .org that looks after birds like that!

— Udita Banerjee (@AuditBanshee) August 3, 2019
Whatever Sachin and Kambli do, we just hope we get a glimpse of it.
---
ALSO READ: India vs West Indies Stats Wizard: Top 5 knocks in T20 Internationals
---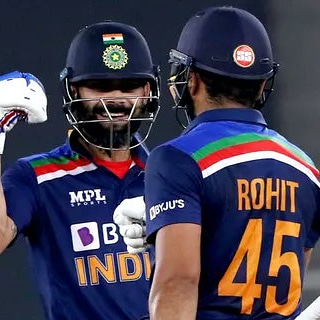 Adesh Kothari is the founder of AK4Tsay1 Cricalytics.
Cricket to him is like what 'Football is to Lionel Messi', 'Singing is to Lata Mangeshkar', 'Dancing is to Michael Jackson', and what 'Acting is to Clint Eastwood'.
Besides his effervescent love for Cricket, Adesh is an MBA by qualification.