Sachin, Virat and Sehwag react to Ambati Rayudu retirement
Sachin Tendulkar, Virat Kohli, Virender Sehwag, and other cricketers took to Twitter to wish Ambati Rayudu on his painful retirement.
After being ignored as the replacement for the injured, Vijay Shankar, Ambati Rayudu made a shocking announcement as he officially bid goodbye to his short and unfortunate career. 
Ambati Rayudu, a teenage sensation has had a career full of controversies, misunderstandings, and a lot of bad luck.
Arguably, one of the most gifted players from Andhra Pradesh, Ambati Rayudu started his career in 2004 when he led India to the semi-finals of the U19 World Cup(2004). But, an unfortunate stint with ICL, and the consequent ban meant Rayudu had to wait a lot to play International Cricket.
Moreover, after his debut for India in 2013, he didn't consistent chances to make a statement for himself. However, he made the most of whatever limited opportunities were presented to him. An average of 47 after having played 50+ ODIs is very impressive.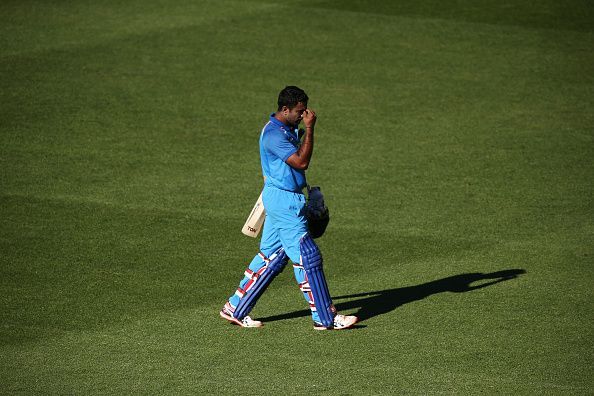 THE MISFORTUNE
Rayudu's exclusion from the World Cup could probably be the most frustrating time of his career.
He was in the preliminary list of 15 players for the tournament, but a lean run in the Australia series and IPL 2019 saw him lose his place to Vijay Shankar.
Ambati Rayudu, similarly to his entire career was named as one of the two standbys. But, two injuries and two surprising selections saw Ambati Rayudu take shocking retirement. 
His infamous tweet on Vijay Shankar's selection too sparked a lot of trolling and controversy.
Just Ordered a new set of 3d glasses to watch the world cup 😉😋..

— Ambati Rayudu (@RayuduAmbati) April 16, 2019
As he ended his career, Sachin, Virat and a lot of other players wished Rayudu on his retirement.
Let us have a look at a few of the tweets that speak gold for Rayudu.
TWITTER REACTIONS
Thank you for all your contribution to Indian Cricket, Ambati. Have fond memories of spending time with you during your stint at @mipaltan.
Wishing you all the best for your 2nd innings. pic.twitter.com/3ueULd6xPu

— Sachin Tendulkar (@sachin_rt) July 4, 2019
Wish you the best going forward Ambati. You're a top man 👊🙂👏@RayuduAmbati

— Virat Kohli (@imVkohli) July 3, 2019
Must definitely be very painful at being ignored for the WorldCup for #AmbatiRayudu but I wish him all the very best in life after retirement.

— Virender Sehwag (@virendersehwag) July 3, 2019
Goodbyes are always hard! Congratulations on an amazing cricketing career, @RayuduAmbati. What a journey it has been! Will miss our dressing room conversations! Onwards & Upwards, my friend! pic.twitter.com/gCDrwnRIsA

— Suresh Raina🇮🇳 (@ImRaina) July 3, 2019
Had some great moments with you on and off the field buddy. @RayuduAmbati have a good retired life. 👍#Rayudu

— Ashwin Ravichandran (@ashwinravi99) July 4, 2019
Really feel for #AmbatiRayudu. Always gave it everything he had but sometimes was left holding the wrong cards. So hope he continues in domestic white ball cricket so that we can see his wholehearted style of play in the #IPL. This is an emotional moment but there is a tomorrow

— Harsha Bhogle (@bhogleharsha) July 3, 2019
What surprises me most is that the entire @BCCI current selection panel had an unfulfilled career themselves!!!Even then they could not give a fair run to talent like @RayuduAmbati. What a shame!!! While it's important to win titles, guess it's more important to have a heart.

— Gautam Gambhir (@GautamGambhir) July 3, 2019
No one can feel the real pain; a players pain. #AmbatiRayudu takes a decision to retire suddenly; would have been a painful decision. Once selected in the list of World Cup probables he should not be over looked. Very unfair; for any player. #CWC19

— Anjum Chopra (@chopraanjum) July 3, 2019
AMBATI RAYUDU'S CAREER IN NUMBERS: 
ODIS
Matches: 55 | Runs: 1694 | Average: 47.06 | Highest: 124*
T20IS
Matches: 6 | Runs: 42 | Average: 10.50 | Highest: 20
IPL:
Matches: 147 | Runs: 3300 | Average: 28.69 | Highest: 100*
FIRST CLASS: 
Matches: 97 | Runs: 6151 | Average: 41.56 | Highest: 210
List A
Matches: 160 | Runs: 5103 | Average: 40.82 | Highest: 124
CONCLUSION
We are still in shock over his sudden retirement, but, Rayudu has done really well in his short stint with the Indian team. We wish him the very best in his future endeavors.
---
READ MORE: The emergence of the talented, Mayank Agarwal
---
©AK4TSay1 Cricket
Lakshman is an 18-year-old cricket fanatic. Just like millions of fans, his love for cricket is unparalleled. He has a passion for writing, and his emotion for the sport can be seen in his words.