Stats Wizard Exclusive: Top Knocks by Chris Gayle in ODIs
Chris Gayle 215, the highlight as we look at his top knocks in ODIs. 
Christopher Henry Gayle or 'The Universe Boss' as they call him has finally decided to end his 20 years long successful ODI career as the upcoming world cup 2019 shall be his last appearance in ODI cricket. 
If we have to associate one adjective with Chris Gayle, it will certainly be Entertainer. Such has been his impression in world cricket that he has redefined entertainment with his fierce and belligerent hitting.
These 20 years have seen some of the most magnificent knocks played by the big man, but how do we calculate his top 3 knocks? No better way to find out that our validated performance points methodology.  
Methodology:
To leave out the biases and perceptions, we have kept things simple with our methodology by comparing the performance points of different innings based on the following calculation.
The objective here is to consider the overall aspect of the game such as runs scored, strike rate, fours, sixes, the man of the match awards won and consistency. That is how we have defined our methodology. 
Right then, let's find out the top 3 knocks by Chris Gayle in ODIs.
---
 #3: 135 (129) V NZ, 2009
Fours: 9 | Sixes: 5 | SR.: 104.65
Performance Points: 210 Points
With the series at stake, Chris Gayle did everything possible in this rain-curtailed match as he smashed a magnificent century against New Zealand in 2009.
Batting first, Chris Gayle like most of the time started slowly and patiently. He scored 17 of his first 24 balls, but soon increased his tempo scoring run a ball to reach his fifty in 57 balls.
New Zealand did keep things tight in the middle as the West Indies scored at less than 4 runs per over until the 28th over. However, Gayle was going well at a strike rate of 86.
As Gayle completed a determined century of 110 balls, he went after the bowling as he added 35 of the next 19 balls.  Gayle ended his innings on 135 as West Indies reached a respectable score of 293 in 50 overs. The rain did help the chasing team as New Zealand won the match by 9 runs by D/L method.
Gayle was awarded the man of the match for his phenomenal century.
---
 #2: 140 (127) V IND, 2002
Fours: 12 | Sixes: 5 | SR.: 110.23
Performance Points: 225 Points
November 2002, a build-up before the 2003 World Cup, Chris Gayle played a knock that shattered India's bowling.
After putting in to bat first, West Indies and Chris Gayle looked on the song since the start. Chris Gayle completed his half-century off just 30 balls as West Indies added 80 for the first wicket in just 9 overs.
Gayle then slowed down after his fifty as he added only 14 runs in the next 30 balls, and added another 36 runs in 41 balls to complete his determined century.
We say determined because Gayle looked set for a big knock, and he did just that as he added another 40 runs of just 26 balls.
Gayle's knock of 140 helped West Indies post a superb total of 324, but it was not enough as India chased the mammoth total in 47th over.
This was another instance of Gayle being awarded the man of the match for his blistering knock even though they ended on the losing side.
---
#1: 215 (147) V ZIM, 2015
Fours: 10 | Sixes: 16 | SR.: 146.25
Performance Points: 300 Points
Now, Zimbabwe may not match the quality of India as an opponent, but a 200 in One Day Internationals is always special.
It was indeed a special inning from Chris Gayle as this was also the first double hundred scored in a World Cup, and also the fastest double century of all time. Batting first, West Indies lost Dwayne Smith on the first ball. Gayle took the time initially as if he had decided that it was a big day today. His first six came in the 11th over, which was kind of surprising.
Gayle reached his half-century off 51 balls, which was kind of decent as per his standards. He reached his century too at slightly less than run a ball. As soon as he hit the hundred, the big man went into beast mode. He scored his next fifty runs off just 23 balls and the subsequent fifty runs of just 12 balls.
It was 46th over when he reached his double hundred, and It felt as if Rohit Sharma's 264 was in trouble. However, Samuels played most of the balls keeping Gayle off strike.  Eventually, Chris Gayle ended his innings on 215 on the last ball of the innings. This according to us was his best knock in ODIs.
Thanks for reading! Which among the above-mentioned knocks of Chris Gayle in ODIs did you like the most?  Please, let's know in the comments. 
---
ALSO READ: IPL 2019: Analyzing Strengths and Weaknesses of Mumbai Indians
---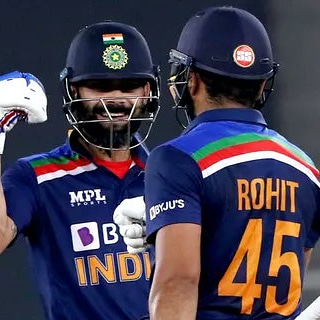 Adesh Kothari is the founder of AK4Tsay1 Cricalytics.
Cricket to him is like what 'Football is to Lionel Messi', 'Singing is to Lata Mangeshkar', 'Dancing is to Michael Jackson', and what 'Acting is to Clint Eastwood'.
Besides his effervescent love for Cricket, Adesh is an MBA by qualification.