Fans blast Rishabh Pant as he once again fails to make any impression
Fans blast Rishabh Pant on Twitter as he once again fails to make any impression in the second T20 between India and West Indies.
---
After a failed outing in the first T20I where he got our for Golden duck, Rishabh Pant has once disappointed with yet another failed outing. 
The problem is not that he is getting out, but, it is the manner in which he is getting out. After scoring a golden duck in the first T20I, Pant could only manage 4(5) as he got out playing a horrifying shot.
It seems Pant is taking too much pressure trying to make a name for himself. But, these kind of shots would only make him worse off. The 'go all-out' approach isn't a wise approach if you are to play the game for a longer period of time. 
With the kind of potential he has, it only baffles us why he isn't trying to get his eye in before trying those outrageous shots. We just hope he learns how to handle the pressure at the International level during this tour. 
Meanwhile, Team India managed to put a decent score on the board, courtesy to Rohit Sharma's superb fifty. Rohit managed 67(51), while Krunal and Jadeja provided the finishing touch to lift India to 167-5 in 20 overs. 
Here are some of the Twitter reactions on Rishabh Pant after his yet another failed attempt. 
TWITTER REACTIONS: 
Rishabh Pant's strategy while going out to bat pic.twitter.com/p9h73mg7gA

— Sir Yuzvendra (parody) (@SirYuzvendra) August 4, 2019
Team management – you have to take responsibility and score runs

Rishabh Pant – pic.twitter.com/zgQR7vB1Wq

— CA Abhishek Gupta (@ca_abhishekg) August 4, 2019
Rishabh Pant batting against WI #INDvWI pic.twitter.com/ZRhClWdMdV

— Rishabh Srivastava (@AskRishabh) August 4, 2019
Why Indian selectors are not trying to test Ishan Kishan ? Saying again and again. Rishabh Pant needs a big shock of being out of the team. #INDvsWI

— Er Md Azharuddin (@azhar4_official) August 4, 2019
And he does it again Rishabh Pant! He is clearly testing everyone's patience.

— Boria Majumdar (@BoriaMajumdar) August 4, 2019
It is a "Mystery" Why on Earth Rishab Pant still didn't "Realise" he is Playing in the "Place" of a
Legend Called MS Dhoni! #RishabhPant pic.twitter.com/VsY1pdsm2n

— Thiruvalluvan22199 (@Thiruva09112489) August 4, 2019
Rishabh Pant Right now! 😭#INDvsWI #rishabhpant pic.twitter.com/S4cPtZ5zUE

— Naseem Akram نسیم اکرم (@naseemakram100) August 4, 2019
Can I criticise Rishabh Pant? #INDvsWI

— Anupriya Singh (@cricketwoman) August 4, 2019
Rishabh pant once again throwing his wicket away. I thought he'll atleast learn from the world cup semifinals. BUT NO!!! I feel he has got enough chances now. If he doesn't care about his place in the team, he don't deserve to be in the team!!!😒 @bhogleharsha #INDvsWI #pant pic.twitter.com/rqOLfjF4Ed

— Akshay Pidurkar (@aksh_pidurkar) August 4, 2019
Another day, another missed opportunity for Rishabh Pant. Our panel on #CricbuzzLIVE discusses how Rishabh Pant needs to change his approach in order to sustain his number 4 spot.@My11Circle @weatherindia#WIvIND #RishabhPant #TeamIndia pic.twitter.com/2Lv4XNA0WS

— Cricbuzz (@cricbuzz) August 3, 2019
Responsibility in Rishabh's pant . #INDvWI #RishabhPant pic.twitter.com/EFXwJrHPt5

— ANURAG (@anuragashk) August 3, 2019
#RishabhPant throwing away his wicket once again. Golden duck in first T20 and now 4 runs of 5 balls. Gonna lose his place, if this continues. He sure needs to prove his worth, as Shubhman Gill and many others are waiting and would be replaced soon. #WIvsIND

— Milan Chheda 👨‍💻 (@milanchheda) August 4, 2019
---
ALSO READ: Twitterati reacts to Team India's first win post World Cup 2019
---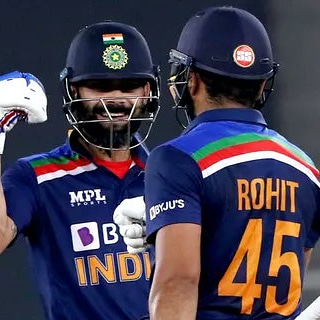 Adesh Kothari is the founder of AK4Tsay1 Cricalytics.
Cricket to him is like what 'Football is to Lionel Messi', 'Singing is to Lata Mangeshkar', 'Dancing is to Michael Jackson', and what 'Acting is to Clint Eastwood'.
Besides his effervescent love for Cricket, Adesh is an MBA by qualification.