Which have been some crazy batting-order decisions in IPL 2020?
Mumbai Indians and Delhi Capitals, the only teams to have had a stable batting-order as we look at the crazy batting-order decisions made in IPL 2020 so far. 
The year 2020 has been nothing short of a surprise for all of us in all aspects of our life. The Coronavirus pandemic changed our working habits to being more WFH, eating habits to being more healthy, entertainment habits to begin more OTT, and sports habits to being more indoor. 
As if this was not enough, the IPL 2020 too has seen some really surprising decisions when it comes to team selection and batting-order. Be it RR, SRH, KXIP, RCB, KKR, or CSK, all have made some really strange decisions. In fact, Mumbai Indians and Delhi Capitals are the only teams to have got their batting-order right, right from the first match. 
So, looking at the matches till now in IPL 2020, and some strange decisions, let's look at 5 such crazy batting-order decisions that have been quite difficult to understand. While the results may or may not have gone in the favour of the captain, the decisions would still remain strange and surprising. 
#5: CSK vs RR Match 4: MS Dhoni Batting at No 7
Chasing 217, Chennai Super Kings got a wonderful opening stand from Murali Vijay and Shane Watson as the duo managed to put in 56 in less than 7 overs. However, quick-fire wickets, and CSK lost the plot with them stumbling at 77-3 at the end of 9 overs.
You would expect MS Dhoni to walk-in to bat, and play the sheet anchor role from here, but to our surprise, inexperienced Ruturaj Gaikwad walks-in. He doesn't last long, and now you would expect MS Dhoni to walk-in, but no, Kedar Jadhav is sent to bat.
The plot doesn't work as a slow Kedar Jadhav manages just 22(16) leaving MS Dhoni, Faf du Plessis, and Ravindra Jadeja too much to achieve. Nevertheless, when MS came-in to bat, CSK were still in reach of a win, but MS showed no intent until the last over when the match was already lost; thus making-it a shocking batting-order decision.
#4: KKR vs DC Match 16: The opener Rahul Tripathi bats at 8 
Now, KKR have had made some really strange decisions in the batting-order, but this one has to be the worst of all. Tripathi as we know has done extremely well as an opener in the past in IPL. KKR brought Tripathi in the squad to solve their opening woes created by Sunil Narine, but to everyone's surprise, Tripathi didn't open chasing 229 when you needed a solid partnership. 
Nevertheless, with KKR at 117-5, you would expect Tripathi to now come-in to bat, but no, KKR play Pat Cummins ahead of Tripathi by telling Tripathi that "Pat is a better batsman than you". The experiment didn't last long as Pat fell for 5(4). Tripathi, who came-in next smashed 36(16) to keep KKR in the game, but it was too much in the end for him. 
#3: RCB vs KXIP Match 31: Sundar and Dube above Ab de Villiers
At the end of 6 overs, Royal Challengers Bangalore were going good with 60 runs on the board having lost just 1 wicket. But, with Aaron Finch gone, RCB camp surprised everyone by bringing in Washington Sundar ahead of Ab de Villiers. Sundar didn't last long as he managed a run-a-ball 13.
The move was still fine, but post Sundar's departure in the 11th over, you would expect Ab de Villiers to come-in to bat, but no, you see Shivam Dube ahead of your best player, Ab de Villiers. This decision was a horrible one from the RCB camp as when your best player came-in to bat, only 4 overs were left.
De Villiers as we all know cannot hit from ball 1, and he trying to up the anty perished cheaply. The result of that decision was that RCB had a below-par total, and even though Kings XI Punjab almost made a mockery of the chase, won the match on the last ball. 
#2: RR vs RCB Match 33: Ben Stokes as Opener and Jos Buttler as Finisher
The dynamics of this decision is understandable from one angle as we know Jos Buttler has played as a Finisher for England in ODIs, not in T20Is though. However, Ben Stokes has never played as an opener, and is a well known Finisher in all the three formats of Cricket. 
So, when the RR batting line-up seems slightly correct with Uthappa back as the opener, followed by Sanju Samson at 3, and Steve Smith at 4, Jos Buttler should have continued playing as the opener because he has been RR's best opening batsman. Ben Stokes should have continued playing at 5 as that is the position Stokes has been best at. 
#1: KKR vs SRH Match 35: David Warner Playing in the middle-order
Before talking about the decision, let me remind the readers that David Warner has 3 orange caps to his name as an opener in the last 5 years. In that, he didn't play in 2018, and in 2016, he scored almost 800 runs. He is undoubtedly the best IPL opener we have seen in the recent past. 
Now, coming to the chase, SRH needed a decent 164 to win. But, David Warner surprised everyone by not opening himself, but instead asking Kane Williamson to open, who we know is more suited for middle-order than David Warner in the middle-order. 
While Williamson did play well scoring a quick-fire knock, Warner struggled to bat in the middle-order. Warner was batting at run-a-ball for the most part of his innings, and wasn't able to time the ball properly. He did accelerate, but it felt too late, as the match went in the super-over, and SRH lost the match then. 
Looking at how teams have shuffled their batting-order and team selection, it is quite visible from the outset that teams with a stable team selection and batting-order; DC and MI, are the ones doing the best in the competition. 
Thanks for reading! Which of the above-mentioned batting-order decisions surprised you the most in IPL 2020? Please mention in the comments 
---
ALSO READ: IPL 2020: Mid-season Best performing 11 of the Tournament
---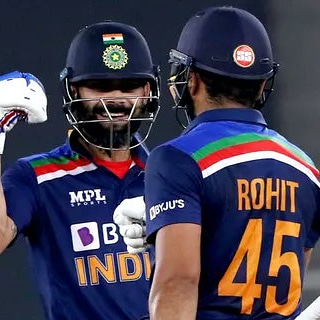 Adesh Kothari is the founder of AK4Tsay1 Cricalytics.
Cricket to him is like what 'Football is to Lionel Messi', 'Singing is to Lata Mangeshkar', 'Dancing is to Michael Jackson', and what 'Acting is to Clint Eastwood'.
Besides his effervescent love for Cricket, Adesh is an MBA by qualification.