World Cup 2019: India vs New Zealand Twitter Reactions
Fans showcase their disappointment on Twitter as rain plays a spoilsport in the first semi-final between India and New Zealand.
It has been that kind of a day for the cricket lovers, when everything was going happily, and according to the plan until the rain arrived, and played the spoilsport in the first semi-final between India and New Zealand. 
Considering this being a weekday, some took a half-day considering this being a 3 pm IST start, some people took a day off, and some even traveled all the way to Manchester to support their favorite team.
But, all that has gone for a toss as the matchday has been washed off due to incessant rains, thus taking the game to the reserve day.
Fans, however, didn't keep calm as they took their frustration of India vs New Zealand match to Twitter.
GOOD NEWS FOR INDIA:
Meanwhile, for India, the match getting shifted to the second day is a blessing in disguise as the play would resume exactly the same point it stopped. Hence, New Zealand would resume at 211-5, and would have to bat the entire 50 overs.
Earlier, India were in a strong position having restricted New Zealand to 211-5 at the end of 46.1 overs. Hence, if there had been any play on the same day, it would have been a disadvantage for India as they would have had to chase 237 in 46 overs, 192 in 30 overs, and 148 in 20 overs. 
So, in the form of Happy news, Indian fans would be delighted to see the game being shifted to the second day.
However, fans expressed their frustration on D/L method, and activated their funny side too with memes on Twitter. 
As we wait for the game to get started tomorrow again, here are some of the best Twitter reactions on India vs New Zealand semi-final. 
TWITTER REACTIONS: 
The shorter the game, the stiffer the run-rate India will have to achieve. If it is a 20 over game now, the target would be 148. If, however, it becomes a 46 over game and India bat 20 overs, the target then will actually be just about 60-70 for no loss.

— Harsha Bhogle (@bhogleharsha) July 9, 2019
That's crazy.I'm afraid I have never comprehended this Duckworth-Lewis (Stern) stuff. And have no intention of getting a Ph.D in it. I think it's time to create a Dalwinder-Lalwani-Subramaniam method. Then it'll make sense… https://t.co/buSFT8zzRs

— anand mahindra (@anandmahindra) July 9, 2019
Crazy Duckworth Lewis Rules !!

NZ won't even get to score 237 in 50 Overs if they play full quota, but DL target is 237 in 46 Overs. @BCCI @ICC. Game has evolved. Move on using new methods. Why not try VJD method. https://t.co/GxX5Ik6LhO

— Prabhu (@Cricprabhu) July 9, 2019
Everyone questioning about DLS calculations.Just ask South Africa how it feels to accept a DLS target #INDvNZ @cricketworldcup @icc #1992WC pic.twitter.com/wjBpB44bsm

— Saurabh (@sirpranksalot_) July 9, 2019
— Bollywood Gandu (@BollywoodGandu) July 9, 2019
Mood rn #DLS #CWC19 pic.twitter.com/Ia4sV55FKx

— cricBC (@cricBC) July 9, 2019
*DLS method would apply in #INDvsNZ*
Dhoni right now~ pic.twitter.com/Syq2BlMis5

— Bruce Wayne (@WaizArd20) July 9, 2019
In a 20 over match we will be asked to make as much as New Zealand scored in approx 40 overs.

Duckworth Lewis was an idiot, hundred years of cricket will also prove same. #INDvNZ pic.twitter.com/GTrHSZ8weC

— richa singh (@richa_singh) July 9, 2019
Woman is the second most complicated thing in this world, Duckworth Lewis is still on top ..#INDvNZ

— Viral Humour (@ViralHumour) July 9, 2019
#ICCCricketWorldCup2019 Semifinals. pic.twitter.com/BLtwcyVqBS

— Krishna (@Atheist_Krishna) July 9, 2019
New Zealand scored 74 in 20 overs
Now according to duckworth lewis if India bats they should score 148 in 20 overs
Meanwhile Indians :
#INDvsNZ pic.twitter.com/C96LyCNHvC

— Prakhar (@Batrajikalonda) July 9, 2019
Duckworth–Lewis–Stern method should be included in the CBSE class 10 syllabus #INDvNZ @BCCI

— Nikunj Choudhari (@Nikunj_nixu) July 9, 2019
Woman is the second most complicated thing in this world,
Duckworth Lewis is still on top 🤨😏😂#INDvsNZ

— Dil se MI (@ImKushalRK) July 9, 2019
Rains in India's semifinals at #Manchester
Le #Pakistanis:#INDvsNZ #SemiFinals #CWC19 pic.twitter.com/0avqqm4Jk3

— Maulik (@mak24_7) July 9, 2019
---
ALSO READ: The emergence of the talented, Mayank Agarwal
---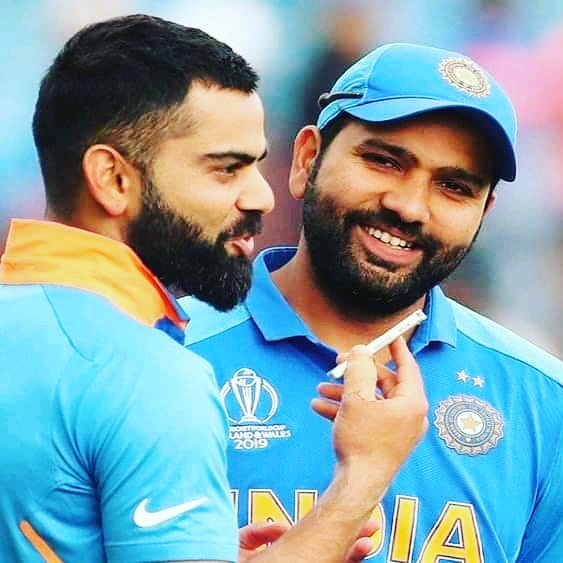 This is the official user profile for AK4Tsay1 Cricalytics