Yuvraj Singh announces retirement from International Cricket
Cricketing fraternity took to Twitter to thank the charismatic all-rounder, Yuvraj Singh announces his retirement from International Cricket 
In the midst of the ongoing World Cup 2019, the champion, Yuvraj Singh has called it time as he announced his retirement from all forms of International Cricket.
The champion batsman has been an inspiration to many; on and off the field. On the field, he has led India to two World Cup championships, viz., the 2007 T20 World Cup and the 2011 ODI World Cup. While off the field, he has battled out of Cancer to leave a permanent impression on our minds. 
In his 17 years long career, Yuvraj played a total of 402 International matches scoring 11778 runs, 17 centuries, 72 fifties and 148 wickets.
---
ALSO READ: Top Batting Performances by Indian Batsmen against Australia in T20Is
---
Some of his great contributions to Indian Cricket includes, but not limited to:
Scripting a famous win at Lords along with Mohammad Kaif

Hitting six sixes to Stuart Broad

Match-winning performances in T20 World Cup 2007 and ODI World Cup 2011, etc.
A quick snapshot of his career stats is shown below
---
ODIs:
MAT: 304 | RUNS: 8701 | AVG: 36.55 | SR: 87.67 
WKTS: 111 | AVG: 38.68 | ECO: 5.1
T20Is:
MAT: 58 | RUNS: 1177 | AVG: 28.02 | SR: 136.38 
WKTS: 28 | AVG: 17.82 | ECO: 7.06
TESTS:
MAT: 40 | RUNS: 1900 | AVG: 33.92 | SR: 57.97
WKTS: 9 | AVG: 60.77 | ECO:
---
Having called it time, Cricketing Fraternity took to Twitter to thank the charismatic all-rounder, Yuvraj Singh as he announced his retirement from International Cricket 
Here are some of the awesome tweets on Yuvraj Singh.
You don't know what you got till its gone. Love you brotherman You deserved a better send off. @YUVSTRONG12 pic.twitter.com/PC2cR5jtLl

— Rohit Sharma (@ImRo45) June 10, 2019
July 13, 2002 – #TeamIndia won the NatWest series final #ThisDayThatYear @MohammadKaif @ImZaheer @YUVSTRONG12 @SGanguly99. That epic moment – Etched forever!pic.twitter.com/jKeFXEmCgk

— BCCI (@BCCI) July 13, 2018
Congratulations on a wonderful career playing for the country paji. You gave us so many memories and victories and I wish you the best for life and everything ahead. Absolute champion. @YUVSTRONG12 pic.twitter.com/LXSWNSQXog

— Virat Kohli (@imVkohli) June 10, 2019
What a fantastic career you have had Yuvi.
You have come out as a true champ everytime the team needed you. The fight you put up through all the ups & downs on & off the field is just amazing. Best of luck for your 2nd innings & thanks for all that you have done for 🇮🇳 Cricket.🙌 pic.twitter.com/J9YlPs87fv

— Sachin Tendulkar (@sachin_rt) June 10, 2019
A brother. A mentor. A fighter. A LEGEND of the game and a Superb human being 🙌🏻 Wish you the very best in your journey ahead @YUVSTRONG12 🤗 May the innings ahead be as killer as you 😎✌🏻 pic.twitter.com/sTZ6MdZGoe

— Rishabh Pant (@RishabhPant17) June 10, 2019
Players will come and go,but players like @YUVSTRONG12 are very rare to find. Gone through many difficult times but thrashed disease,thrashed bowlers & won hearts. Inspired so many people with his fight & will-power. Wish you the best in life,Yuvi #YuvrajSingh. Best wishes always pic.twitter.com/sUNAoTyNa8

— Virender Sehwag (@virendersehwag) June 10, 2019
One of the greatest match-winners in the history of the game,a fighter who built an extraordinary career through difficult challenges & came out a winner every time-We all are so proud of you #YuvrajSingh , u can be very proud of what u have you done for our country @YUVSTRONG12 pic.twitter.com/w4wUe31De0

— Mohammad Kaif (@MohammadKaif) June 10, 2019
End of an era! Yuvi pa, ur ability with the bat, the glorious 6s, the impeccable catches & the good times we've had, will be missed beyond years. The class & grit u brought to the field will be an inspiration forever. Thank u, @YUVSTRONG12 Have an equally remarkable 2nd innings! pic.twitter.com/ZWNeC9WkZL

— Suresh Raina🇮🇳 (@ImRaina) June 10, 2019
You've been a constant source of support and inspiration with countless memories and countless hearts won. 🙏🏻 Congratulations on your glorious career and all the best Yuvi paa! 🏆 @YUVSTRONG12 pic.twitter.com/YngoxWiCOg

— Jasprit Bumrah (@Jaspritbumrah93) June 10, 2019
Thank you, Yuvi paaji for all the guidance, support & love. ♥ You are one of the best left-handed batsmen I have come across. I always looked up to your style & batting technique, have learnt so much from you! Wish you prosperity & success in your new journey. Rab rakha 💪🏻 pic.twitter.com/AQH4LkgS0Q

— Shikhar Dhawan (@SDhawan25) June 10, 2019
I'll miss your hilarious expressions on the pitch Yuvi Paa 😂😂😂 Have a happy retirement. You've earned it 😘 pic.twitter.com/8ppFEjNE93

— hardik pandya (@hardikpandya7) June 10, 2019
Well played @YUVSTRONG12. As @sachin_rt once told you, you were there when India needed you. Enjoyed watching you play, that bat swing will be embedded in my memory, and I hope you are happy and at peace in life after a staggering innings.

— Harsha Bhogle (@bhogleharsha) June 10, 2019
To one of the Best Players India has ever produced, a World Cup Winner, a Cancer Survivor, a True Champion and an Inspiration. Thank You for the memories Yuvi Paa pic.twitter.com/svU9c9NHoz

— Yuzvendra Chahal (@yuzi_chahal) June 10, 2019
You have been an inspiration, mentor and leader to me. I find myself very fortunate to have had the ability to meet a gem like you and also play in the same team with you. Congratulations on your great career. Thank You for everything And All the best for the future @YUVSTRONG12 pic.twitter.com/O6KF8sdyTh

— Sandeep sharma (@sandeep25a) June 10, 2019
Thank you for all the wonderful memories Yuvi Paaji.
You taught us how to fight and give our best even when the situation is not in control. A true hero, on and off the field.
Congratulations on such an inspiring career! @YUVSTRONG12 pic.twitter.com/bGt8X4Hbmg

— Bhuvneshwar Kumar (@BhuviOfficial) June 10, 2019
Yuvi paji! I still remember when I played my 2nd test match against Pakistan in Bangalore and u were there I was quietly sitting in a corner as I was youngster, so you approached me and said-tension na le enjoy the journey of test cricket! 😝All the best for future!! @YUVSTRONG12 pic.twitter.com/OKXeAYZJp7

— Ishant Sharma (@ImIshant) June 10, 2019
Focused on the pitch, funny off it! I've learned so much from you Yuvi Paa … Thank you for the memories and congratulations on an amazing career 😁 pic.twitter.com/nzu2of97V9

— Krunal Pandya (@krunalpandya24) June 10, 2019
#thankyouyuvi A true Champion. End of a legendary chapter and beginning of a new… May this one be even Bigger Better Brighter. Cheers to all the great memories on and off the field @YUVSTRONG12 . See you on the other side brother 👍 pic.twitter.com/2qGzc2bhOH

— zaheer khan (@ImZaheer) June 10, 2019
Yuvraj Singh –
1) All time great one day batsman.
2) Batsman with the greatest bat swing ever.
3) Most impressive International debut I have seen from an Indian batsman.
4) A very selfless batsman.
Enjoy your second innings Yuvi! #YuvrajSingh

— Sanjay Manjrekar (@sanjaymanjrekar) June 10, 2019
Every cricketer dreams of hitting 6 sixes in an over or becoming player of the tournament in world cup. In short, everyone dreams to be #YuvrajSingh..@YUVSTRONG12, You have been the True champion on and off the field…
All the best Yuvi Paa for the second innings… pic.twitter.com/c1zyqUz23U

— IamKedar (@JadhavKedar) June 10, 2019
You may have retired, champion, but you will forever remain as our favorite match-winner in ICC tournaments.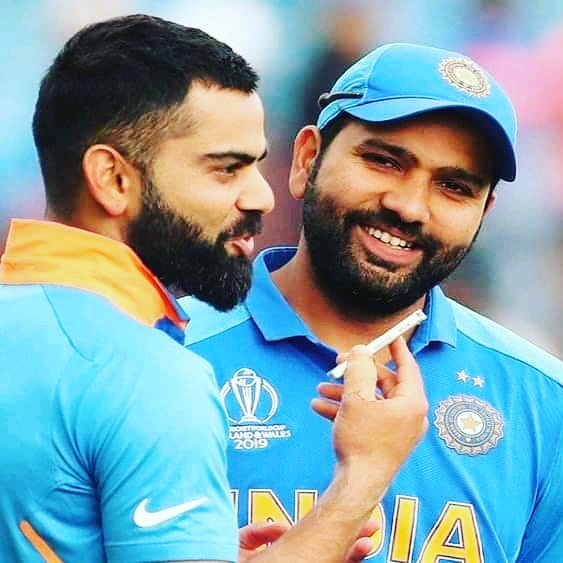 This is the official user profile for AK4Tsay1 Cricalytics