Top Spells by Indian Bowlers against Australia in ODIs
Yuzvendra Chahal, Sachin Tendulkar among the leaders as we find the top spells by Indian bowlers against Australia in ODIs. 
In our previous article, we saw some brilliant batting knocks by Indian batsmen against Australia in One Day Internationals.
Indian bowlers have had a decent amount of success against Australia as a total of 6 five-wicket hauls have been registered against them.
The only issue or you can say an unfair treatment to bowlers that came out while analyzing the performances is that bowlers have got less man of the match awards as compared to the batsmen even if their contribution was significant in a winning case.
Anyway, let's have a look at the top 3 spells by Indian bowlers against Australia in One Day Internationals.   
METHODOLOGY

:
As always, we have analyzed the bowling performances basis the bowling points calculated from the overall aspect of the game such as wickets taken, consistency, economy rate bonus, number of maidens, number of dot balls, and the number of match-winning spells. 
To leave out the biases and perception, we have kept things simple by comparing the overall bowling points of all the spells by Indian bowlers against Australia in ODIs
---
#3: Sachin Tendulkar | Kochi, 1998
10 Overs | 32 Runs | 5 Wickets | 3.2 Eco.
Bowling Points: 217.45
Surprise! Sachin Tendulkar has not just dominated the batting charts against Australia, but has a good bowling record too.
This special bowling performance came in the year 1998 at Kochi.
Batting first, Sachin Tendulkar didn't do that well with the bat as he made only 8 runs. However, Ajay Jadeja's century meant that India reached a fantastic score of 309 in 50 overs.
Australia started the chase well as a century partnership at more than 10 runs per over kept them in the driving seat. At the end of 30 overs, Australia were cruising along with 200 on the board having lost only 3 wickets.
That's when Sachin Tendulkar's golden arm worked. He first got rid of the captain, Steve Waugh in the 32nd over, then the dangerous Darren Lehman in the 35th over. The finisher Michael Bevan didn't last either as Sachin got him stumped with a brilliant ball in the 40th over.
After getting three important wickets, Sachin got two more wickets as Australia got bundled out for 268 in the 46th over.
Sachin was awarded the man of the match for his brilliant spell of 5 for 32 in 10 overs.
Sachin Tendulkar gets a total of 217.45 performance points for his knock.
---
#2: Yuzvendra Chahal | Melbourne, 2019
10 Overs | 42 Runs | 6 Wickets | 4.2 Eco.
Bowling Points: 227.5 
A six-wicket haul is always special, and if it is against Australia, it adds to the happiness.
This superb spell from Yuzvendra Chahal in a low scoring thriller was one of the important highlights of the recently concluded ODI series between India and Australia.
After electing to bowl first, Indian bowlers started brilliantly as they got rid of the openers before the first powerplay. However, a steady third-wicket partnership between Usman Khawaja and Shaun Marsh kept Australia on the track until the 22nd over.
Chahal broke the shackles as he got rid of both the dangerous men in his first over. Chahal was very effective in these middle-overs too as his first spell read 6-0-31-3.
Brought back in his second spell in the 40th over, Chahal looked even more ruthless as he rattled the Aussie lower order with some quality spin bowling. Giving away only 11 runs from his last 4 overs in death overs, Chahal finished his spell with amazing figures of 10-0-42-6.
It felt as if India would chase the target comfortably. However, it went till the last over before MS Dhoni and Kedar Jadhav guided India home. 
Chahal was awarded the man of the match award for his brilliant spell of 6/42 in 10 overs.
Yuzvendra Chahal gets a total of 217.45 performance points for his knock.
---
#1: Murali Karthik | Mumbai, 2007
10 Overs | 27 Runs | 6 Wickets | 2.7 Eco.
Bowling Points: 285.28 Points
It should come as a surprise to many as the best bowling performance against the Aussies has come from a one-off performance by Murali Karthik.
Murali Karthik's ODI career ended even before it took off properly. In his career of 37 wickets, Karthik has only 1 five-wicket haul, and that was this amazing spell against Australia.
Coming to this match, Australia, who won the toss decided to bat first. Having lost Michael Clarke in the first over, Adam Gilchrist and Ricky Ponting gave a solid start as they added 60 runs for the second wicket in just 9 overs.
Australia were already in the driving seat scoring at more than 6 runs per over. That's when MS Dhoni introduced Murali Karthik in the attack in the 18th over.
He was quickly on the money starting off with 2 wickets and 2 maidens in his first 2 overs. Not even for once did he let the game slip away from India as his tight bowling kept the batsmen grounded.
Bowling his eighth over on the trot, he got an over hattrick as he got rid of dangerous Brad Haddin, Brad Hogg and Brett Lee. Karthik ended his spell with brilliant figures of 6-27 as Australia were bundled out for a meager 193 in 41 overs.
Chasing the target, India did crumble, but Murali Karthik and Zaheer Khan made sure India reach the target in the 46th over.
With useful 21 with the bat and a brilliant six-wicket haul, Murali Karthik was awarded the player of the match for his performance.     
Murali Karthik gets a total of 285.28 performance points for his knock.
SPECIAL MENTION:
Ravi Shastri's economical 5/15 in 1991 is a spell worth mentioning. Unfortunately, he was not awarded the player of the match, but even then he got a total of 176.06 bowling points.
Roger Binny's 4/29 in 1983 is also a spell worth remembering. His brilliant bowling spell and useful contribution while batting meant India won that match comfortably. He gets a total of 181.55 performance points for his spell. 
We hope you guys liked the article on top spells by Indian bowlers against Australia in One Day Internationals. In the case of suggestions or queries, please do not forget to leave a comment.
Thanks for reading! Which spell did you like the most? Please, let's know in the comments. 
---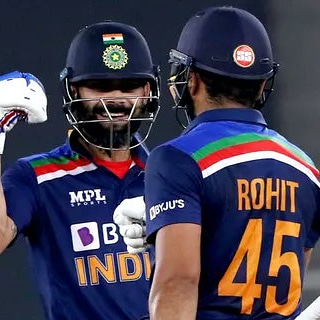 Adesh Kothari is the founder of AK4Tsay1 Cricalytics.
Cricket to him is like what 'Football is to Lionel Messi', 'Singing is to Lata Mangeshkar', 'Dancing is to Michael Jackson', and what 'Acting is to Clint Eastwood'.
Besides his effervescent love for Cricket, Adesh is an MBA by qualification.