Exclusive: Vijay Hazare Trophy 2021 Dream Team of the Tournament
Prithvi Shaw to lead the 2021 Vijay Hazare Trophy (VHT) Dream Team of the tournament. 
The Vijay Hazare Trophy, named after the legendary batsman and Team India's former captain, Vijay Hazare saw the 19th edition of the Tournament being won by the Mumbai team, who defeated Uttar Pradesh by 6 wickets. Mumbai are currently joint-second with 4 titles to their name; only behind Tamil Nadu, who have 5 titles. 
The Tournament was one of its kind with some outrageous display of batting by a few batsmen. The Tournament saw the batting average of some of the batsmen overpowering their strike rate, which is a rare sight in List A cricket. On the other hand, bowling was not bad too. Interestingly, many of the star performers in the bowling department were unknown names.  
So, if we had to select a team of best 11 players from the Vijay Hazare Trophy 2021, who would make it? Let's find out in this article. Before that, let's quickly skim through, though our unique methodology.
Methodology:
As usual, we have removed any biases or perception while selecting the best performing 11. Our robust methodology gives precedence to 'Performance Rating' to select players in the playing 11. Given the plethora of talent and performance that was uncovered during the Tournament, selecting the final  XI was a seriously tough job.
Also to note, teams have played very few group stage matches. Hence, preference was given to those players who have played at least the quarter-finals, unless we saw some really extraordinary performance in the group stage itself that we just couldn't ignore in the final 11. So, on that note, let's look at the top 11 players who will form the 2021 Vijay Hazare Trophy Dream team of the tournament. 
Openers
#1: Prithvi Shaw (Mumbai) 
Inns: 8 // Runs: 827 // Avg: 165.4 // SR: 138.3 || Rating: 10
If you had thought Prithvi Shaw was finished after being dropped from the Indian team on account of poor performance and technique in IPL 2020 and International cricket, you need to think again. Prithvi Shaw redefined all rules in the cricketing book by smashing a gigantic 827 runs from just 8 innings at an outstanding average of 165.4 and a strike rate of 138.3.
I bet you would never see such dominant performance again in the near future. It felt as if Prithvi Shaw rose from the ashes, and looked on a mission to kill all the negativity around with his bat. He literally toyed the bowling as if he was playing some C-gade team. Overall, he smashed 4 centuries including three scores of 150+; a feat rare to achieve. He also ended with 827 runs; the most by any player in a single edition of the tournament. 
#2: Devdutt Padikkal (Karnataka)
Inns: 7 // Runs: 727 // Avg: 147.4 // SR: 95.9 // Rating: 10
If Prithvi Shaw was Godzilla, Devdutt Padikkal was King Kong. Just like Shaw for Mumbai, Devdutt Padikkal was the Alpha titan for Karnataka. He smashed 4 centuries on the trot; thus becoming only the first player to achieve this feat in a single tournament. In addition, Padikkal managed to maintain a consistency of 100% with the lowest score of 52 in the opening match of the tournament.
Overall, Devdutt scored 727 runs from 7 innings at a humongous average of 147.4 and a strike rate of 95.9. His tally of 727 runs in a single season of VHT is only behind Prithvi Shaw, and just above Mayank's tally of 723 runs. If Devdutt can continue this form in IPL 2021, a national call-up would just be a formality.   
Middle-order
#3: Ravi Samarth (Karnataka)
Inns: 7 // Runs: 613 // Avg: 122.6 // SR: 105.3 // Rating: 10
If you saw GVK in Prithvi Shaw and Devdutt Padikkal, Ravi Samarth could certainly be called the MechaGodzilla. These guys played in Vijay Hazare Trophy as if the tournament was only meant for them to score tons of runs. While Samarth played as an opener for Karnataka, a slight exception was made to play him at 3 in this team as his performance was just outstanding, and couldn't be ignored.  
Barring a failure in the first and last match of the tournament, Samarth managed to score 3 centuries and 2 fifties in the remaining five. He holds the record of the highest score by an individual in a knock-out game during his knock of 192 runs in the quarter finals. Overall, Samarth smashed 613 runs from 7 innings at an average of 122.6 and a good strike rate of 105.3. 
#4: Suryakumar Yadav (Mumbai)
Inns: 5 // Runs: 332 // Avg: 66.4 // SR: 151.6 // Rating: 10
Played for only five matches, but Surykumar Yadav left an unmatched impact in those five. He registered zero failures in the five knocks that he played, and all his knocks came at a good pace. Surya smashed one century and two fifties in the five knocks he played, with a highest score of 133.
Surya's strength was his attacking mindset done the order. He smashed 332 runs from just 5 innings batting at 4 or below at an unreal strike rate of 151.6; the best among the top 20 run-getters. It's difficult for players to have a strike rate of 150+ in T20s, but having the same in List A cricket is phenomenal. Courtesy of his consistent performance in the domestic circuit, Surya also got a maiden call-up in the Indian team. 
#5: Upendra Yadav (WK) (Uttar Pradesh)
Inns: 8 // Runs: 285 // Avg: 71.3 // SR: 113.5 // Rating: 7.5
The hard-hitting wicket-keeper for the team, Upendra provided a lot of valuable runs down the order playing for Uttar Pradesh. His most valuable performance came against Delhi in the quarter-finals when he smashed an attacking 112(101) batting at number 6, and gave Uttar Pradesh good target to defend.  Overall, Upendra scored 285 runs at a good average of 71.3 and a strike rate of 113.5; thus being a good finisher in the team.
All-rounders
#6: Krunal Pandya (Baroda)
Inns: 5 // Runs: 388 // SR: 117.9 // Wkts: 5 // Rating: 10
The one name on the list, who surprised everyone with his performance. Krunal started with a bang in the Vijay Hazare trophy smashing a match-winning 71 and complementing it with a spell of 3/62. Since, then his scores in the batting area include 127*, 55, 133*, and 2. Krunal ended the Tournament with 388 runs from just 5 innings at a brilliant strike rate of 117.9. In addition, Krunal had 5 wickets to his name. 
#7: Rishi Dhawan (Himachal Pradesh)
Inns: 5 // Runs: 150 // Wkts: 16 // Rating: 10
The bowling all-rounder of the team, Rishi Dhawan continued his fabulous form from Syed Mushtaq Ali Trophy to Vijay Hazare Trophy. The format may have changed, but Dhawan's impact; especially in the bowling department remains unchanged. He ended the Tournament as the third-highest wicket-taker with 16 wickets from just 4 innings. He had two 4-wicket haul and one 6-wicket haul to his name. Complementing this is his 150 runs at an average of 50. 
Bowlers
#8: Dhawal Kulkarni (Mumbai)
Inns: 6 // Wkts: 14 // Avg: 11.8 // ER: 3.7 // Rating: 10
What Prithvi Shaw did in the batting department, Dhawal Kulkarni managed to achieve the same in the bowling department. Not once in the 6 innings did he bowl badly as his spells read 3/35, 5/44, 3/26, 2/8, 1/35, and 0/17. Dhawal complemented his wicket-taking abilities with his stunning economy rate of just 3.7; thus making him a dangerous customer to deal with. Overall, Dhawal ended with 14 wickets from 6 innings at an average of 11.8 and a consistency of 83.3%. 
#9: Arzan Nagwaswalla (Gujarat)
Inns: 7 // Wkts: 19 // Avg: 13.9 // ER: 4.3 // Rating: 10
The second front-line pacer of the team, and also the second-highest wicket-taker of the season, Nagwaswalla is one of the three unknown bowlers to have made a good impact this season. Batting his performance in the semis, Nagwaswalla managed to do well in all the innings. He ended with 19 wickets from just 7 innings at an average of 13.9 and an economy rate of 4.3.
#10: Shivam Sharma (Uttar Pradesh)
Inns: 8 // Wkts: 21 // Avg: 16.9 // ER: 4.6 // Rating: 10
The leading wicket-taker of the season comes from a team that defeated many heavy weights in the Tournament to finish as the runners-up. Shivam Sharma is the only bowler to have managed two 5-wicket hauls to his name including 7/31; the best spell of the Tournament.
However, barring these two performances, Shivam didn't get as many wickets as he would have liked. His spells in the remaining 6 matches read 3/40, 1/64, 1/57, 1/33, 1/37, and 1/71. Overall, he still was quite effective with the truck load of wickets that he got. 
#11: Prasanth Solanki (Mumbai)
Inns: 6 // Wkts: 15 // Avg: 21.5 // ER: 6.2 // Rating: 8.1
The smart-looking 21-year-old leggie from Mumbai, Prashant Solanki was quite impressive in only his debut domestic season. He started his career with a 5-fer on debut, and followed with a spell of 2/72 and 4/31. He ended the Tournament as the second-best spinner with 15 wickets from 6 innings at an average of 21.5. Leggies are rare gem in limited-overs, and Prashant has a bright future to look forward too. 
So, that completes the best playing 11 or team of the tournament for Syed Mushtaq Ali Trophy (SMAT) 2021. 
Vijay Hazare Trophy (VHT) 2021 Dream Team of the Tournament: 
Prithvi Shaw (C), Devdutt Padikkal, Ravi Samarth, Suryakumar Yadav, Upendra Yadav (WK), Krunal Pandya, Rishi Dhawan, Dhawal Kulkarni, Arzan Nagwaswalla, Shivam Sharma & Prashant Solanki
Thanks for reading! What's your team of the tournament for Vijay Hazare 2021? Please email your comments to business@cricalytics.com 
---
ALSO READ: Syed Mushtaq Ali Trophy 2021 Best Team of the Tournament
---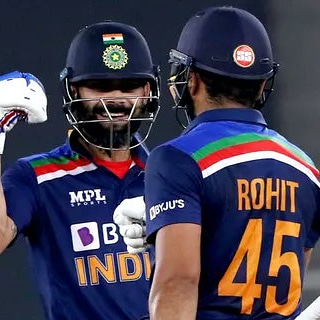 Adesh Kothari is the founder of AK4Tsay1 Cricalytics.
Cricket to him is like what 'Football is to Lionel Messi', 'Singing is to Lata Mangeshkar', 'Dancing is to Michael Jackson', and what 'Acting is to Clint Eastwood'.
Besides his effervescent love for Cricket, Adesh is an MBA by qualification.