India vs England 2021: The Combined best XI of the Test Series
India vs England 2020-21: Axar Patel, the best player as we look at the combined best 11 of the Test series. 
'Psychological' could be the best term that truly defines the outcome of the India vs England 2021 Test series. Barring the first Test, which presented a flat wicket, the performance in the remaining 3 Tests was simply the result of a poor application by batsmen and psychological pressure.  
The first Test saw a flat wicket being given to the visitors, which they pounced on perfectly to take a 1-0 lead. Learning from the mistake, India presented them with a rank turner, which almost all England batsmen, and most of the Indian batsmen just didn't know how to go about. As a result, India bounced back perfectly to win the second Test match. 
With the fear of spin in mind, the performance in the last two Tests in Ahmedabad was simply the after-effects of the Chennai pitch. Honestly, the pitch didn't show any signs of wear and tear or turn in both the matches. While the third Test match ended in 2 days and the fourth in 3 days, it wasn't because of the pitch, but poor application by the batsmen. 
Barring a few batsmen including the best of all, Rohit Sharma, all the other batsmen simply succumbed to psychological pressure. They were simply getting out to straight deliveries of Axar Patel in anticipation of a turn. On top of it, England's choice of players and bowlers in the last two Tests was a big question mark.
Redemption
Overall, after a defeat in the first Test, India bounced back strongly in the next three Tests to win the series 3-1. In the process, India qualified for the final of the World Test Championship finishing first in the points table with 72.2 PCT%. They would now be facing New Zealand in the final showdown at Lord's from June 18-22, 2021.
From the performance point of view, it was spinners who dominated the series with some fabulous performance. But, if we were to select a team of best performing 11 from the Test series, who would make it? Let's find out in this article focused on combined best 11 for India vs England 2021 Test series. 
Stats Wizard Methodology:
Batting: As always, we have analyzed the batting performances basis the batting rating calculated from the overall aspect of the game such as runs scored, consistency, the number of match-winning & good knocks, and relative percentage of Team runs. 
Bowling: We have analyzed the bowling performances basis the bowling rating calculated from the overall aspect of the game such as wickets taken, consistency, the number of match-winning and good spells, and relative percentage of Team wickets. 
Overall, the team of 11 is selected basis the performance rating, and only players who have performed well in their respective positions are selected. 
#1: Rohit Sharma (India) – 7.2
Inns: 7 // Runs: 345 // Avg: 57.5 // HS: 161
Probably the best batsman of the series. If you remove Rohit Sharma from India's batting, and you would see India almost equivalent to England in terms of batting. Such was the difference Rohit Sharma made to this side. He played two defining knocks in the series, and that was the difference between India dominating and reacting in the series.
Rohit Sharma's 161 in Chennai was probably on the best knocks on Indian soil. The pitch assisted a big turn, but Rohit batted as if he was batting on a different planet. His knock of 66 on a low-scoring pitch of Ahmedabad was also a crucial knock between Indian winning and losing. Overall, Rohit scored 345 runs from 7 innings at an average of 57.5 and consistency of 57%.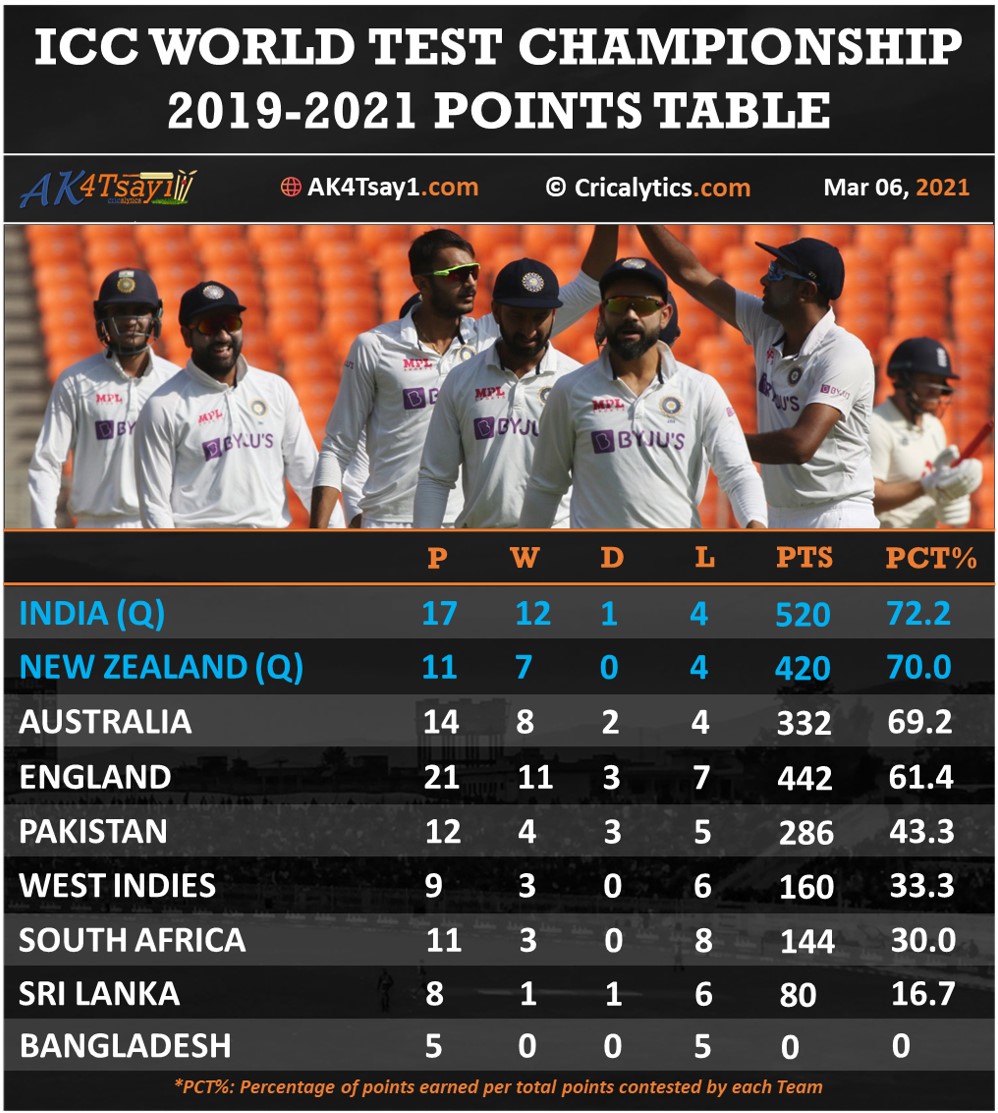 #2: Joe Root (England) – 5.1
Inns: 8 // Runs: 368 // Avg: 46 // HS: 218
Such was the state of the series that barring Rohit Sharma, no other opener or top-order player gave a performance that is even worth talking about. Hence, as an exception, England's best batsman, Joe Root has to be the second opener. On a lighter note, England's opener and number 3 were as good as none, so opening with Root is anyway not a bad idea.
While Root ended the series as the leading run-scorer, you remove his stunning double century in the first innings of the first Test match, and you would see he hardly did anything. Apart from his fabulous 218, Root managed to score only 150 runs in the remaining 7 innings at an average of 21.44. Just like his colleagues, even Root succumbed to psychological pressure in the last three matches.
#3: Virat Kohli (India) – 3.4
Inns: 6 // Runs: 172 // Avg: 28.7 // HS: 72
The openers and number 3 from both the teams looked below-par. Hence, Virat Kohli, who himself looked below-average in the series has to take guard at his unnatural position of number 3. However, Kohli's highlight of the series was not his performance as a batsman, but his positive and encouraging captaincy. 
Overall, Kohli managed only 172 runs from 6 innings at an average of 28.7. He had two ducks in the series, which is only the second time we could see in his entire career. He played two good knocks in the second innings of the first and second Test, but nothing to show other than that.
However, Virat's captaincy looked a big plus. He showed faith in Shubman Gill, even though he failed in three Tests. Kohli also showed confidence in Sundar, the batsman and Siraj, the bowler; the result of both the selections paid off. Not to forget, Virat Kohli looked aggressive in his approach as a captain, which was in sync with the pitch demand. 
#4: Ben Stokes (England) – 4.5
Inns: 8 // Runs: 203 // Wkts: 5 // HS: 82
Regarded as the number 1 all-rounder in the World in Test cricket, Ben Stokes had a series to forget. He never looked comfortable against spinners; especially Ashwin. He did score 2 fifties in the series, but in the remaining 6, he simply failed to get going. As a bowler, his only highlighting spell was the one that came in the last Test. 
#5: Rishabh Pant (India) – 7.5
Inns: 6 // Runs: 270 // Avg: 54 // Catches: 8
Of all the important highlighting events of the series, Rishabh Pant's wicket-keeping and his invaluable knocks down the order when the team was in deep trouble gets top-most importance. There was never a question mark over Pant, the batsman, but there were doubts on how Pant would keep against turning ball. But, boy, he did a fabulous job in that. 
On top of his fabulous keeping, Rishabh Pant played 3 defining knocks in the series. His 91 in the first Test, 58* in the second, and the best of all, 101 in the last Test were knocks that oozed confidence. It won't be an understatement to say, but Pant has finally come-of-age and is ready to fill in the shoes of MS Dhoni.
#6: Washington Sundar (India) – 7
Inns: 4 // Runs: 181 // Avg: 90.5 // HS: 96*
Played as batting all-rounder for India, Washington Sundar didn't disappoint a bit with his performance in the series. The lad is just 21 years of age, but his batting maturity reflected as if he is 30. Unfortunately, he missed out on a well-deserving ton on two occasions. However, that takes away nothing from the fact about how good Sundar was as a batsman. As a bowler, Sundar didn't play a big role, but had a couple of big wickets to show off.   
#7: Ravichandran Ashwin (India) – 10
Inns: 8 // Wkts: 32 // Avg: 14.7 // BBI: 6/61 // Runs: 
The bowling all-rounder of the series, Ravichandran Ashwin can be super proud of what he achieved in this 4-match Test series. This might once again sound an overstatement, but this is the best Ashwin has ever played in a series. Probably the South Africa series of 2015 comes closer, but Ashwin, the batsman takes this series to another level.
Overall, Ashwin ended the series as the leading wicket-taker with 32 wickets from 8 innings at an average of 14.7 and consistency of 80%. This is the most wickets Ashwin has ever taken in a series, beating his tally of 31 wickets, which he took in 2015 vs SA.
As a batsman, Ashwin scored 189 runs (More than Kohli, Rahane and Pujara). His hundred in the second test match was simply magnificent given the situation of the game. It was that knock that proved if you have a positive mentality, you can overcome any pitch and battle.   
#8: Axar Patel (India) – 10
Inns: 6 // Wkts: 27 // Avg: 10.6 // BBI: 6/38
Probably the bowler of the series, Axar Patel's performance should go down in the history books as one of the most terrorizing spells in a series. Let's be honest, England batsmen had no skills or application to play Axar. His straighteners were the root cause of all problems as the England team just didn't have any answers for that. 
Overall, Axar finished as the second-highest wicket-taker of the tournament with 27 wickets from just 6 innings. That's like 4.5 wickets per innings – simply astonishing. Axar had four successive 5-wicket hauls in the series; the first Indian bowler to achieve this feat. 
#9: Jack Leach (England) – 10
Inns: 7 // Wkts: 18 // Avg: 28. 7 // BBI: 4/54
The only spinner from England that looked threatening in the series. Of course, if you remove his performance against Rishabh Pant, Leach has actually bowled really well. He took 18 wickets in 6 innings at an average of 28.7. While he didn't get a 5-wicket haul, he looked like someone who could be the break-through bowler for England 
#10: Ishant Sharma (India) – 4.5
Inns: 6 // Wkts: 6 // Avg: 26.7 // BBI: 2/22
Ishant's primary role in the series was to play a second fiddle to Ash and Axar, which he did perfectly. He had to only take the new ball, and keep things tight, which he did perfectly. Overall, Ishant had marginal success with 6 wickets from 6 innings at an average of 26.7, which isn't bad. 
#11: James Anderson (England) – 7.1
Inns: 5 // Wkts: 8 // Avg: 15. 9 // BBI: 3/17
The legend, James Anderson looked the best pacer in the Tournament. His reverse swing troubled the best of the best. However, there's one thing which Anderson would like to forget and that's Rishabh Pant reverse-sweeping him over the keepers head for four. That was simply outrageous, and Jimmy's reaction said it all. Overall, Anderson took 8 wickets from 5 innings at an average of 15.9. He bowled small spells, but looked effective in most of those. His spell of 3/17 in the first Test was pace bowling or highest calibre. 
So, that completes the combined best 11 of the India vs England 2021 Test Series. Here's the consolidated list. Frankly, the team has a lot of all-rounders, but the fun fact is that even the all-rounders had better batting stats as compared to some of the star batsmen in the series. 
Rohit Sharma, Joe Root, Virat Kohli (C), Ben Stokes, Rishabh Pant ( WK), Washington Sundar, Ravichandran Ashwin, Axar Patel, Jack Leach, Ishant Sharma & James Anderson. 
Thanks for reading! What's your combined best 11 of India vs England 2021 Test series? Please email your comments to business@cricalytics.com
---
ALSO READ: IPL 2021 Special: Strongest Predicted Playing XI for Mumbai Indians (MI)
---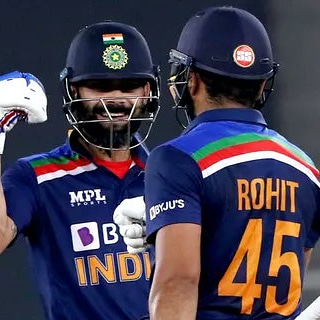 Adesh Kothari is the founder of AK4Tsay1 Cricalytics.
Cricket to him is like what 'Football is to Lionel Messi', 'Singing is to Lata Mangeshkar', 'Dancing is to Michael Jackson', and what 'Acting is to Clint Eastwood'.
Besides his effervescent love for Cricket, Adesh is an MBA by qualification.