T20 WC 2021: Two Playing 11 for India under Virat Kohli and Rohit Sharma
Virat Kohli and Rohit Sharma to lead the strongest playing 11 for Team India for the T20 World Cup (WC) 2021.
'Bench Strength' is the word that is currently gaining a lot of traction; not just in the world of Cricket, but in all the sports due to the COVID-19 pandemic. With teams across the world creating a squad with 20-30% more players as compared to the original squad, it is important for them to have a big pool of backup players. 
One such scenario we are currently witnessing is with Team India, who are playing two parallel series at the same time. There's the Test team currently in England that has almost 13 players that play multiple formats, and then there's a pool of 20 players that are currently selected to play the limited-overs series in Sri Lanka.
With the Sri Lanka series, Team India would be planning to test their bench strength for the all-important T20 World Cup scheduled later this year in the October-November window in UAE. With a lot of senior members missing from the tour, an interesting case of comparing the two best playing 11 can be an interesting case analysis.
So, in this article, we take a look at two best playing 11s with one playing 11 that is almost near to perfect to represent Team India for the T20 World Cup (WC) 2021 under Team India's primary captain Virat Kohli, and compare that with the strongest backup XI under Team India's Vice-Captain Rohit Sharma.
Criteria:
For the ease of our analysis, we would have to separate Rohit Sharma from the Primary team as he is the Captain of the opposite team. Other than him, the remaining 9-10 players are almost the first-choice options to play under Virat Kohli for the T20 World Cup (WC) 2021. Moreover, the playing 11s are selected basis their performance in T20s and T20Is in the last three years. 
Openers:



Team VK: KL Rahul & Mayank Agarwal
Team RO: Rohit Sharma & Shikhar Dhawan
If we talk about the top 4 openers for Team India in the T20I format, it has to be Rohit Sharma as the first-choice, followed by KL Rahul, Shikhar Dhawan, and then Mayank Agarwal. While Rohit would lead Team RO as the opener, KL Rahul shall lead the opening duties for Team VK. 
Shikhar Dhawan is considered as the backup opener for Rohit and Kl Rahul. Given Mayank's tuning with KL Rahul and Rohit's tuning with Shikhar Dhawan, an exception has been made by swapping this position. Stat-wise, Dhawan is a slightly better performer as an opener as compared to Mayank Agarwal in the T20s in the last 3 years. 
Middle-order:
Team VK: Virat Kohli, Shreyas Iyer & Rishabh Pant
Team RO: Suryakumar Yadav, Sanju Samson & Ishan Kishan
Talking about the middle-order, Team VK should see Virat at 3, Team India's settled number 4 in the form of Shreyas Iyer, and Team India's first-choice keeper in all three formats, Rishabh Pant at 5. However, Shreyas Iyer isn't a confirmed name for the T20I squad as Suryakumar is a strong contender. But given the experience and his performance off-late, Iyer seems to have an edge at number 4 for Team India. 
Coming to Team RO, Suryakumar Yadav at 3 is a solid and reliable option to have. Surya has had an impressive debut series against England. He has been performing exceptionally well in IPL in the last three years. Number 4 and 5 should see two backup middle-order wicket-keepers in the form of Sanju Samson and Ishan Kishan. 
All-rounders:
Team VK: Hardik Pandya & Ravindra Jadeja
Team RO: Axar Patel & Washington Sundar
When it comes to the current best all-rounders for Team India in the T20 format, there's no better than the duo of Hardik Pandya and Ravindra Jadeja. They are without a doubt the best all-rounders we have in the country. But when it comes to 2 strong backups, it has to be Axar Patel and Washington Sundar.
While Axar's place as an all-rounder above Krunal Pandya may be slightly debatable, stat-wise Axar Patel has been a better performer as compared to Krunal in the last three years in the T20s. Meanwhile, Sundar's batting isn't as good as we might expect, but he is a fantastic bowling all-rounder to have. 
Bowlers:
Team VK: Jasprit Bumrah, Mohammed Shami, Bhuvneshwar Kumar & Yuzvendra Chahal
Team RO: Shardul Thakur, T Natarajan, Mohammed Siraj & Rahul Chahar
Talking about the leading spinner for both the squads first, we have Yuzvendra Chahal representing as the leading spinner in the country under Team VK. But when it comes to leading backup spinner, we have Mumbai Indians' Rahul Chahar in the ranks. Of course, we also have Kuldeep Yadav and Varun Chakravarthy as quality backups. But given Kuldeep's current form and Varun's lack of international experience, the above two are the best options for us. 
Talking about the Pacers, Team India's ideal first-choice three pacers are Jasprit Bumrah, Bhuvneshwar Kumar, and Mohammed Shami. While Bumrah and Bhuvi are definitely set to play as the leading pacers, Shami seems the front-runner as the third pacer for the T20 World Cup. Coming to Team RO, Mohammed Siraj is the leading pacer for the T20I format. The lad has been exceptional since the 2020 IPL, and is definitely a front-runner as the third pacer for Team India alongside Mohammed Shami.
The other two backup pacers who have been extremely impressive in IPL and T20Is in the last three years are Shardul Thakur and T Natarajan. Unfortunately, Deepak Chahar who is also equally good has to miss out from this squad. So, Shardul and Natarajan lead the race as the 5th and 6th pacer for the T20I format. 
Team India Unique T20I Playing 11 under Virat Kohli:
KL Rahul, Mayank Agarwal, Virat Kohli (C), Shreyas Iyer, Rishabh Pant (WK), Hardik Pandya, Ravindra Jadeja, Bhuvneshwar Kumar, Mohammed Shami, Jasprit Bumrah & Yuzvendra Chahal. 
Team India Unique T20I Playing 11 under Rohit Sharma:
Rohit Sharma (C), Shikhar Dhawan, Suryakumar Yadav, Sanju Samson (WK), Ishan Kishan, Axar Patel, Washington Sundar, Shardul Thakur, Mohammed Siraj, Rahul Chahar & T Natarajan. 
Such is Team India's bench strength that we can also have another 11 that can form the India B squad. This includes Prithvi Shaw and Devdutt Padikkal as openers. Shubman Gill, Nitish Rana, and Manish Pandey in the middle-order. Krunal Pandya and Krishnappa Gowtham as all-rounders. Varun Chakravarthy as the leading spinner. Deepak Chahar, Navdeep Saini, and Chetan Sakariya as the Pacers. 
Thanks for reading! Which T20 WC playing 11 looks the best for Team India. Team RO or Team VK? Please email your thoughts to business@cricalytics.com.
---
ALSO READ: Unique Playing XIs for Team India if all 3 formats are played together
---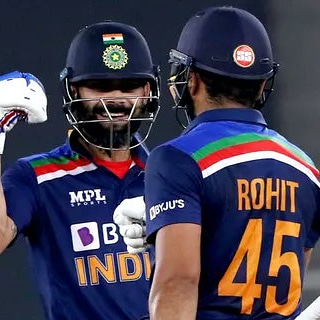 Adesh Kothari is the founder of AK4Tsay1 Cricalytics.
Cricket to him is like what 'Football is to Lionel Messi', 'Singing is to Lata Mangeshkar', 'Dancing is to Michael Jackson', and what 'Acting is to Clint Eastwood'.
Besides his effervescent love for Cricket, Adesh is an MBA by qualification.