WTC 2021-23: Points Table Standings Prediction – India vs Pak Final?
India and Pakistan best placed as we look at the points table standings prediction for the ICC World Test Championship 2021-23.
The first-ever ICC World Test Championship saw a successful completion with New Zealand comfortably beating India in a one-off finale in England. While India and New Zealand finished as the top 2 teams, Australia and England were not too far behind in the points table. 
The World Test Championship is definitely a bold step to preserve the longest format of the game, but there were a lot of flawed rules in the first edition. Unfortunately, most of the rules are still retained in the second edition that is expected to start with the England vs India Test series in August 2021. 
In terms of positive change, teams would now be rated on the Percentage of Points method, which is the percentage of Points Earned divided by the total number of points contested. Secondly, each match will carry an equal number of points, thus removing any disadvantage for teams playing more matches in a series. 
But, with the two positives in place, we do have a few negatives. The random Home and Away concept is still there, which makes the competition unfair. Each Team would still play only 6 series, thus leaving out 2 teams of their mutual choice to not play against. This will again make the overall tournament less competitive. 
Nevertheless, we have to move on, and now focus on the second edition. So, looking at the fixtures of all teams, what's the probability of their wins? Which team is safe, and which team has the toughest fixtures? Ultimately, looking at our prediction analysis, which two teams might finally end up playing the ICC World Test Championship final? 
Methodology
Predicting the Standings in the points table is a monumental task. It's very difficult to know the on-the-ground situation, and how teams fare on the given day. But, we will focus on the current form and past history to arrive at the win probability, which will make our analysis fair. With the pandemic in place, the probability of all matches being played is slightly reduced. Hence, for a safe analysis, we will have to assume that all matches take place.
The points calculated based on the current format as we know are 12 points for a win, 6 for a tie, 3 for a draw.  While there is a huge deduction of 1 point for a slow overate penalty for every over, we will let go of this rule for the time being as it is very subjective. So, let's look at 5 teams, who according to our prediction analysis will finish in the top 5 of the World Test Championship 2021-23 points table. 
#1: India: 
Mat: 19 // Win: 13 // Draw: 0 // Loss: 6
Points: 156 // PC: 228 // PCT%: 68.4
Team India play a total of 19 matches in the WTC 2021-23 with 9 matches being played at home and 10 away from home. For Team India, the easiest series would be the home series vs New Zealand, Sri Lanka, and the away series vs Bangladesh. I doubt India would lose even a single match against these. Hence, we can expect India to win 2-0 vs NZ & Bangladesh, and 3-0 vs Sri Lanka.
For India the toughest series would be the one played in England and South Africa. They play 5 Tests in England and 3 Tests in South Africa. Looking at history, it would be difficult for India to win a series in both these countries. Hence, expect India to lose 2-3 to England and 1-2 to South Africa.
2-3 against England is still optimistic, but expect VK and Co. to give a better performance there. Meanwhile, the home series vs Australia could also be tricky. Australia have been a tough opponent for India at home, hence expect them to win 1 match against India. They can win more if India don't push for spin tracks. Thus expect India to win 3-1 against Australia.
Overall, India should win 13 matches, and should end at a PCT% of 68.4; the highest among all the teams.
#2: Pakistan: 
Mat: 13 // Win: 8 // Draw: 2 // Loss: 3
Points: 104 // PC: 156 // PCT%: 66.7
You may like it or not but Pakistan have the easiest of the fixtures among all the teams. They play only 13 matches with 7 at home and 6 away from home. But fortunately, they play tough opponents at home and easy opponents away from home. It cannot get any better for this team, which isn't a strong as the big 3. Thus Pakistan have a golden chance of qualifying for the final of WTC 2021-23.
Pakistan play Australia, New Zealand, and England at home. Looking at history, it would be difficult for any of these countries to win a series in Pakistan. But Australia and New Zealand can definitely draw the series being only a 2-match series. England stand no chance to win a series, but can sneak in a draw somehow. Thus, Pakistan should draw 1-1 vs Australia & NZ, and win 2-0 vs England.
Coming to away tours, Bangladesh should be an easy one for Pakistan. Sri Lanka are a tough opponent in their den, but looking at their current form, at max they can draw 1 match. Thus, Pakistan should win 2-0 and 1-0 vs Bangladesh and Sri Lanka respectively. West Indies tour can be tricky, hence expect the West Indies series to end 1-1. 
Overall, expect Pakistan to finish second in the WTC 2021-23 Standings with a PCT% of 66.7.
#3: Australia: 
Mat: 18 // Win: 11 // Draw: 2 // Loss: 5
Points: 140 // PC: 216 // PCT%: 64.8 
One of the toughest opponents to play against, and the current number 3 in the ICC Rankings, Australia have some really competitive matches in the 2nd edition of WTC. They play a total of 18 matches with 10 being played at home and 8 away from home.
Their toughest series would be the away series vs India, which should go 3-1 in India's favor. Home series vs England and South Africa may see Australia winning both, but expect the current South Africa team to draw at least 1 match and expect England to win 1 and draw 1. Thus, Australia should win 3-1 vs England and 2-0 vs South Africa. 
Australia's easiest series win should be against West Indies, and that should go 2-0 in Australia's favor. The sub-continent tours vs Pakistan and Sri Lanka could be difficult. Pakistan series may end at 1-1 as a draw and the Sri Lanka series should go 2-0 in Australia's favor. 
Overall, Australia should just end below Pakistan with a PCT% of 63. However, there is a scope for them, and Sri Lanka and South Africa draws can go their favor. 
#4: South Africa
Mat: 15 // Win: 8 // Draw: 1 // Loss: 6
Points: 100 // PC: 180 // PCT%: 55.6
South Africa finished at number 6 in the first edition of WTC, their worst performance ever in the 21st century. But with the second edition, South Africa have a good chance to finish in the top 4, and even qualify for the top 2. They play a total of 15 matches with 7 played at home, and 8 away from home.
South Africa should fancy winning 2-0 against Bangladesh and West Indies at home. The India series as shown above should go 2-1 in their favor. However, their toughest battle should be the away series vs New Zealand, Australia, and England.
South Africa have always performed well in New Zealand, but looking at the current squad, they may not win a series, but can manage to win a Test. Australia tour is a tough one, and they should at least sneak in a draw. England tour is tough too, but expect them to win 1 match. Thus, South Africa should end at 1-1 vs NZ, 0-2 vs Australia, and 1-2 vs England.  
Overall, South Africa play only in SENA countries, and that suits their strength. They should finish at 4 with a PCT% of 55.6. Only if they had a good batting line-up, they should have finished in the top 2. Nevertheless, they still have a chance if they get their batting right as their bowling is still the strongest.  
#5: New Zealand: 
Mat: 13 // Win: 7 // Draw: 0 // Loss: 6
Points: 84 // PC: 156 // PCT%: 53.8
Last year's winners may face their toughest challenge in the second edition given their fixtures. They play a total of only 13 matches with 6 at home, and 7 away from home, but it is their away tours that would be the most difficult. 
Starting with the most difficult series, India, it should end up 2-0 in India's favor. England played their B team against New Zealand in their most recent tour, but with all their key stars back, England should back themselves to win 2-1 against New Zealand.
Pakistan at home are also a tough opponent, but expect New Zealand to win a Test to make it 1-1.  Other than that, New Zealand should comfortably win 2-0 against Sri Lanka and Bangladesh, but South Africa as shown above should manage to sneak in a win; thus ending the series at 1-1.    
Overall, New Zealand face some really tough matches in the second edition of WTC, and they should end up at number 5 with a PCT% of 53.8%. 
England, who might finish at 6 don't deserve this position, but given they play tough and a lot of matches, it may work against their favor. They should still be in contention as according to the analysis, they finish at a PCT% of 53; just below South Africa and New Zealand.  
According to our prediction analysis, the other four teams should have the following points and PCT% in the World Test Championship 2021-23.
England: 140 Points // PCT%: 53

Sri Lanka: 40 Points // PCT%: 25.6

West Indies: 36 Points // PCT%: 23.1

Bangladesh: 12 Points // PCT%: 8.3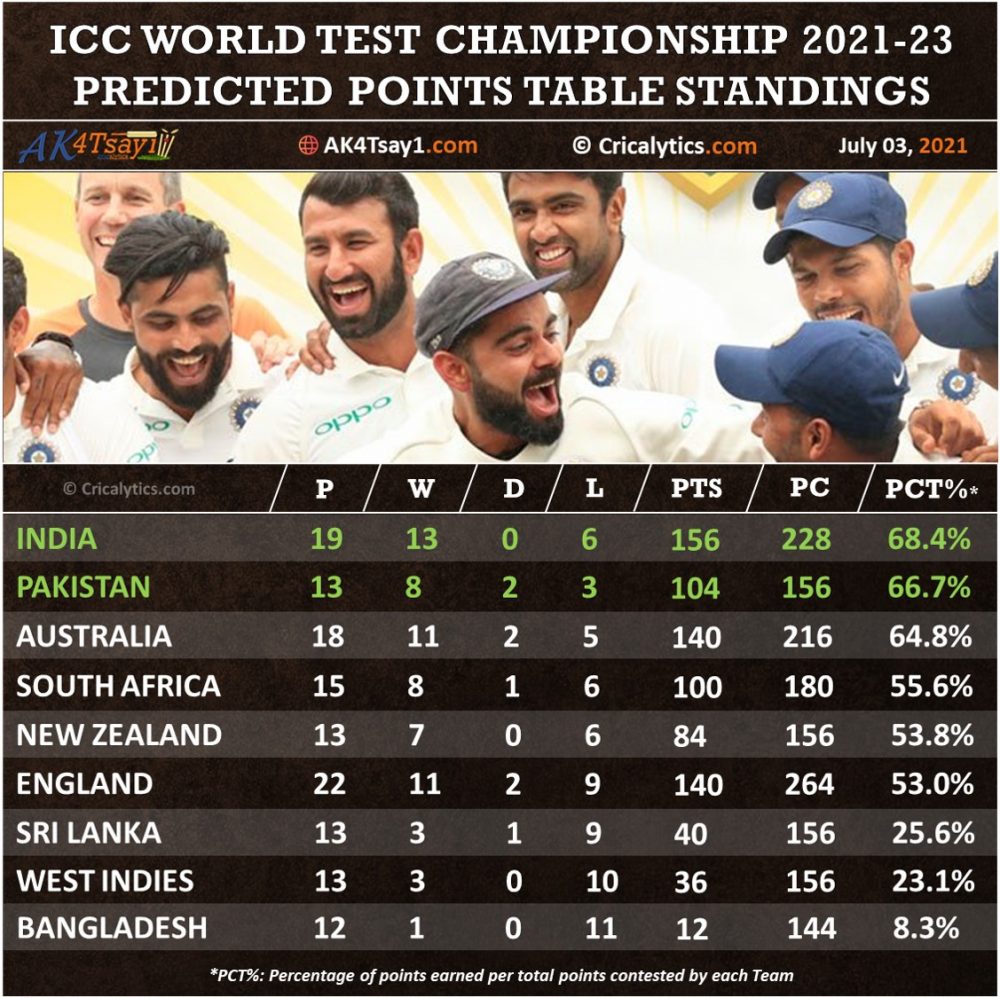 Conclusion: 
Overall, the second edition should be more competitive than the first edition looking at the fixtures. While India should definitely finish in the top 2, Pakistan have a golden chance, and they can leapfrog the big guns Australia, New Zealand, England, and South Africa to finish in the top 2. 
Thanks for reading! Looking at the prediction, which two teams would qualify for the World Test Championship 2021-23 final? Please email your thoughts to business@cricalytics.com.
---
ALSO READ: T20 WC 2021: Two best Playing 11 under Virat and Rohit for Team India
---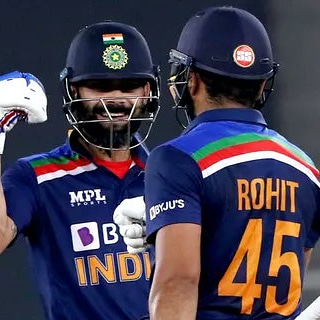 Adesh Kothari is the founder of AK4Tsay1 Cricalytics.
Cricket to him is like what 'Football is to Lionel Messi', 'Singing is to Lata Mangeshkar', 'Dancing is to Michael Jackson', and what 'Acting is to Clint Eastwood'.
Besides his effervescent love for Cricket, Adesh is an MBA by qualification.