ICC's Slow Over-rate Penalty Rule will Kill Test Cricket – Here's why
Over-rate Penalty rule is implemented in the most bizarre fashion in the latest World Test Championship 2021-23 cycle.
'Over-rate' as a term is certainly one of the most overrated things when it comes to the sport we love the most, Cricket. For people who aren't familiar with this term, over-rate refers to the 'average number of overs bowled by a team in an hour of play'. 
In general, a team has to maintain an over-rate of 15 in Tests, 14.28 in ODIs, and 14.11 in T20Is. This is excluding all the external factors affecting the game like Rain, match delays, injury concerns, third umpire escalations, etc. If the team is found violating this rule, the team is often penalized financially. 
But for World Test Championship, penalties are not limited to only fees deduction. The teams are also devoid of crucial points for maintaining a slow over-rate. Australia, for example, were docked 4 crucial points in WTC 2019-21, which led to them being unable to qualify for the final. Ultimately, New Zealand ended up qualifying on account of superior PCT%. 
What's the New Over-rate Penalty Rule for World Test Championship?
The second season, WTC 2021-23 kicked-off with the first Test match between India and England. While the test match ended in a draw with each team being awarded 4 points according to the new points system, 2 points were deducted from the overall points for both the teams, thus leaving them strangled on 2 points each. 
So, what has changed in the second season of WTC as compared to the previous season? Well, as per Article 16.11.2 of the ICC World Test Championship playing conditions, a side is penalized one point for each over short. If compared to WTC 2019-21 where 2 points were deducted for each over short, it is an improvement, but the devil lies in the details. 
To understand the bizarre composition of the new rule, we need to understand the existing and old points system.  
In WTC 2019-21 cycle awarded 60 points, 40, points, 30 points, and 24 points for a win for a 2-match, 3-match, 4-match, and 5-match series respectively. In proportion, a draw was awarded 1/3rd the points of a win based on the series type. Whereas in WTC 2021-23, a flat 12 points are awarded for a win and 4 points are awarded for a draw. This is irrespective of the number of matches being played in the series.
Coming to the actual issue, and why the new over-rate rule is a bizarre rule in the history of Cricket? 
Penalty 
If we look at the WTC 2019-21 penalty system, a deduction of 2 points for every over short would not have affected the overall Standings as much as it will do in the current system. For example, 2 points deducted in a 2-match series that has 60 points for a win is ~3% of the overall points.
But in WTC 2021-23, a deduction of 1 point for every over short would result in overall points being reduced by ~8%. That means, on a percentage scale, this is 166% more than the last season. This is a significant increase given that the final 2 positions would be selected basis the PCT%.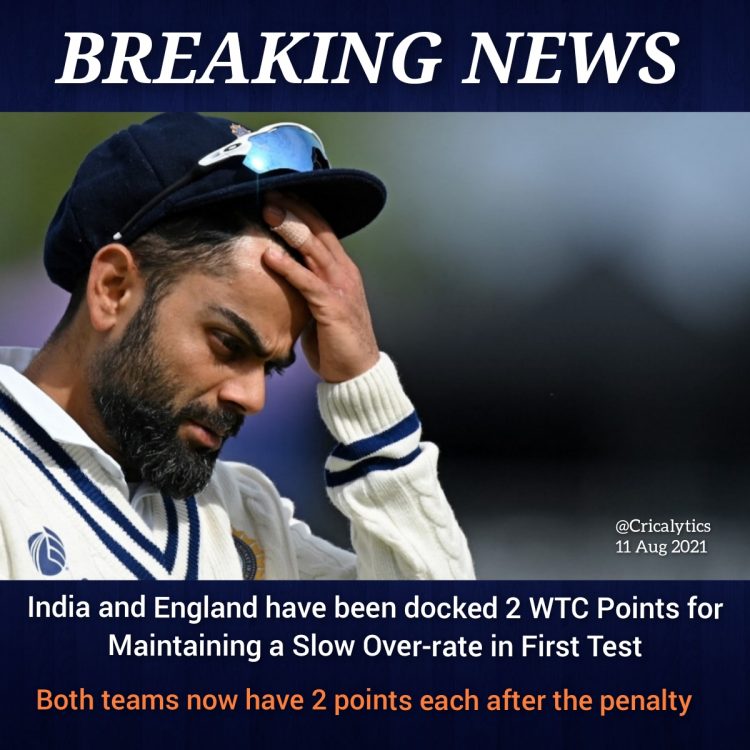 Why does the rule need a revision?
While slow over-rate is definitely not good for the game, if we compare how it is implemented in Tests vs ODIs and T20Is, it is a shocking bias. If we talk about ODIs or T20Is, no team is devoid of any points for slow over-rates. The penalties are hugely limited to match fees deduction or 1-2 match suspension. This is logically accepted as the financial repercussion is taken care of.   
But when it comes to World Test Championship, the penalty is not just limited to match fees deduction or captain suspension, it also penalizes crucial WTC points. This removes the competitive spirit, and gives an unfair disadvantage to teams that fail to adhere to the over-rate rules. 
Another important question is the inconsistency in the way over-rate is calculated. It is no simple mathematics where the 2+2=4 rule works. There are so many external factors affecting the game that the over-rate calculation is as complex as the DLS method. In simple words, it is intangible, and will lead to calculation errors and bias. 
So, I have two questions for ICC to answer:
If Test matches in WTC see points being deducted for slow over-rates, then why is this not implemented in ODI or T20I tournaments like ODI World Cup, Champions Trophy, or T20 World Cup?

Secondly, what is the logical reasoning if the teams miss the over-rate by 1-2 overs? Do fans complain about it? I believe, No. Do broadcasters complain about it? They might, but then you cover them with financial penalties, which is accepted.  
Conclusion:
In my opinion, over-rate is quite exaggerated and bizarrely implemented when it comes to Test Cricket. In lieu of increasing the over-rate, teams would be forced to bowl more spinners even in conditions that are pace-friendly. This will remove the competitiveness of a match. In addition, such a relatively high points penalty will bring huge controversies as the tournament progresses.
To make it more productive, ICC should remove points deduction, and should switch to only financial penalties. Else going forward, controversies and penalty irregularities may only lead to the death of Cricket's most precious format, Test Cricket.       
Thanks for reading! If you are not happy with the over-rate penalty rule for World Test Championship, voice out your opinion to business@cricalytics.com.
---
ALSO READ: WTC 2021-23: Points Table Standings Prediction – India vs Pak Final?
---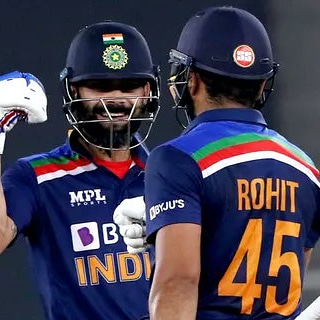 Adesh Kothari is the founder of AK4Tsay1 Cricalytics.
Cricket to him is like what 'Football is to Lionel Messi', 'Singing is to Lata Mangeshkar', 'Dancing is to Michael Jackson', and what 'Acting is to Clint Eastwood'.
Besides his effervescent love for Cricket, Adesh is an MBA by qualification.