IPL 2022: Rating and Ranking the actual player retentions for all teams
Mumbai Indians, the best team as we look at the rating and ranking of actual player retentions of all the teams for IPL 2022. 
The Indian Premier League Mega Auctions that usually happen every 3 years are always one of the most exciting events to watch out for. Teams put their heart and soul in biulidng a solid core of 10-12 players in a span of 3 years, but with Mega Auctions, only a handful players are allowed to be retained. 
For the teams that have been consistent and doing well, it is the toughest time in the league. They have to let go off a few players that have been match winners for them. But for teams that had not been going well, a fresh restart seems a viable option. Thankfully, IPL Mega Auctions give them a fair opportunity to rebuild their core. 
The IPL 2022 season will have the Mega Auction in place, and the IPL governing body allowed a maximum of 4 players to be retained. This includes a maximum of 3 Indians and 2 overseas players. In all, the existing 8 franchises retained 27 players including 8 foreigners. While 5 teams retained 4 players each, the other 4 teams retained 2-3 players. 
Exciting IPL 2022 Retentions
As usual, the talk of the town has been the kind of salary that is being offered to the players by the franchises to retain them. Opportunity and Team culture has majorly been an influencing factor for a player to decide if he wants to stay with a franchise or not. Moreover, the salary offers are as exciting as some of the value-for-money offers found on Neds sign-up offers.
Considering all these factors, let's analyze the player retentions of all teams, and subsequently look at the ranking and rating of the IPL 2022 actual player retentions of all teams. To arrive at the rating, we would be unbiased and you would consider their salary valuation, Team culture, Team retention utilization, etc. So, let's get to it. 
#8: Sunrisers Hyderabad 7.13
Players Retained: Kane Williamson, Abdul Samad & Umran Malik
Total Purse Available: INR 68 Cr
Sunrisers Hyderabad retained their captain, Kane Williamson as their first player on the list for INR 14 Cr. While retaining Kane was always going to be on the cards, in the process, SRH let go off their 3 best players over the years, David Warner, Rashid Khan, and Jonny Bairstow.
David has been a match-winner, but franchise politics and culture meant Warner was always not going to get retained. Rashid has been and is the best spinner in the world currently. He was expecting a salary raise, but KKR management thought otherwise. Similarly, in Jonny, SRH lost a superb opener.
Instead, SRH retained the uncapped duo of Abdul Samad and Umran Malik. Both haven't proved in IPL as yet, but got 4 Cr as compensation, which seems more than the amount they could get in Auction. Similarly, Kane isn't worth 14 Cr if we compare the competition. For letting go of Rashid and Warner, and other salary issues, SRH get a cumulative retention rating of 7.13. 
#7: Punjab Kings – 7.33
Players Retained: Mayank Agarwal & Arshdeep Singh
Total Purse Available: INR 72 Cr
The biggest shocker of the evening was when Punjab Kings announced that they couldn't retain the current best player in the tournament, KL Rahul. With negotiations that couldn't go as expected, Punjab kings were forced to pay a higher salary of INR 12 Cr to Mayank Agarwal. Barring him, PBKS couldn't retain any other senior player.
However, the two good conclusions from PBKS retention are the retention of uncapped Arshdeep Singh for INR 4 Cr and the highest purse availability of INR 72 Cr for the IPL 2022 mega auction. While they may not get KL Rahul in the auction, the higher purse amount can actually benefit them if they are smart. Overall, PBKS get a cumulative rating of 7.33 for their retention. 
#6: Kolkata Knight Riders – 7.90
Players Retained: Andre Russell, Varun Chakravarthy, Venkatesh Iyer & Sunil Narine
Total Purse Available: INR 48 Cr
If given an option, I would personally rate KKR as the worst strategist for IPL 2022 retentions. They spent only INR 34 Cr, but their purse deduction is INR 8 Cr more with INR 42 Cr. The kind of players KKR retained and the purse deducted for them is completely out of proportion. 
The salary being offered for Andre Russell, Venkatesh Iyer, and Sunil Narine seem good, but to retain Varun Chakravarthy, KKR had to pay INR 12 Cr instead of INR 8 Cr. Overall, the retentions are not so bad, but it is the amount being deducted that is actually bad.  Overall, KKR get a cumulative rating of 7.90 for their retentions for IPL 2022. 
#5: Delhi Capitals – 8.20
Players Retained: Rishabh Pant, Axar Patel, Prithvi Shaw & Anrich Nortje
Total Purse Available: INR 47.5 Cr
One of the most consistent sides in the last three years had decent IPL 2022 retentions. They were neither too bad nor too good. They were very calculative in terms of the salary being offered by them with all three players being offered a negotiated salary except for Rishabh Pant. Overall, Rishabh Pant and Anrich Nortje have got a decent salary with Nortje being actually retained at a good bargain.
But the salary being offered to Axar Patel and Prithvi Shaw is out of proportion and high. However, the thing which Delhi Capitals will rue is the non-retention of Dhawan, Iyer, and Rabada. All three deserved retention, but with only 4 being allowed, Delhi had to let go of them. But to be honest, Dhawan could have been retained for either Axar or Shaw. Overall, Delhi Capitals get a cumulative rating of 8.20 for their retention for IPL 2022. 
#4: Royal Challengers Bangalore – 8.75
Players Retained: Virat Kohli, Glenn Maxwell & Mohammed Siraj
Total Purse Available: INR 48 Cr
RCB retained only three players in the form of Virat Kohli, Glenn Maxwell, and Mohammed Siraj, but what highlights RCB's retention is their financial analysis. By retaining only 3 players, RCB potentially saved 9 Cr. With 9 Cr left, RCB can always save a few crores even if they purchase Harshal, Chahal or Padikkal in the auction. 
Another good thing is the salary RCB is offering to Virat Kohli and Maxwell. In INR 15 Cr and INR 11 Cr, Virat and Maxwell are value-for-money buys. Both have generously taken a pay cut, which isn't normal these days. However, the same can't be said about Siraj, who got more than what he could have got in the auction. Overall, RCB get a cumulative rating of 8.75 for their retentions for IPL 2022. 
#3: Rajasthan Royals – 8.88
Players Retained: Sanju Samson, Jos Butter & Yashasvi Jaiswal 
Total Purse Available: INR 62 Cr
Rajasthan Royals have been very smart with their retentions for IPL 2022. They got a steal in the form of Jos Buttler and Yashasvi Jaiswal for INR 10 Cr and INR 4 Cr respectively. One can slightly debate on Sanju Samson's salary of INR 14 Cr, but it isn't as bad as perceived. 
The only thing which RR did wrong was letting go of one of Jofra Archer, Ben Stokes, or Liam Livingstone. All three would have been excellent buys for 7 Cr or lower. Barring the fourth retention, RR did a fantastic job, and thus get a cumulative rating of 8.88 for their retentions. 
#2: Chennai Super Kings – 9.20
Players Retained: Ravindra Jadeja, MS Dhoni, Moeen Ali & Ruturaj Gaikwad
Total Purse Available: INR 48 Cr
The defending champions, Chennai Super Kings were almost perfect in terms of their IPL 2022 retentions except for 1 minor issue. Overall, they had the perfect 4 retentions in the form of Ravindra Jadeja, MS Dhoni, Moeen Ali, and Ruturaj Gaikwad, and the salary offered is also as expected. But the only debatable topic with CSK's retention could MS Dhoni's salary. 
While Dhoni was actually selfless in denying INR 16 Cr, the final salary of INR 12 Cr being offered to MS Dhoni is actually also on the slightly higher side. A salary of around 8 Cr would have been really good for Dhoni, who isn't contributing much to the team except for captaincy. Nevertheless, CSK get a cumulative rating of 9.20 for their retentions for IPL 2022.     
#1: Mumbai Indians – 9.30
Players Retained: Rohit Sharma, Jasprit Bumrah, Suryakumar Yadav & Kieron Pollard
Total Purse Available: INR 48 Cr
Without a doubt, Mumbai Indians remain as the team with the best retentions so far for IPL 2022. They couldn't have got it wrong as not only did they retain the players as expected but also offered the salary as expected. The likes of Rohit, Bumrah, Suryakumar, and Pollard have got the salary in line with the expectations.  
While the grass is definitely green for Mumbai Indians, they could have thought to retain Hardik Pandya for Suryakumar Yadav, although SKY isn't a bad option either. The only problem which may be visible going forward is if Hardik gets his act together as an all-rounder, it could be an unrealized issue for MI. Nevertheless, MI get a cumulative rating of 9.30 for their retentions. 
So, that completes the ranking and rating of the actual player retentions of all teams for IPL 2022. While some did good, some did bad. But overall, the Mega Auction will give plenty of opportunity for all the teams to ramp up their squad. 
Thanks for reading! What's your take on the IPL 2022 actual player retentions? Please email your thoughts to business@cricalytics.com
---
ALSO READ: IPL 2022: Final Retained Players List and Purse Value left for all Teams
---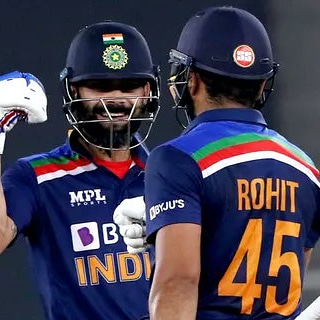 Adesh Kothari is the founder of AK4Tsay1 Cricalytics.
Cricket to him is like what 'Football is to Lionel Messi', 'Singing is to Lata Mangeshkar', 'Dancing is to Michael Jackson', and what 'Acting is to Clint Eastwood'.
Besides his effervescent love for Cricket, Adesh is an MBA by qualification.