IPL 2022: Predicted Retentions for Lucknow and Ahmedabad New Teams
KL Rahul, the hot favourite as we look at the predicted player retentions for the Lucknow and Ahmedabad-based new teams for IPL 2022.  
Ever since the existing 8 teams announced their retained players list for IPL 2022, the focus has now shifted to the two new franchisees who are going to announce the list of 3 players that they wish to retain. December, end has been set as the deadline for the new franchisees to share their list after negotiations with the potential players. 
To recap about the rules, the new teams are allowed to retain a maximum of 3 players with a maximum of 2 Indians and a maximum of 1 overseas player. The salary bifurcation for the players shall be INR 15 Cr, INR 11 Cr, and INR 7 Cr respectively. However, players may get a chance to negotiate a higher salary. 
From the list of potential players that are being released, there are a lot of good options available for the franchise to look for. This has led to an increase in the brand value of both the new teams as suggested in the Neds Welcome offer. Having said that, let's look at the predicted retentions for new teams for IPL 2022. 
#6: Shreyas Iyer
Shreyas Iyer was one of the high-profile players that were not retained by the Delhi Capitals. While there's absolutely no reason why Delhi won't retain Iyer, the non-retention came from Iyer, who was looking for a leadership role in the franchise. But with Pant already retained as the captain, it was inevitable for Iyer to leave the franchise to start a new journey. 
Both Lucknow and Ahmedabad-based franchises would be looking for a leader for their franchise. Iyer had not only led Delhi Capitals successfully but was also instrumental in building the team from scratch. Both the teams would need to get their negotiation arm strong as Iyer may also demand a higher salary. As understood, new teams should not have any issue giving INR 15 Cr or 11 Cr to Shreyas Iyer. 
#5: Shikhar Dhawan
One of the most consistent batters in IPL in the last 2 years, Shikhar Dhawan was another player surprisingly released by Delhi Capitals. Again, the reason that comes out is his age and demand for a higher salary. While Dhawan may not be a captaincy material, he is extremely valuable as a player. He can play for another 2-3 years, and spending 11 Cr or 7 Cr on Dhawan is worth the investment. 
#4: Faf du Plessis
Similar to Dhawan, Faf du Plessis has been one of the most consistent openers in IPL in the last two years. Given the limited options to retain, CSK let go of their star opener for Moeen Ali; who was equally good as a player. With Faf also a potential leader, he could be one of the potential players to watch out for. From a salary standpoint, INR 7 Cr is a good amount for him. 
#3: Hardik Pandya
Probably the best all-rounder available in the pool of potential players for new teams to look out for. Given the limited options, Hardik, who has been a match-winner for Mumbai Indians over the years was not retained by the franchise for two probable reasons. Had he been retained, Hardik would be forced to contain with a salary of INR 8 Cr. Secondly, had Hardik been retained, MI could have lost a potential leader in Suryakumar Yadav.
Even as Hardik's form hasn't been great of late, he is still a match-winner. He is just a few matches away from regaining the form. In addition, Hardik has started bowling, and that makes him even more lethal. Both Ahmedabad and Lucknow-based franchises would be after Hardik. There's a high chance of him getting retained for either INR 15 Cr or INR 11 Cr. 
#2: Rashid Khan
Undoubtedly the best spinner in the world at the moment, Rashid Khan would be the second hottest property for the new franchisees and in the auction. With SRH, Rashid Khan had a hard time negotiating the salary. Rashid wanted to be retained as the first-choice player for INR 14 Cr, but with Kane given that option, Rashid Khan refused to accept a salary of INR 10 Cr.
To be honest, Rashid can get retained for INR 15 Cr or not get retained at all. If Rashid is given 15 Cr, both the new teams may be devoid of other options. If Rashid is offered 11 Cr, he may not accept at all. However, Rashid may want the new teams to match the salary of INR 14 Cr to accept the retention. If not, Rashid may go into the auction pool to try his fate.    
#1: KL Rahul
Having refused the captaincy retention at Punjab Kings, KL Rahul would go into the pre-auction retention of new teams as the hottest player to watch out for. Such is the stardom of KL Rahul at the moment that he can demand any salary. But the question remains, what salary will KL Rahul accept to get retained?
It is also important to understand why KL Rahul refused to play for Punjab Kings? While salary may be a part of the issue, the main issue seems to be around the team culture. It seems as if KL Rahul wasn't given enough freedom to drive the team strategies and decision-making. This could be the main trigger point for new teams to negotiate on.
Both Ahmedabad and Lucknow-based franchisees would be negotiating thick and hard with KL Rahul. As understood from unverified "According to sources/reports news", KL Rahul may demand a salary of INR 20 Cr. According to cricket betting comparison sites in India, the odds of KL Rahul leading the Lucknow Super Giants to victory in their maiden season are very high.
So, that completes the predicted retentions for new teams for IPL 2022. Other potential options that can also get retained by the new franchises include David Warner, Jonny Bairstow, Kagiso Rabada, Mohammed Shami & Ishan Kishan. 
Thanks for reading! What's your take on the IPL 2022 Predicted Retained players for the new teams? Please email your thoughts to business@cricalytics.com
---
ALSO READ: IPL 2022: Final Retained Players List and Purse Value left for all Teams
---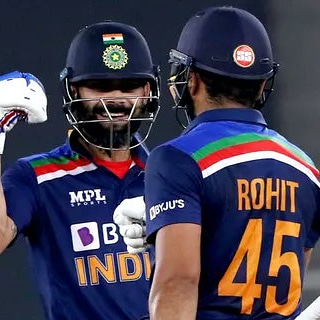 Adesh Kothari is the founder of AK4Tsay1 Cricalytics.
Cricket to him is like what 'Football is to Lionel Messi', 'Singing is to Lata Mangeshkar', 'Dancing is to Michael Jackson', and what 'Acting is to Clint Eastwood'.
Besides his effervescent love for Cricket, Adesh is an MBA by qualification.