IPL 2022: Best Predicted First-choice Playing 11 of Players to get retained
Virat Kohli and Rohit Sharma, the first-choice retentions as we look at the best predicted playing 11 of players to get retained for IPL 2022. 
We are just a day away from understanding the final retentions of all teams for IPL 2022. Unlike the last three years, the IPL 2022 is going to witness a mega Auction, so only a maximum of 4 players is allowed to be retained by each franchise. This includes retaining a maximum of 3 Indians, 2 overseas, and 2 uncapped Indians. 
With such rules in place along with the financial valuations of each player, there are always a lot of players who may miss the retention bus. Even as they are deserving, the rules tilt the prediction Scenarios such that going into the auction pool remains the only option. But there are a few players who will get retained no matter what. 
In this article, we take a look at 11 such players across different categories that will be the first-choice retentions for IPL 2022. These are the players that have either performed exceptionally well or have a different bond with the franchise. So, without a delay, let's look at the best predicted first-choice retained players playing 11 for IPL 2022. 
Please note, as we are only selecting 11 players, it may so happen that we may miss out on a few names even if they are retained or going to be retained. The idea behind this article is to get a gist of what the franchise would select as their first-choice retentions. Alright then, let's get to it. 
Openers: Rohit Sharma & Virat Kohli
Talking about the first-choice openers to get retained, the first name on the list should have been KL Rahul. But ever since the conclusion of IPL 2021, news has spread like fire that KL Rahul wants to leave PBKS, and start his captaincy journey elsewhere. That is the sole reason, KL Rahul isn't on this list. 
In the absence of Kl Rahul, Rohit Sharma and Virat Kohli would be the first-choice players and openers to be retained by their respective franchises. Both share a unique bond with their franchises, and are their valuable assets. Both should be retained in the highest bracket of INR 16 Cr with a possibility of Virat getting retained for INR 17 Cr. 
Middle-order: Sanju Samson, Rishabh Pant & MS Dhoni (C&WK)
Coming to the middle-order, the first two names on the list are Rishabh Pant and MS Dhoni. The all-format former and current wicket-keepers for Team India are captains for their respective franchises, Delhi Capitals and CSK. While Rishabh is already retained in the highest salary bracket of INR 16 Cr, the same will be true for MS Dhoni.  
The other key middle-order batter in this list is Sanju Samson. The current Rajasthan Royals captain had a fantastic year as a batsman last year. While he couldn't get the better of his franchise, he gave a hint of what is coming. Sanju is already retained by RR for INR 14 Cr with purse deduction set as 16 Cr. 
All-rounders: Glenn Maxwell, Ravindra Jadeja & Andre Russell
Talking about All-rounders, the first name on the list shall without a doubt be Ravindra Jadeja. The current CSKian has been in stunning form in the last couple of years, and is the best all-rounder at the moment. He is most-likely to be retained by CSK in the second bracket for INR 12 Cr. Meanwhile, the other two key all-rounders to be retained are the overseas duo of Glenn Maxwell and Andre Russell.
Glenn Maxwell was been excellent in IPL 2021 playing for RCB. In the absence of AB de Villiers, Maxwell should be the second name on the list to get retained. His salary can be debatable. Ideally, he should get INR 12 Cr, but he can also demand his previous salary of INR 14.25 Cr. 
For Russell, the same cannot be said as he has been below-par in the last two years. But Russell is too big a name to not get retained. Ignoring his fitness and current form issues, Russell can contribute heavily with the bat and ball. If he goes in the auction, he would without a doubt get a big amount. So, it is prudent to retain him for INR 14 Cr. 
Bowlers:

Rashid Khan, Jasprit Bumrah & Anrich Nortje
Talking about bowlers, the first two names on the list shall be the best pacer of the tournament, Jasprit Bumrah, and the best spinner of the tournament, Rashid Khan. Both have been excellent performers ever since they started playing IPL. They should be retained in the 2nd bracket of INR 12 Cr or 10 Cr.  
The rise of Anrich Nortje, the pacer in the last two years has been a thing to watch out for. Until 2020, it was Jofra Archer and Kagiso Rabada as the leading overseas pacers in the tournament. But Nortje of 2021 gave a completely different dimension to fast bowling. His extreme pace and accuracy meant Delhi Capitals retained him above Rabada. 
So, that completes the best predicted first-choice playing 11 to get retained for IPL 2022. If KL Rahul has any positive inclination for PBKS, he would be on the list as an opener alongside Rohit. That means Virat Kohli will move to no 3 and Sanju Samson might miss out. The other big names to ponder upon are Jos Buttler, Jofra Archer, Hardik Pandya, Williamson, and Kieron Pollard.
IPL 2022 – Best Predicted First-choice Playing 11 of Players that will get retained
Rohit Sharma, Virat Kohli, Sanju Samson, Glenn Maxwell, Rishabh Pant, MS Dhoni (C&WK), Andre Russell, Ravindra Jadeja, Rashid Khan, Anrich Nortje & Jasprit Bumrah.
Thanks for reading! What's your playing 11 for the list of retained players for IPL 2022? Please email your thoughts to business@cricalytics.com
---
ALSO READ: Latest: IPL 2022 Predicted Player Retentions for existing 8 Teams
---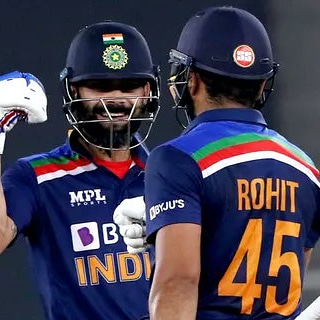 Adesh Kothari is the founder of AK4Tsay1 Cricalytics.
Cricket to him is like what 'Football is to Lionel Messi', 'Singing is to Lata Mangeshkar', 'Dancing is to Michael Jackson', and what 'Acting is to Clint Eastwood'.
Besides his effervescent love for Cricket, Adesh is an MBA by qualification.