Latest: IPL 2022 Predicted Player Retentions for existing 8 Teams
MS Dhoni is set to be retained by CSK as we look at the best predicted player retentions for all teams for IPL 2022.  
While India are playing New Zealand in the T20I and Test series at home, the hottest topic currently is about the IPL 2022 player retentions. The IPL governing council has set November 30 as the deadline for the existing 8 teams to submit their retained players' list for IPL 2022. With the submission deadline nearing, the odds for cricket from 10CRIC for a few players getting a higher salary seems good. 
To recap about the rules, each Team is allowed to retain a maximum of 4 players. A team can retain a maximum of 3 Indians, 2 overseas, and 2 uncapped players. If a team retains 4 players, the minimum salary deductions shall be INR 16 Cr, 12 Cr, 8 Cr, and 6 Cr.
If a team retains 3 players, the minimum salary deductions shall be INR 15 Cr, INR 11. Cr, and INR 7 Cr. For teams with 2 retentions, the minimum deductions shall be INR 14 Cr and INR 10 Cr respectively. For single retention, the minimum deduction shall be INR 14 Cr. Whereas the minimum deduction for any uncapped player shall be INR 4 Cr. 
On that note, let's look at the best predicted player retentions preference for each Team for IPL 2022. Please note, as of November 26, a few teams like Delhi Capitals and Rajasthan Royals have already announced a few retentions. So, we will have look at those as well. Alright then, let's get to the article.
#1: Chennai Super Kings (CSK) 
Predicted: MS Dhoni, Ravindra Jadeja, Moeen Ali & Ruturaj Gaikwad 
It is no secret anymore that MS Dhoni would be the first name on the list of CSK for the players to be retained. MS Dhoni will be retained for a salary of INR 16 Cr, which is 1 Cr more than his current salary.  For the second retention, Ravindra Jadeja looks the best to be retained for INR 12 Cr. 
All-rounder Moeen Ali, who has been one of CSK's MVP is set to be retained for INR 8 Cr. However, negotiations are going on with Moeen for his final offered salary. Whereas IPL 2021 Orange Cap Ruturaj Gaikwad is all set to be retained for INR 6 Cr. If CSK are generous, Ruturaj can be offered a higher salary.
Delhi Capitals (DC) 
Retained: Rishabh Pant, Prithvi Shaw, Anrich Nortje & Axar Patel 
As of November 26, Delhi Capitals have already submitted their list of retained players for IPL 2022. Unsurprisingly, Rishabh Pant is the first name on the list to be retained for INR 16 Cr. Prithvi Shaw is the second player to be retained for INR 12 Cr. Pacer Anrich Nortje is third on the list for INR 8 Cr. Whereas all-rounder Axar Patel has been retained for INR 6 Cr. 
Meanwhile, Delhi Capitals decided to release Shreyas Iyer. The former captain wanted to continue the leadership role for Delhi Capitals, but with the franchise opting to continue with Rishabh Pant, Shreyas Iyer decided to go into the pool. Delhi Capitals also didn't retain Shikhar Dhawan and Kagiso Rabada for salary challenges. But the duo would be on DC's target at the auction.
Kolkata Knight Riders (KKR) 
Predicted: Andre Russell 
Kolkata Knight Riders are one team that will struggle with their retentions for IPL 2022. Given the potential options KKR have and their purse deductions, only Andre Russell deserves to get a salary of more than 14 Cr. The likes of Shubman Gill, Nitish Rana, Sunil Narine, Venkatesh Iyer, and Varun Chakravarthy are all good, but may not get more than 10 Cr even if they go in the auction. 
If KKR decide to be generous, they can retain Venkatesh Iyer for the salary of INR 10 Cr. But 10 Cr is a huge amount for a player who has only played a few IPL matches. The only positive for retaining Iyer is his potential as an all-rounder and also how Team India perceives him overall as Hardik Pandya's backup.
Mumbai Indians (MI) 
Predicted: Rohit Sharma, Jasprit Bumrah, Hardik Pandya & Kieron Pollard 
Mumbai Indians are one of team alongside CSK and Delhi Capitals that are facing the problem of plenty. There are so many potential players to be retained, but all they can do is retain only 4 players. Nevertheless, Rohit Sharma and Jasprit Bumrah would be the first two names of the table to be retained by Mumbai Indians for INR 16 Cr and INR 12 Cr respectively.
Apart from these two, Mumbai Indians have a problem of plenty. But the mandatory choice for them would be to select 1 overseas. They have Quinton de Kock, Kieron Pollard, and Trent Boult as the options. But in all likelihood, MI shall retain their match-winner Kieron Pollard. What amount Pollard would get is yet to be seen, but INR 8 Cr looks likely.  
The 4th player to be retained by Mumbai Indians will most-likely be one of Hardik Pandya, Suryakumar Yadav, or Ishan Kishan. This is a really tough one as all three bring unique capabilities to the table. But if I were Mumbai Indians, I would still retain the match-winner all-rounder Hardik Pandya. With Hardik bowling, he is a different beast. Also, If he goes in the auction, he would go for much more than 10 Cr.
Punjab Kings (PBKS) 
Predicted: Ravi Bishnoi and Arshdeep Singh 
The only team in the competition that may not have any retentions except for uncapped players. It's a harsh truth that Punjab Kings fans need to digest. Ever since the auction news started floating, the departure of KL Rahul from Punjab Kings was on the cards. The current PBKS captain doesn't want to continue with the franchise, and wants to start a fresh journey with a new franchise. 
PBKS Won't mind shelling INR 14 Cr or INR 16 Cr on KL Rahul to retain him. But if negotiations don't go as expected, KL Rahul will be released by Punjab Kings. If KL Rahul is not retained, there's frankly no player in the team that deserves a salary of more than 14 Cr or more.  If and only if KL Rahul is retained for 15 or 16 Cr, PBKS won't mind spending 11 or 12 Cr on Mayank Agarwal and 7 or 8 Cr on Mohammed Shami.
So, if the above doesn't work, the only two options that Punjab Kings won't mind retaining are the uncapped players Arshdeep Singh and Ravi Bishnoi. Both have been brilliant performers with the ball for PBKS. For INR 4 Cr, which is a value for any uncapped player, these are good retentions.
Rajasthan Royals (RR) 
Retained: Sanju Samson
Predicted: Jos Buttler, Jofra Archer & Yashasvi Jaiswal
Rajasthan Royals decided to retain Sanju Samson for INR 14 Cr. There were negotiations going on between the franchise and their current captain, but they have finally settled for INR 14 Cr. However, RR's purse deduction for retaining Sanju Samson shall be INR 16 Cr. Apart from Sanju, RR may retain Jos Buttler for INR 12 Cr, Jofra Archer for INR 8 Cr, and uncapped Yashasvi Jaswal for INR 4 Cr.
Given Jofra Archer's fitness issues, Rajasthan Royals may also look at all-rounder Liam Livingstone as the option as the third retention for INR 8 cr. It won't be a bad buy as Livingstone is a strong finisher and a good part-time spinner. Meanwhile, the team won't retain the star all-rounder Ben Stokes given the unpredictability of his availability.  
Royal Challengers Bangalore (RCB) 
Predicted: Virat Kohli, Glenn Maxwell, Devdutt Padikkal & Harshal Patel
Please follow this link for a detailed explanation of Royal Challengers Bangalore's retention preference for IPL 2022.
Sunrisers Hyderabad (SRH) 
Predicted: Kane Williamson and Rashid Khan
Without a doubt, SRH would retain Kane Williamson and Rashid Khan as their first-choice retentions. However, the only thing they will have decide upon is the player's salary. While there are talks about Kane Williamson expecting to get INR 14 Cr with Rashid Khan getting INR 10 Cr. It seems logical as not only Kane is a good batter, he is also the leader of the franchise. 
Rashid Khan may find INR 10 Cr a slight bargain, but it is not that bad a salary. However, to please the best spinner in the competition, SRH may decide to offer INR 12 Cr to Rashid Khan. Meanwhile, SRH won't be able to retain Jonny Bairstow given the maximum 2 overseas players rule. Also, David Warner has himself decided to not get retained for non-cricketing reasons. 
Thanks for reading! What are your predicted player retentions for each team for IPL 2022? Please email your comments to business@cricalytics.com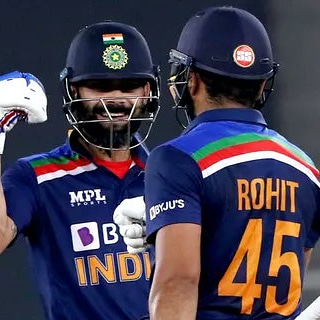 Adesh Kothari is the founder of AK4Tsay1 Cricalytics.
Cricket to him is like what 'Football is to Lionel Messi', 'Singing is to Lata Mangeshkar', 'Dancing is to Michael Jackson', and what 'Acting is to Clint Eastwood'.
Besides his effervescent love for Cricket, Adesh is an MBA by qualification.