IPL 2022 – Ideal 4 Predicted Player Retentions for RCB – No AB devilliers
Virat Kohli, the first-choice player as we look at the ideal first-choice predicted retentions for RCB for IPL 2022 Auction. 
The afternoon of Friday, November 19, 2021, didn't have the most positive start for all the cricketing fans across the world. In the form of a shocking announcement, one of the most loved overseas players in IPL, AB de Villiers announced retirement from all forms of cricket.
AB de Villiers has been one of the best overseas batters to have played in IPL. Without a doubt, he would have been one of the first names to be retained by the Bangalore franchise. But with ABD not being there, it completely changes the retention dynamics for the Royal Challengers Bangalore.  
As we know, BCCI had set November 30 as the deadline for the existing 8 franchises to submit the list of players they want to retain for the IPL 2022 edition. To recap, existing teams are allowed to retain a maximum of 4 players. This will be in the ratio of either 3 Indians + 1 overseas or 2 Indians + 2 Overseas. In both conditions, teams are allowed to retain a maximum of 2 uncapped players. 
Player Purse Deduction Rules
From the monetary deductions point of view, the following rules shall be applicable. It is important to note that, players can negotiate and demand a higher salary if they aren't happy with the salary that is being offered. Players are also given the freedom to register themselves in the Auction in hope of a higher salary. 
4 Players Retained – INR 42 Cr

1st Player – INR 16 Cr

2nd Player – INR 12 Cr

3rd Player – INR 8 Cr

4th Player – INR 6 Cr




3 Players Retained – INR 33 Cr

1st Player – INR 15 Cr

2nd Player – INR 11 Cr

3rd Player – INR 7 Cr

2 Players Retained – INR 24 Cr

1st Player – INR 14 Cr

2nd Player – INR 10 Cr

1 Player Retained – INR 14 Cr

 
So, with all the rules surrounding the player retentions as highlighted above, what could be the ideal first-choice predicted player retentions for RCB for IPL 2022? Let's find out in this article. Important to note that, more than the player's stardom, his monetary valuation is given precedence while selecting the predicted retentions.
#1: Virat Kohli – INR 16 / 17 Cr
Without a doubt, Virat Kohli would be the first name on the list to be retained by Royal Challengers Bangalore. The former RCB captain may not captain going forward for the franchise, but is definitely their most valuable batter. He is also the only player to have played for a single franchise since the inception of IPL.
Overall, Virat Kohli shall be placed in the highest category of INR 16 Cr. The last time Virat Kohli was retained, he got the highest salary for a player, which is INR 17 Cr. Come to IPL 2022, he can still be retained for the same value of INR16 Cr. RCB won't mind shelling an extra 1 Cr for their most valuable asset till date. 
#2: Glenn Maxwell – INR 12 Cr
After Virat Kohli, AB de Villiers would have been the second player on the list to have been retained by RCB. ABD has been a match-winner for RCB with countless winning contributions. He would be dearly missed by the franchise and fans across the world. Nevertheless, the absence of AB de Villiers means the focus will not shift to the third-most-popular player in the franchise, Glenn Maxwell.
In all probability, RCB would have retained 4 players even without Ab de Villiers. Given Maxwell's performance for RCB last year where he was also a part of the IPL 2021 Team of the Tournament, he will be retained for INR 12 Cr. Maxwell can very much demand to at least equal his existing salary of INR 14 Cr. Will RCB do it is yet to be seen. 
#3: Devdutt Padikkal – INR 8 Cr
Without AB de Villiers, the third player to be retained by RCB shall most-likely be the stylish left-handed opener, Devdutt Padikkal. The southpaw has been a consistent performer for RCB in the last two years. Devdutt has accumulated a total of 884 runs from 29 innings playing for RCB in the last two years. This is the most by any player playing for RCB.
With Virat Kohli and Glenn Maxwell placed in the top 2 categories, Devdutt Padikkal won't mind getting a salary of INR 8 Cr. to extend his IPL journey. This is almost 40 times his existing salary of INR 20L. In addition, even if he decides to go in the Auction, he should get an almost similar price. 
#4: Harshal Patel – INR 6 Cr
The final player on the list has a lot of options to choose from. There's Mohammed Siraj, who has been making a name for himself in not only IPL but also International cricket. Then there's Yuzvendra Chahal, who has been RCB's prime spinner, and one of the best performers in IPL in the last few years. There's also Washington Sundar, who has been an integral part of RCB over the years except for IPL 2021.
But, apart from these 3, the one player that RCB may definitely not want to let go is the purple cap winner of IPL 2021, Harshal Patel. The pacer was highly effective last year playing for RCB, and he ended with 32 wickets; equalling Dwayne Bravo's record for most wickets in a single IPL season. For INR 6 Cr., Harshal is a steal buy. They may have to spend a few more crores for Siraj or Chahal, but Harshal may go for much more in the auction, which RCB can't afford.  
Thanks for reading! What are your ideal first-choice predicted retentions for RCB for IPL 2022 Auction? Please email your comments to business@cricalytics.com 
---
ALSO READ: IPL 2022: 10 Teams Official Format changes Explained – What's New?
---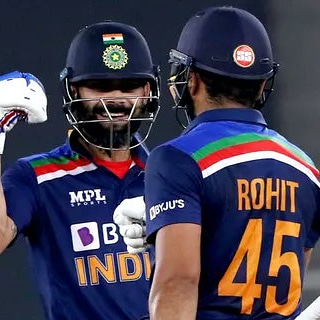 Adesh Kothari is the founder of AK4Tsay1 Cricalytics.
Cricket to him is like what 'Football is to Lionel Messi', 'Singing is to Lata Mangeshkar', 'Dancing is to Michael Jackson', and what 'Acting is to Clint Eastwood'.
Besides his effervescent love for Cricket, Adesh is an MBA by qualification.