IPL 2021 Exclusive: The Combined Best Playing 11 of the Tournament
 KL Rahul and Harshal Patel, the stand-out players as we look at the combined best playing 11 of the tournament for IPL 2021.
Chennai Super Kings, the Daddy's army as they call them have done it as they defeated the spirited Kolkata Knight Riders to win the IPL 2021 Trophy. It was CSK's 4th Trophy win under MS Dhoni's captaincy, and they are just one Trophy short of the leaders, Mumbai Indians with five trophy wins. 
Meanwhile, what a season this has been for CSK as well as KKR. KKR were reeling at 7 before the second leg, but made an inspirational comeback to finish as the runner-up. But for CSK, it has been a dramatic turnaround. They were 7th with almost the same team last year, but an inspirational captain and team environment paved way for a season to remember for CSK. 
The season also saw a unique record as Orange cap and Purple Cap were won by uncapped players, Ruturaj Gaikwad and Harshal Patel respectively. Apart from these two, a lot of other uncapped players made noise. So, looking at the overall performance of all players, what's the combined best playing 11 of the tournament for IPL 2021? Let's find out in this article.
Stats Wizard Methodology:
Batting: As always, we have analyzed the batting performances basis the batting rating calculated from the overall aspect of the game such as runs scored, consistency, the number of match-winning & good knocks, acceleration bonus, and power-hitting bonus. 
Bowling: We have analyzed the bowling performances basis the bowling rating calculated from the overall aspect of the game such as wickets taken, consistency, the number of match-winning and good spells, number of maidens bowled, dot balls bowled, and the economy rate bonus. 
Overall, the combined best playing 11 for IPL 2021 is selected basis the performance rating. Also, the selected team combination includes 5 Batsmen, Minimum of 2 all-rounders, minimum of 3 pacers, a minimum of 1 spinner, and a maximum of 4 overseas players. 
#1: Ruturaj Gaikwad (CSK) – 8.6
Inns: 16 // Runs: 635 // SR: 136.3 // HS: 101*
Only by a margin of 2 runs, but Ruturaj Gaikwad became the youngest and the only uncapped player to win the Orange Cap. Ruturaj brought a sense of security with his batting. His effectiveness of risk-free batting combined with acceleration as the game progressed was simply outstanding. 
Ruturaj ended his second IPL season with 635 runs from 16 innings at an average of 45.4 and a strike rate of 136.3. His consistency stood at 62.5%. His knock of 101* was one of the most amazing performances of the Tournament. Overall, Ruturaj gets a rating of 8.6 for his performance; the third-best among all batsmen.
#2: Venkatesh Iyer (KKR) – 7.6
Inns: 10 // Runs: 370 // SR: 128.5 // HS: 67
If there was one player that undoubtedly deserves a place in this team, it is Venkatesh Iyer. It was Venkatesh Iyer that was the main reason behind KKR's brilliant comeback in the second leg. Playing only his first IPL, Iyer's self-confidence was his strength, and it paved way for a lot of outstanding knocks. 
Overall, Venkatesh Iyer played only in the second leg with a total of 10 matches, but was already the MVP for KKR this season. He ended with 370 runs at a good average of 41.1 and a strike rate of 128.5. Iyer's consistency stood at 60%, which is not bad in the debut season. Overall, Iyer gets a rating of 7.6 for his performance. 
#3: KL Rahul (PBKS) – 10
Inns: 13 // Runs: 626 // SR: 138.8 // HS: 98*
Undoubtedly, the best batsman of the Tournament, KL Rahul finds a place in the squad, but at the number 3 position. It was not until the last match that KL Rahul had to pass his Orange Cap to another deserving Indian. KL Rahul's difference with Orange cap winner, Ruturaj Gaikwad maybe only 9 runs, but he played 3 matches less.
KL Rahul was the architect of PBKS's batting, and he played mature cricket to make sure his team doesn't falter in the batting department. He ended with 626 runs from just 13 innings at a brilliant average of 62.6 and a strike rate of 138.8. His consistency stood at 61.5%. He hit 30 sixes in the competition; the most by any player, and overall gets a perfect rating of 10. 
#4: Faf du Plessis (CSK) – 8.9
Inns: 16 // Runs: 633 // SR: 138.2 // HS: 95*
Such has been a season that except for a couple of players, only openers dominated the batting charts. So, even as Faf played as an opener, it would have been a crime to leave him out seeing his performance. Faf was the torchbearer of CSK's batting alongside Ruturaj Gaikwad, and was the best overseas player of the season. 
Player for big matches as they call him, Faf's stunning show in the final was the highlight of his season. Overall, Faf ended just below Ruturaj Gaikwad with 633 runs from 16 innings at a brilliant average of 45.2 and a strike rate of 138.2. His consistency was a touch better than Gaikwad at 68.8%, and thus gets a rating of 8.9 for his performance. 
#5: Sanju Samson (RR) – 7.8
Inns: 14 // Runs: 484 // SR: 136.7 // HS: 119
A happy occasion to see Sanju Samson's name in the team of the tournament as the talent finally met performance. 8 years since Sanju Samson started playing IPL, but it was the year 2021 that delivered his best performance yet. Captaincy played a huge role in Sanju's performance as he combined his attacking instinct with a touch of maturity. 
While Sanju couldn't help his team qualify for the Playoffs, he ended the season being Rajasthan Royals' leading run-scorer with 484 runs from 14 matches. Combined with maturity this season, Sanju achieved an average of 40.3 and a strike rate of 136.7. However, his consistency stood at 43%, which is relatively lower, but a lot better than his previous year's performances. 
#6: Glenn Maxwell (RCB) – 8.3
Inns: 14 // Runs: 513 // Wkts: 3 // HS: 78
The Big show, Glenn Maxwell was a breath of fresh air for the struggling middle-order of the Royal Challengers Bangalore. So much so that Maxwell overshadowed the best middle-order in the business, AB de Villiers. There were innumerous occasions when Maxi just defied all odds, and produced a brilliant performance. 
Overall, Maxwell ended as RCB's leading run-scorer and 5th best overall with a total of 513 runs from 14 innings. His average stood at 42.8, his strike rate stood at 144.1, and his consistency was at 57%. Maxwell may not have bowled a lot in the competition, but took 3 wickets being a part-timer on numerous occasions. 
#7: Ravindra Jadeja (CSK)
Inns: 16 // Wkts: 13 // Runs: 227 // SR: 145.5
Undoubtedly the best all-rounder of the season, Ravindra Jadeja was also the Most Valuable Player for Chennai Super Kings. Of all the players that played in the tournament, Ravindra Jadeja was the only complete all-rounder having excelled in the batting and bowling department. He ended with 227 runs at a strike rate of 145.5 and 13 wickets at an economy rate of 7.1. 
#8:

Harshal Patel (RCB) – 9.3
Inns: 15 // Wkts: 32 // ER: 8.1 // BBI: 5/27
Harshal Purple Patel – another uncapped warrior that dominated the season with extraordinary bowling. While one can be successful on a few occasions with a similar line of attack, but if it happens regularly, it has something to do with the guile and skill of the bowler. Harshal was unreadable for even the best batsman in the business, and it also showed in his performance. 
Harshal ended up winning the purple Cap by taking whopping 32 wickets from 15 innings at an average of 14.3 and an economy rate of 8.1. This is the combined-highest wickets tally by a bowler in the history of IPL. But Harshal's performance stands out as he took only 15 innings as compared to Bravo's 18. Overall, Harshal's consistency stood at 73% and he gets a rating of 9.3 for his performance. 
#9: Avesh Khan (DC) – 7
Inns: 16 // Wkts: 24 // ER: 7.4 // BBI: 3/13
Another uncapped player that dominated the bowling charts is Delhi Capitals' only player in this team, Avesh Khan. Except for the Playoffs matches, Avesh was brilliant throughout the tournament. He bowled well in the powerplay overs, middle overs, and even death Overs – a skill only demonstrated by Jasprit Bumrah. 
Overall, Avesh ended with 24 wickets; second-most by an Indian. His average stood at 18.8, his economy rate at 7.4, and his consistency was decent at 50%. Only if his Playoffs' performance was slightly better, Delhi Capitals could have qualified for the final, and his current rating of 7 would have taken a lifting. 
#10: Jasprit Bumrah (MI) – 7.2
Inns: 14 // Wkts: 21 // ER: 7.5 // BBI: 3/36
Taking about pacers, and one name that always shows up is Jasprit Bumrah. Year-on-year, Jasprit Bumrah keeps giving a healthy performance with the ball. While MI couldn't qualify this year, Bumrah continued to impress taking 21 wickets from 14 matches at an average of 19.5, an economy rate of 7.5, and consistency of 64.3%. Overall, Bumrah gets a rating of 7.2, which is not bad, but not excellent either. 
#11: Varun Chakravarthy (KKR) – 6.5
Inns: 17 // Wkts: 18 // ER: 6.6 // BBI: 3/13
Taking about the spinner spot, there were four competitors in the form of Rashid Khan, Yuzvendra Chahal, Sunil Narine, and Varun Chakravarthy. But it is the KKR's mystery spinner, Varun Chakravarthy that stands out from these 4. Varun bettered his IPL 2020 performance with a total of 18 wickets from 17 innings at a brilliant economy rate of 6.6. Varun was quite consistent in his performance, which stood at a brilliant 71%
IPL 2021: The Combined best Playing 11 of the Tournament: 
Ruturaj Gaikwad, Venkatesh Iyer, KL Rahul (C&WK), Faf du Plessis, Sanju Samson, Glenn Maxwell, Ravindra Jadeja, Harshal Patel, Avesh Khan, Jasprit Bumrah & Varun Chakravarthy. 
So, that completes the combined best playing 11 of the tournament for IPL 2021. Apart from these players, some other good players that were in contention are Shikhar Dhawan, Prithvi Shaw, Mayank Agarwal, Rishabh Pant, Kieron Pollard, Moeen Ali, Jason Holder, Rashid Khan, Shardul Thakur, Yuzvendra Chahal & Mohammed Shami.
Thanks for reading! What's your combined best playing 11 of the Tournament for IPL 2021? Please email your comments to business@cricalytics.com
---
ALSO READ: T20 World Cup 2021: Strongest Predicted Playing 11 for Team India
---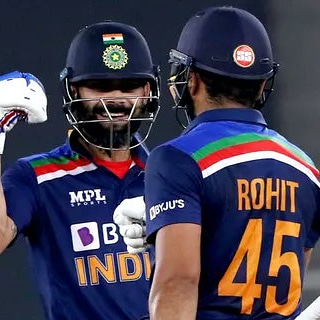 Adesh Kothari is the founder of AK4Tsay1 Cricalytics.
Cricket to him is like what 'Football is to Lionel Messi', 'Singing is to Lata Mangeshkar', 'Dancing is to Michael Jackson', and what 'Acting is to Clint Eastwood'.
Besides his effervescent love for Cricket, Adesh is an MBA by qualification.