IPL Special: All-Time Most Aggressive Playing XI of the Tournament
Chris Gayle and Virender Sehwag to open as we find the all-time most aggressive team of IPL.
'Aggression' is the term that predominantly defines the shortest format of the game, T20 cricket. If you don't have aggressive-minded players in your squad, the chances of the team succeeding is close to none. Most importantly, fans want to watch aggressive players more in this format given the entertainment factor. 
Began in 2008,  IPL has been the pioneer of Global T20 cricket. Not just Indian Cricketers, numerous Cricketers across the globe have been a part of this cash-rich league, and since 2008, we have seen some of the most belligerent players to have played the game with Chris Gayle, Andre Russell, AB de Villiers to name a few. 
Now, imagine a playing 11 which has nothing but aggressive players. While aggressive is a relative term, we have defined aggression with strike rate as it holds true on most of the occasions. So, a batsman who has a higher strike rate over a period of time is termed more aggressive. Similarly, a bowler whose strike rate is lower showcases his wicket-taking abilities; thus his aggressive mindset.
It is also important to define the qualification criteria as that would add depth to the playing 11. So, a batsman is qualified for selection if he has a minimum 1000 runs to his name, and a bowler is qualified for selection if he has minimum 50 wickets to his name. On that note, let's find the all-time most aggressive team of the IPL. 
Openers:
#1 Chris Gayle (2009-19)
Inns: 124 || Runs: 4484 || SR: 151

No surprises here. The 'Universe Boss' could perceptively walk in the squad as the first-choice opener, but his stats are good enough to justify his selection. A total of 4484 runs at a strike rate of 151 is simply mind-bowling. He has IPL's highest score to his name when he made a belligerent 175 against Pune Warriors. Along with numerous other records, Chris Gayle holds two records that concern us- He has scored 36 runs in one over; the most in an over, and has hit the fastest century in IPL in 30 balls against Pune Warriors. 
#2 Virender Sehwag (2008-15)

Inns: 104 || Runs: 2728 || SR: 155.4
Virender Sehwag may not match the hitting ability of Chris Gayle, but his unique ability to create fear in the minds of the bowlers has been second to none in his time. He had only one way of playing, and that was 'See the ball, hit the ball'. His strike rate of 155.4 is the highest among all openers to have played the game, and his tally of 30 runs in an over in the inaugural IPL is still fresh in our minds along with his 2 centuries as an opener. 
Middle-order
#3 AB de Villiers (2008-19)

Inns: 142 || Runs: 4395 || SR: 151.2

Mr. 360 a.k.a superman AB de Villiers is a player known for his acrobatic hitting abilities. He may not be as belligerent as Gayle or Russell, but his range of shots is exemplary. You name the part of the ground, he would have hit a shot there. More importantly, with his unique hitting ability, he had managed 4395 runs at a strike rate of 151.2, and he would be a perfect ploy at number 3.
#4 Rishabh Pant (2016-19)

Inns: 54 || Runs: 1736 || SR: 162.7
This name may surprise a few given his struggle in International cricket, but Rishabh Pant is another beast when it comes to IPL. He has played only 4 IPLs, but is already considered as a superstar, and has a 15 Cr. contract to his name similar to Rohit Sharma and MS Dhoni. Overall, Pant has 1736 runs to his name at a strike-rate of 162.7. He is the leading run-scorer in IPL in last 3 years, and has hit the most number of Sixes in IPL in last 3 years.
#5

Glenn Maxwell (2012-18)
Inns: 68 || Runs: 1397 || SR: 161.1
IPL 2014 it was when Glenn Maxwell made a name for himself with his brutal hitting and impeccable consistency. The season saw Maxwell score over 500 at a strike rate of 187. While Maxwell's performance did take a dip in other seasons, his hitting abilities remained the same. Overall, Maxwell has 1397 runs at a strike rate of 161.1, which is quite good. 
All-rounders
#6  Hardik Pandya (2015-19)

Inns: 61 || Runs: 1068 || SR: 154.8
The third Indian in the playing 11, Hardik Pandya came into limelight in his debut, 2015 season when he showed the world a glimpse of his hitting abilities. But, 2019 is when Hardik rose to prominence when the all-rounder smashed 402 runs at a strike rate of 191. He even mastered the Helicopter shot in that edition, thus widening his hitting abilities. Overall, Hardik has 1068 runs at a strike rate of 154.8, and he had just started. 
#7 Andre Russell (2012-19)

Inns: 52 || Runs: 1400 || SR: 186.4
Hands down the most aggressive or the most belligerent player in the world currently. He is an extended version of what Chris Gayle was in his prime. Those power-puff muscles smashing the ball in all parts of the ground is a root cause of nightmares that every bowler faces. His last 4 IPL's strike rate read 192.9, 164.9, 184.8, and 204.8, and his overall strike rate of 186.4 is the best in the history of IPL- that too by some margin. 
Bowlers:
#8 Dwayne Bravo (2008-19)



Inns: 131 || Wkts: 147 || SR: 17.6

One of the best death-overs bowler in the history of the game, and the prime reason why Dwayne Bravo is in the list of most aggressive bowlers in the IPL. It is his ability to take wickets in the death overs that has made him a go-to man for MS Dhoni over the years. While his form may have taken a dip in the last few years, overall, he is still among the best bowlers to have played in IPL. 
#9 Imran Tahir (2014-19)



Inns: 55 || Wkts: 79 || SR: 15.5
The post-wicket Marathon runner, Imran Tahir found success every alternate year in IPL starting 2014 as if he is emulating Mumbai Indians while playing Chennai Super Kings. There's no doubt over Imran Tahir being a wicket-taker, and 2019 was the best example where he took 26 wickets from 17 games. Overall, Tahir has 79 wickets from 55 innings at a superb strike-rate of 15.5. 
#10 Yuzvendra Chahal (2013-19)

Inns: 83 || Wkts: 100 || SR: 17.9
The only Indian bowler in the playing 11, Yuzvendra Chahal's name is a surprising package. Firstly, has played majorly at Chinnaswamy, which is a batting paradise. Secondly, the pitch at Chinnaswamy favours pacers more than spinners. Even with these deterrents, Chahal has been able to perform exceptionally well having taken 100 wickets from 83 innings at a superb strike-rate of 17.9. 
#11 Lasith Malinga

 (2008-19)



Inns: 122 || Wkts: 170 || SR: 16.6
The most experienced pacer in the competition, and the leading wicket-taker in the competition, Lasith Malinga should be the first name on the list of most aggressive players to have played the game. His records speak for himself having taken 170 wickets from just 122 innings at a strike rate of just 16.6. His pinpoint accuracy, loopy and pacy yorkers are his forte, and he is the main reason why India has a jewel-like Jasprit Bumrah. 
So, that completes the all-time most aggressive team of the IPL. Apart from the above-mentioned players, Jasprit Bumrah, Sunil Narine, Rashid Khan, Chris Morris, Jos Buttler, Kieron Pollard to name a few have all been extremely aggressive, but missed out on a parameter or two. 
Thanks for reading! What are your views on the all-time most aggressive Team of the IPL tournament? Please, let's know in the comments. 
---
ALSO READ: Exclusive: Most Unique ODI Team of the 2010 Decade
---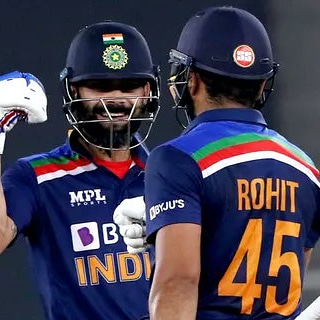 Adesh Kothari is the founder of AK4Tsay1 Cricalytics.
Cricket to him is like what 'Football is to Lionel Messi', 'Singing is to Lata Mangeshkar', 'Dancing is to Michael Jackson', and what 'Acting is to Clint Eastwood'.
Besides his effervescent love for Cricket, Adesh is an MBA by qualification.