IPL Special: Top 5 Players with Highest Boundary Percentage
Andre Russell and Chris Gayle are neck and neck in terms of the highest boundary percentage in IPL. 
Since the inception of IPL in 2008, we have witnessed some of the most dangerous and atrocious hitters of the cricket ball. While some are known for giving blazing starts in the powerplay before slowing down, some are known for building their innings before the rampage.
However, there is one category of players who simply defy the logic of being marked in any of the above-mentioned categories. They just carry one mantra most of the times- see the ball hit the ball. This is the category of players that tend to generate maximum excitement among the viewers, and naturally, they entertain the most.
So, analysing the performance of the third category players gives us an important topic for discussion- How many of the total runs scored by them are in boundaries. Surprisingly, some really interesting names came up while analysing the numbers.
Alright then, without wasting much of the time, let's look at 5 players who have the highest boundary percentage in IPL. Please note, the only criteria to select players in this category is that players should have scored at least 1000 runs in boundaries. 
#5: Dwayne Smith (West Indies) 
Inns: 89 || Runs in Boundaries: 1682 || BP: 70.52%
The name that should probably surprise a few people out there. Having started in 2008, Dwayne Smith played his last match in 2017. In his 10 years career, Smith played a total of 89 innings, and scored a total of 2385 runs at a strike rate 135.2 
Out of these 2385 runs, Smith scored 1682 runs in boundaries including 245 fours and 117 sixes. That's 70.52% of runs in boundaries, making him fifth on the list of the highest percentage of runs scored in boundaries. 
Overall, Smith represented four franchise in IPL- Deccan Chargers, Gujarat Lions, Mumbai Indians, and Chennai Super Kings, but it the Chennai Super Kings where the player got all the fame. His best season has been 2014 where he amassed 566 runs at an average of 35.37, and a strike rate of 136.05. 
#4: Virender Sehwag (India) 
Inns:104 || Runs in Boundaries: 1972 || BP: 72.29%
The only Indian featuring in the list, Virender Sehwag, who was always known for his fearless approach has been one of the most entertaining players to have played in the IPL. In the 104 matches Sehwag played, he amassed 2728 runs at a whopping strike rate of 155.44.
Out of these 2728 runs, Sehwag managed 1972 runs in boundaries including 334 fours and 106 Sixes- that's 72.29% of runs in boundaries, making him fourth on the list of the highest percentage of runs in boundaries in IPL. Sehwag last played for Kings XI Punjab in 2015, and since then has mostly been engaged in commentary duties.
#3: Adam Gilchrist (Australia) 
Inns: 80 || Runs in Boundaries: 1508 || BP: 72.89%
At number 3 we have Adam Gilchrist, and this shouldn't be a surprise as he was quite like Sehwag, and knew only one way or batting- see the ball, hit the ball. Gilchrist played for two franchise- Deccan Chargers and Kings XI Punjab, and last played in 2013 for KXIP. 
In his 6-years-long career, Gilchrist scored 2069 runs from 80 innings at a good strike rate of 138.89. While his strike rate isn't as high as his counterparts in the list, he still has 1508 runs in boundaries with 239 fours and 92 sixes at an incredible boundaries percentage of 72.89. 
#2: Chris Gayle (West Indies) 
Inns: 124 || Runs in Boundaries: 3432 || BP: 76.54%
If we talk about boundaries then how come we don't talk about the Universe Boss. The Big Man from Jamaica has been one of the most fierce hitters in the game, and has ruled the T20 batting charts for the most part of his career.
In IPL, his stats are almost next to none. He has scored 3432 runs in boundaries; the most in the tournament. He has 326 sixes in the game; the most in the tournament, and thrice he has been the leader of maximum sixes in a season with the highest of 59, which he hit in 2012.
Gayle currently sits second in the list of the highest percentage of runs in boundaries in IPL with 76.54%, but his 3432 runs in boundaries is 1500 more than the second-best Sehwag among the top 5 players in the list. 
#1: Andre Russell (West Indies) 
Inns: 52 || Runs in Boundaries: 1104 || BP: 78.86%
At number 1 we have probably the best hitter of the cricket ball currently, Andre Russell. His rise in the last few years for his hitting ability has been nothing short of extraordinary. With one Jamaican, Chris Gayle in the twilight years of his career, the other Jamaican, Andre Russell is seeing a rise in world cricket. 
While Andre Russell is certainly first in the list of the highest percentage of runs in boundaries in IPL, his boundary percentage of 78.86 is almost neck and neck with Chris Gayle, but he has hit only one-third the runs Chris Gayle has hit, hence it is Gayle, who looks more dangerous given longevity.
Nevertheless, Russell has only just started, and has at least good 5-6 years ahead of him to shatter more records. We just wish he bats slightly up the order to give him more game time, and entertain us even better. 
So, that's the list of top 5 players who has the highest percentage of runs in boundaries in IPL. Among the Indian players, we have Rishabh Pant, Yuvraj Singh, Yusuf Pathan, and Parthiv Patel joining Virender Sehwag in the top 5.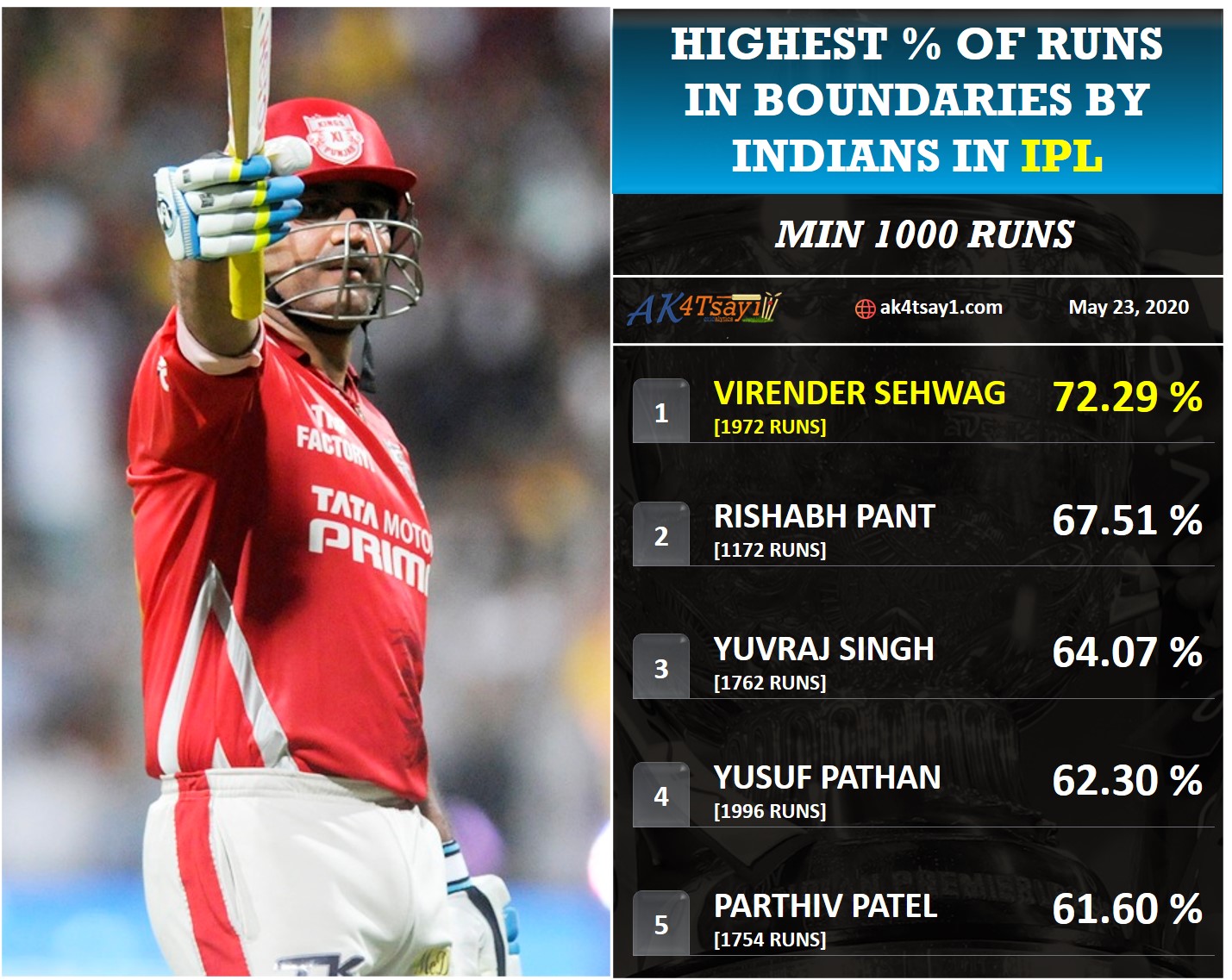 Thanks for reading! Which of the above-mentioned players do you like the most? Please, let's know in the comments. 
---
ALSO READ: IPL Special: All-Time Most Aggressive Playing XI of the Tournament
---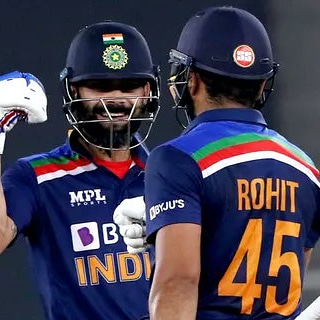 Adesh Kothari is the founder of AK4Tsay1 Cricalytics.
Cricket to him is like what 'Football is to Lionel Messi', 'Singing is to Lata Mangeshkar', 'Dancing is to Michael Jackson', and what 'Acting is to Clint Eastwood'.
Besides his effervescent love for Cricket, Adesh is an MBA by qualification.