Exclusive: Most Unique ODI Team of the 2010 Decade
Jason Roy and Shai Hope to open, while Virat Kohli to lead as we find the most unique ODI team of the 2010 decade featuring one player per country.
Most of the countries are currently in a quarantine state, fighting the deadly Coronavirus pandemic. The contagious virus has kept the countries on a standstill with almost every outdoor activity being suspended to stop the virus from being spread. 
In the sporting world too, almost every sports tournament is either suspended or kept on hold. This includes many football tournaments across the world, the Tokyo Olympics, and even the sport that concerns India the most, the Indian Premier League.
While it is absolutely necessary to keep all the sporting activities on hold, it is a difficult time for Cricket fans across India, and concerned countries. The 13th edition of the Indian Premier League was the most awaited tournament starting March 29, i.e tomorrow, but has been postponed until April 14, with a very slim chance of even that happening on time. 
Nevertheless, to keep the fans engaged, we have come up with a unique article that highlights the performance of the entire decade. The ODI Team of the decade 2010 is covered by almost every big sporting agency out there, but we brought a slight twist to give you a unique experience. 
So, we would be looking at the ODI 11 of the decade 2010s, but with only one player being selected from each country. It was a humongous and tedious task, but with a better strategy, we were finally able to select the best possible 11. So, without wasting much time, let's look at the 'Most Unique ODI Team of the 2010 decade.
Confirmed 5:
Virat Kohli (India) – Number 3
Inns: 220 || Runs: 11125 || Avg: 60.8 || SR: 94.1
Probably the toughest choice of the lot. Apart from Virat Kohli, there was Rohit Sharma, Jasprit Bumrah, and MS Dhoni – all three have been mighty impressive in this decade. But, Virat Kohli stands out with unmatched consistency and a monumental tally of runs. 
The current Indian captain is the leading run-scorer in ODIs the last decade – that too by a fair margin. So, while Rohit, Bumrah, and MS Dhoni have been absolutely brilliant, they had to miss out for Virat Kohli, who shall bat at number 3, and would also captain the side.
Shakib Al Hasan (Bangladesh) – Number 5
Runs: 4276 || Wkts: 177 || Avg: 38.9 || SR: 86.1
This is a no brainer. Shakib Al Hasan has been an absolute legend for the Bangladesh team. If not the best, he is certainly among the best all-rounders to have played the game in the last decade. Shakib has over 6000 runs to his name, and is second-highest wicket-taker of the decade 2010s. He takes the number 5 spot, and is our first all-rounder.
Ab de Villiers (South Africa) – Number 6
Inns: 129 || Runs: 6485 || Avg: 64.2 || SR: 109.8
Another case of pure genius from the man from South Africa. It goes without saying that Ab de Villiers has been the most perfect batsman of the last decade. Over 6000 runs at an average of 64, and a strike rate of 110 is absolutely remarkable.
The other three South Africans who have been extremely good, but couldn't match Ab de Villiers's performance are Hashim Amla, Imran Tahir, and Dale Steyn. So, Ab de Villiers is the selection from South Africa, and is our finisher in the squad.
Sikandar Raza (Zimbabwe)- Number 7
Runs: 2656 || Wkts: 59 || Avg: 34 || SR: 81.7
A tough selection again. On one hand, you have Sikandar Raza with his wily off-breaks, and on the other hand, you have Sean Williams. In batting, Sean Williams is marginally ahead of Raza, and in bowling, Raza is marginally better. But, Raza adds variety to the bowling with his offies, unlike Seam Williams, who is quite similar to Shakib in his bowling. 
Rashid Khan (Afghanistan) – Number 8
Inns: 67 || Wkts: 133 || Avg: 18.5  || ER: 4.2
A no brainer, once again. Rashid Khan has not only been a top-rated spinner for Afghanistan, but he is also ranked among the best spinners in the world currently. The mystery spinner has been an inspiration for many with his 133 wickets at an average of 18.5, and an economy rate of 4.2. 
Now, that we have selected a confirmed pool of 5 players, it is about balancing the other positions from the available pool of quality performers. So, let's look at the list of players from the remaining countries.
Australia: David Warner and Mitchell Starc
England: Jason Roy and Jos Buttler
New Zealand: Ross Taylor and Trent Boult
Pakistan: Babar Azam and Saeed Ajmal
Sri Lanka: Lasith Malinga and Kumar Sangakkara
West Indies: Shai Hope and Jason Holder
Pacers: 
Looking at the options available in the pace department, we have Trent Boult, Mitchell Starc, Lasith Malinga, and Jason Holder. From the available pool, we have to look at the alternatives from their country to evaluate the options. So, elimination becomes the key criteria.
From the available four pacers, Holder's selection seems tentative. Holder has been decent taking 133 wickets from 112 matches at an average of 36. His country mate, Shai Hope, on the other hand, has been phenomenal with around 3000 runs at an average of 53, which is exceptional as a performance.
Hence, Holder has to miss out as the pacer, and that leaves us with Malinga, Boult, and Starc as the key pacers in our squad. This unfortunately means, David Warner, Kumar Sangakkara, and Ross Taylor have to miss out. But, no regrets as the selected pacers have been at par with brilliance. Boult has 164 wickets at 25.1, Starc has 172 at 21, and Lasith Malinga is the leading wicket-taker with 248 wickets at an average of 28.7.
Second Opener and Middle-order Dilemma:
Based on the elimination drama, we have two spots to fill, and we are now left with Jason Roy, Babar Azam, Jos Buttler, and Saeed Ajmal. The team already has 6 bowlers in place including 3 spinners, so, unfortunately, Saeed Ajmal had to miss out even though I feel, Ajmal has been a better player than Babar Azam, who hasn't been bad himself.
This leaves us with the last selection from the England team. Both, Jos Buttler and Jason Roy have been quite phenomenal playing for England last decade. Roy has 3381 runs at an average of 43, and a strike rate of 107, while Buttler has 3843 runs at an average of 41, and a stunning strike rate of 119.8.
BUT, and I say that to highlight the role of Jos Buttler in the team. He has played as the finisher for most of his life, and has been phenomenal there. Had it been T20I selection, Jos would have been our opener given his success as an opener in IPL, but here we are compelled to go with Jason Roy as the opener. 
Most Unique ODI Team of the 2010 Decade involving one player from each country:
Jason Roy, Shai Hope (WK), Virat Kohli (C), Babar Azam, Shakib Al Hasan, AB de Villiers, Sikandar Raja,  Rashid Khan, Trent Boult, Mitchell Starc & Lasith Malinga.
So, that's the team we have selected. Given the talented pool of players, we missed out, we have selected an alternative 11 as well as given below.
Alternative ODI Team of the 2010 decade:
Rohit Sharma (C), David Warner, Kumar Sangakkara (WK), Ross Taylor, Sean Williams, Jos Buttler, Mohammad Nabi, Jason Holder, Saeed Ajmal, Dale Steyn & Mustafizur Rahman
Thanks for reading! Which unique ODI Team of the 2010 decade looks more strong? Please, let us know in the comments. 
---
ALSO READ: IPL 2020: Strongest Predicted Playing 11 of all the Teams if Overseas Players are not available
---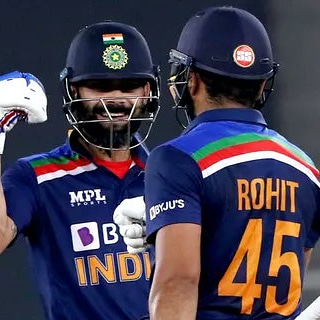 Adesh Kothari is the founder of AK4Tsay1 Cricalytics.
Cricket to him is like what 'Football is to Lionel Messi', 'Singing is to Lata Mangeshkar', 'Dancing is to Michael Jackson', and what 'Acting is to Clint Eastwood'.
Besides his effervescent love for Cricket, Adesh is an MBA by qualification.