Nostalgia Special: Best 5 Blazing Quick Innings by MS Dhoni
68*(35) vs SA during Sachin Tendulkar's double century, the highlight as we look at the best 5 quickest innings by MS Dhoni on his 40th birthday. 
MS Dhoni is a name that is synonymous with emotions. We all remember MS Dhoni as one of the coolest persons around. He is also referred to as Captain cool, but when MS Dhoni was first introduced to us in 2004, he was known as an aggressive six-hitting batsman. 
One of the dialogues from his biopic, MS Dhoni – The untold story still reiterates in my mind. "Kon hai ye player. "Kya lambe lambe chakke maarta hai". While MS Dhoni's batting style changed from aggressive to adaptive as he progressed, for me he would still remain that aggressive player with long hair. 
As the legend, MS Dhoni turns 40th today on his birthday, we have in store top 5 special knocks that have been the quickest in terms of strike rate. With minimum criteria of 50 runs, which should make our analysis fairer, without any further delays, let's deep dive into it. 
#5: 72*(46) vs Pakistan // Lahore // 2006
To begin the article, we have one of the cult classic knocks by MS Dhoni against Team India's arch-rivals, Pakistan. It was in 2006 in Lahore when MS Dhoni first toured the country. While MS Dhoni had already made a name for himself against Pakistan in the first series, it was with this knock he showed signs of being a Finisher. 
Chasing 289, MS Dhoni came in to bat 7 with India needing more than run-a-ball from 15 overs. With two junior lads, Yuvraj Singh and MS Dhoni at the crease, the pressure was on the Indian batting unit. But MS Dhoni negated all the pressure by being positive right from the start. 
When MS Dhoni came in to bat, Yuvraj was batting at 53. But by the time match ended, MS Dhoni almost neared Yuvi's score with a stunning 72*(46) with Yuvi remaining not out on 79. Giving rise to his finishing skills, MS didn't smash a single six in the innings. 
#4: 62(38) vs Australia // Bengaluru // 2013
Number 4 on the list is a classic supporting knock by MS Dhoni. When Rohit Sharma was promoted as an opener by MS Dhoni in 2013, we didn't expect Rohit to make such a big impact straight away. It was in a few months after he started opening, Rohit smashed his first double century in ODI cricket.
To witness this happy moment, it was MS Dhoni at the other end. When Dhoni came in to bat at 6, India were going decent at a run-a-ball at 208/4 at the end of 34 overs. With set Rohit Sharma at the other end, Dhoni played second fiddle to him. Dhoni took some time to settle until the 40th overs as his score read 13(19).
But what came next was simple Dhoni special. He smashed 49 runs from the next 19 balls with 7 fours and 3 sixes to elevate India to a stunning 383/6 at the end of 50 overs. Dhoni and Rohit smashed a stunning 151 runs from the last 10 overs. Of course, India went on to win the match comfortably even after Faulkner's late surge.      
---
ALSO READ: India vs Pakistan Cricket Team Salary Analysis – Surprising Stats
 Follow us on Telegram 
---
#3: 52*(28) vs SA // Centurion // 2018
One of the most recent knocks, and the only knock from the list in the T20Is. In his entire T20I career, MS Dhoni smashed only two 50s, and one of them was a blazing quick 52*(28). This was the time when MS Dhoni was heavily criticized for his slow batting. But MS Dhoni responded in amazing style. 
Batting first, India were going decent at 92/4 at the end of 11 overs with MS Dhoni just walked in to bat. As he always does, MS Dhoni took some time to get his eye in. He did play a couple of attacking shots, but not until the 19th over. 
MS Dhoni's score read 24(19) at the end of the 18th over with India's score being 157/4. India needed Dhoni to attack in the last two overs to reach a safer total, and he did exactly the same. Dhoni smashed 28 runs from the next 9 balls he faced to end on 52(28) with 4 fours and 3 sixes. While India lost the match, Dhoni's performance was worth remembering.   
#2: 50*(26) vs England // Cardiff // 2011
Coming fresh after a World Cup win, India played their next ODI series in England. MS Dhoni, who helped India win the World Cup final with a fantastic 91* had an amazing series against England. He smashed a total of 236 runs from 5 innings at an average of 79, and was also awarded as the Player of the series. 
One knock from the series that was simply Dhoni at his best came at Cardiff in the final ODI. India were already out of contention for a series win, but MS Dhoni made sure the series was remembered for his aggressive and power-packed batting.
Batting first, MS walked-in in the 44th over with the team's score reading 237/4/. India needed a final boost, and MS Dhoni just provided that. Dhoni played 26 of the next 39 balls, and smashed a quickfire fifty off just 26 balls; his fastest in International cricket. While India once again lost the match, the series was all about MS Dhoni's classy batting.     
#1: 68*(35) vs SA // Gwalior // 2010
Who doesn't remember Sachin Tendulkar's superman effort in the form of a double century? Well, to refresh your memory, it was MS Dhoni, who witnessed this iconic moment from the opposite end. The stage was set in Gwalior in 2010; a ground that has always witnessed high-score matches.
Batting first, Dhoni came in to bat in the 42nd over with India's score reading 300/2 and Sachin's score reading 168*. We were in for a high-score finish, but MS Dhoni made sure we cross 400, and in the process, also helped Sachin reach his double-century. 
With India already in a safe position, Dhoni attacked right from the word go. He made sure Sachin didn't feel the pressure. Also as he always does, the last two overs witnessed a blitzkrieg from Dhoni. He shattered Dale Steyn to all parts in the 49th over by scoring 17 runs from it, and brought his fifty from just 29 balls. Finally, Dhoni smashed another 15 runs from the last over to finish on 68*(35). 
Thanks for reading! On the 40th birthday of MS Dhoni, which are some of his best favorite innings? Please email your thoughts to business@cricalytics.com 
---
ALSO READ: Exclusive: Points Table Prediction for World Test Championship 2021-23
---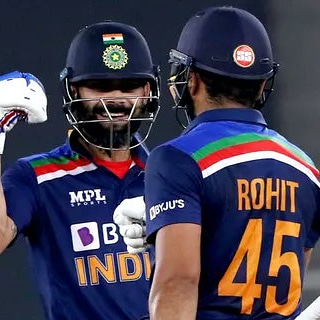 Adesh Kothari is the founder of AK4Tsay1 Cricalytics.
Cricket to him is like what 'Football is to Lionel Messi', 'Singing is to Lata Mangeshkar', 'Dancing is to Michael Jackson', and what 'Acting is to Clint Eastwood'.
Besides his effervescent love for Cricket, Adesh is an MBA by qualification.