India vs SL 2021: Youngest Playing 11 for Team India – RCB Opener Leads
India vs Sri Lanka 2021: Devdutt Padikkal, the youngest player as we look at the youngest playing 11 for the tour. 
We are just 4 days away from what will be a historic moment for Team India. This would be the first time in their history when they would be playing a parallel series. With the senior 20-member squad currently in England, the series that will be played in Sri Lanka will see almost a mix of A and B squads. 
That's the main reason why we would be witnessing a team that is filled with youngsters. Make no mistake, barring a few players, the selected team of 20 is filled with youngsters with an average age around 25. Captain Shikhar Dhawan is the eldest member of the team, and he ages 35. 
The selected squad has 6 uncapped players, and given the series is a limited-overs series, a lot of preference has been given to the IPL performance. Will everyone get to play is a question that will be answered in the due course of time?
It would be interesting to analyze the youngest playing 11 for Team India for the India vs Sri Lanka tour. Before that let's quickly look at the official squad for Team India for the 2021 Sri Lanka Tour. 
Official Squad for Team India for 2021 Sri Lanka Tour:
Batsmen: Devdutt Padikkal, Ishan Kishan (WK), Hardik Pandya, Manish Pandey, Nitish Rana, Prithvi Shaw, Ruturaj Gaikwad, Sanju Samson (WK), Shikhar Dhawan (C) & Suryakumar Yadav   
All-rounders: Krishnappa Gowtham & Krunal Pandya
Bowlers: Bhuvneshwar Kumar (VC), Chetan Sakariya, Deepak Chahar, Kuldeep Yadav, Navdeep Saini, Rahul Chahar, Varun Chakravarthy & Yuzvendra Chahal
#1: Devdutt Padikkal – Age 21
Devdutt Padikkal is the youngest player in the squad, who has an age of 21. Padikkal will be playing a role of an opener in the series. He impressed everyone with a stunning performance in Domestic SMT, VHT, and IPL in the last couple of years. While Dhawan and Shaw may get a preference above Padikkal, the latter can sneak in a few games of India do well. 
#2: Prithvi Shaw – Age 21
The most potential youngster of the lot, Prithvi Shaw is already a hot entity even before the start of the series. He made his debut for Team India a few years back, but was later dropped from the squad owing to poor form. But his VHT 2021 and IPL 2021 performance has been outstanding. He would want to continue to perform to make a comeback to the Indian team. 
#3: Ruturaj Gaikwad – Age 24
Maharashtra both Ruturaj Gaikwad made headlines with some good performances for India A and domestic cricket. He also impressed in the limited opportunities he got playing for CSK in IPL. Aging just 24, this is the right time to enter the scenes for Team India, who would be looking at the transition from Rohit and Dhawan as openers. 
#4: Nitish Rana – Age 27 
Nitish Rana is one name that has been around for quite a good time now. He is the player that has always looked to show potential, but just hasn't been consistent enough to be drafted in the Indian side. But thanks to the pandemic, Nitish Rana's dream was finally realized. He may find it difficult to get a game, but if he does, he would want to make it big. 
#5: Sanju Samson – Age 26 
Probably the primary wicket-keeper of the team, Sanju Samson may finally get to play a complete series if he manages to impress from the start. He has played for Team India previously, but hasn't been able to make an impression as yet. This would be the series that may be the turning point for Sanju Samson.
#6: Ishan Kishan – Age 22 
The youngest wicket-keeper of the team, Ishan Kishan was only recently included in the Indian Team. He made a stunning debut against England in the T20I before getting injured. It would be interesting to see if he plays the ODI series, but he for sure should play the T20I series. 
#7: Hardik Pandya – Age 27
It is quite surprising that Hardik Pandya, who is one of the most experienced members of the squad has an age of just 27. He probably has around 8-10 years of Cricket left if fitness is by his side. While Finisher would be the role Hardik would play, Team India would also expect a few overs in the bowling department from him. 
#8: Navdeep Saini – Age 28
Having come into the limelight a couple of year back, Navdeep Saini was slowly excluded from the senior team. He was looked at as a potential speedster, but the poor form has made the situation difficult for Saini. Nevertheless, with the ODI series, to begin with, would be an important step for Saini to make a comeback. 
#9: Chetan Sakariya – Age 23 
The youngest pacer of the lot, Chetan Sakariya is an interesting prospect for Team India. Being a left-hander, Sakariya impressed in IPL 2021 with controlled line and length. With age by his side, a superb debut series should make Sakariya a long-term prospect for Team India across formats. 
#10: Rahul Chahar – Age 21
The youngest spinner of the squad, Rahul Chahar is already making headlines with his performance across tournaments. He is MI's leading spinner, and even for Team India, he is looked at as a backup for Yuzi Chahal. However, with Yuzi in the squad, Chahar may or may not get an opportunity, but he is definitely a long-term prospect for Team India. 
#11: Kuldeep Yadav – Age 24
Finally, a playing 11 where Kuldeep Yadav found a place. It has been tough 2 years for Kuldeep Yadav, who seems to have lost all his mojo. Be it IPL, Test matches, ODIs, or T20Is, Kuldeep has found himself out of contention owing to poor form. Even in the Sri Lanka series, we may not see Kuldeep play at all if Chakravarthy or Chahar is preferred. But hopefully, Kuldeep keeps his confidence intact, and gives a good performance whenever he is played. 
India vs Sri Lanka 2021: Youngest Playing 11 for Team India for the Tour:
Devdutt Padikkal, Prithvi Shaw, Ruturaj Gaikwad, Nitish Rana, Sanju Samson (WK), Ishan Kishan, Hardik Pandya, Navdeep Saini, Chetan Sakariya, Rahul Chahar & Kuldeep Yadav. 
Thanks for reading! What's your best playing 11 for the 2021 India vs Sri Lanka tour? Please, email your thoughts to business@cricalytics.com
---
ALSO READ: India vs Pakistan Cricket Team Salary Analysis – Shocking Results
---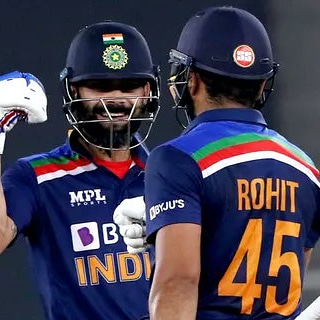 Adesh Kothari is the founder of AK4Tsay1 Cricalytics.
Cricket to him is like what 'Football is to Lionel Messi', 'Singing is to Lata Mangeshkar', 'Dancing is to Michael Jackson', and what 'Acting is to Clint Eastwood'.
Besides his effervescent love for Cricket, Adesh is an MBA by qualification.