Rating and Ranking Team India Batsmen in Away Tests vs NZ
WTC Final: Gautam Gambhir, the star performer as we look at the ranking and rating of the performance of Team India batsmen for India vs NZ Away Test matches.
The upcoming World Test Championship final between India and NZ is going to be a unique affair for both teams. While the venue of Southampton is supposedly neutral, will it assist spin or swing is still unknown? But looking at the history, the pitch is likely to assist pacers with some help for the spinners. This gives speculation as to how Team India have performed in New Zealand in Tests.    
Well, New Zealand is one destination where India have played the least number of Test matches. Since the first NZ tour in 1968 and the latest one in 2020, India have played only 25 Tests; that's less than 1 Test match per year. While the actual reason for such fewer Test matches is not known, one can assume time difference and low revenue generated could be the main reasons. 
However, it is also one of the destinations where India have a decent away record in Tests. Of the 10 Test series being played between 1968 and 2020 in New Zealand, India have won two series, lost seven, and two ended in a draw. Overall, India have won 5 Tests, lost 10, and drawn 10, which seems a decent record overall. 
In terms of individual performance, you would be surprised to see some of the big names failing to make an impact, and some surprising ones making a great impact. On that note, let's look at the ranking and rating of the top 5 Team India batsmen for their performance for India vs NZ away Test matches ahead of WTC final. 
Methodology: 
As always, we have analyzed the batting performances basis the batting rating calculated from the overall aspect of the game such as runs scored, consistency, the number of match-winning & good knocks, and relative percentage of Team runs scored. Moreover, only those players are considered for evaluation who have scored at least 250 runs on NZ soil. 
#5: MS Dhoni
Inns: 6 // Runs: 272 // Avg: 54.4 // HS: 68 // Rating: 6.3
Well, well! we have a surprise straight away. MS Dhoni may be a legend in limited-overs cricket, but his Test performance has been kind of ordinary. But that's not the case for MS Dhoni in Test matches in New Zealand. The former captain has played 6 innings in NZ scoring 272 runs at an average of 54.4. Overall, Dhoni has scored a total of 3 fifties in 6 innings, and has managed consistency of 67% 
#4: Sachin Tendulkar
Inns: 18 // Runs: 842 // Avg: 49.5 // HS: 160 // Rating: 6.3
The number 4 on the list is Sachin Tendulkar, who has played the longest and also the most number of Test matches in New Zealand. Sachin is the leading run-scorer in Tests in NZ with 842 runs from 18 innings at a good average of 49.5. While overall this is a good record with a consistency of 59%, the problem is, Sachin doesn't have too many big scores, and hence his overall rating settles at 6.3. 
#3: Rahul Dravid
Inns: 14 // Runs: 766 // Avg: 63.8 // HS: 190 // Rating: 7.7
The number 3 sees the second-highest run-scorer for India for Test matches in NZ, Rahul Dravid. Overall, Dravid has been quite good in New Zealand scoring 766 runs from just 14 innings at a superb average of 63.8. Dravid crossed the 50 runs mark 7 times in 14 innings, and that's an achievement worth remembering. 
Importantly for Rahul Dravid, his low scores stand at just 23.1% and consistency stands at 54%, which is an excellent thing for the star batsman. Dravid's 103* at Hamilton in 1999 that helped India draw the Test match is one of the most memorable knocks on New Zealand soil. 
#2: Mohammad Azharuddin
Inns: 8 // Runs: 521 // Avg: 74.4 // HS: 192 // Rating: 8.6
At number 2, we have another former captain and star batsman, Mohammad Azharuddin. The talismanic batsman has toured New Zealand thrice, but could only play 6 Tests between 1990 to 1999. However, Azhar made sure, he is remembered for his performance on the toughest wickets of NZ. 
Overall, Azhar scored a total of 521 runs from just 8 innings at a stunning average of 74.4. While the sample size is low, the point of this being done in three different tours is a superb feat. Azhar also has the highest score by an Indian in Tests in New Zealand when he smashed a brilliant 192 at Auckland in 1990. 
#1: Gautam Gambhir
Inns: 6 // Runs: 445 // Avg: 89 // HS: 167 // Rating: 10
Well, who could imagine the number 1 performer for Team India in Test matches in New Zealand would be an opener? Well, Gautam Gambhir has defied all odds to deliver a performance worth remembering during his only tour in NZ in 2009.
Gambhir played a total of 6 innings in that series, and managed to score 445 runs at a stunning average of 89. He got to three-digit scores twice in just 6 innings with the highest score of 167 in his last Test knock on New Zealand soil. Moreover, he has a perfect rating of 10 for his performance.
Special Mention: Virat Kohli
Inns: 8 // Runs: 252 // Avg: 36 // HS: 105* // Rating: 3.8
While the above have been the top 5 performers, it is worth mentioning, the current best batsman, Virat Kohli's performance on New Zealand soil. Kohli has been a decent performer in Test matches in NZ with a total of 252 runs from 8 innings at a decent average of 36.
Only twice in 8 innings did Virat manage to score 50+ score. The other 6 innings for Virat read 4, 38, 2, 19, 3, 14. While Virat is currently experiencing a century drought, I hope, Virat forgets the history, and delivers a performance worth remembering in the World Test Championship final vs NZ. 
Thanks for reading! Which of the Team India batsmen performance was extremely well for India vs NZ away Tests? Please email your thoughts to business@cricalytics.com.
---
ALSO READ: 2021 Special: The Under 30 Age Best T20 Playing 11 for Team India
---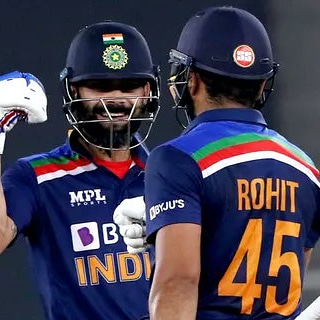 Adesh Kothari is the founder of AK4Tsay1 Cricalytics.
Cricket to him is like what 'Football is to Lionel Messi', 'Singing is to Lata Mangeshkar', 'Dancing is to Michael Jackson', and what 'Acting is to Clint Eastwood'.
Besides his effervescent love for Cricket, Adesh is an MBA by qualification.