2021 Special: The Under 30 Age Best T20 Playing 11 for Team India
KL Rahul, the potential captain as we look at the best t20 playing 11 for Team India for players under the age of 30.  
The COVID-19 pandemic has created a lot of havoc in the last couple of years. While it may have brought a lot of negative things with it, it has positively exposed the vast talent Team India have in their arsenal. The tours or series generally see Team India select around 16 members in their squad, but the pandemic has given the option to select 20-25, and even more to have appropriate replacements in place for any casualties. 
On top of it, the Indian Premier League has been one of the top enablers to nurture raw talent in India. Even since its inception in 2008, the tournament has seen the rise of so many young talents in India. Some of these stars are already established names in the Cricketing world, and some like Rohit Sharma, Virat Kohli, etc. are already established leaders. 
While Ignoring the top tier players above the age of 30 for the time being, let's focus on the near future leaders of Team India, who are going to succeed the likes of Rohit Sharma, Virat Kohli, Shikhar Dhawan, Ishant Sharma, etc. The Under 30 are the players, who are going to dominate the 2020 decade, and represent India in Global tournaments. 
In that, T20 is a format that sees a lot of entrants; thanks to Domestic T20 cricket and IPL. There are many talented cricketers in this category, and in this article, we would focus on the best T20 playing 11 of players under age 30 for Team India. Please note that there are many more players who couldn't make it to playing 11, but are worthy contenders. 
Methodology: 
The players are selected basis their performance in Domestic T20s and IPL in the last three years. The selected team is chosen keeping in mind 2 openers, 3-4 middle-order players, 1 wicket-keeper, at least 1 spinner, and 2-3 pacers. Moreover, the selected players must have played at least one International match. 
Openers:

KL Rahul & Prithvi Shaw
Talking about the openers under the age of 30, KL Rahul is the first name that pops up on the list. KL is 29 at the moment, and is already an established opener in T20s. The swashbuckling opener from Karnataka has been the best batsman in IPL in the last 3 years, and has done really well in T20Is too. He is also the captain of the squad having captained the national side recently. 
For the second opener slot, there were a few options like Shubman Gill and Ishan Kishan, but given the T20 format, there is none better than the Mumbaikar, Prithvi Shaw, at the moment. Shaw has had good success with Delhi Capitals in the last few years, and the 2021 edition of IPL has seen the best of him. Moreover, Shaw is just 21, and has good 10-15 years of Cricket left in him. 
Middle-order:

Sanju Samson, Shreyas Iyer & Rishabh Pant
At number 3, there is no better T20 batsman than Sanju Samson in India. One of the best timers of the ball, Sanju Samson has had a good T20 career so far. While he may not have been able to establish himself in the International format, and his consistency is often questioned, one can't deny that his record has been decent with over 4000 T20 runs to his name at the age of 26. 
At number 4, we have Team India's current preferred number 4 batsman in ODIs and T20Is, Shreyas Iyer. The Mumbaikar is already an established name in IPL and the International circuit. By some, he is also regarded as the successor of Virat Kohli in limited-overs cricket. Being only 26 years of age, Shreyas Iyer has around 10 years of Cricket left in him. 
Next up is the wicket-keeper Finisher of the squad, Rishabh Pant. Well, Pant needs no introduction, and the year 2021 has already seen Pant establishing himself as the first-choice wicket-keeper in all three formats for Team India. At the age of 23 years, Pant has already broken many records in Test and T20 formats. With good 10-15 years of Cricket left in him, the sky is the limit for the southpaw. 
All-rounders:

Hardik Pandya & Axar Patel
Coming to the all-rounders, Hardik Pandya is a unanimous choice. At the age of 27, the lad is India's best limited-overs all-rounder already. He is someone Team India rely on for quick runs in the death overs. While he may not be bowling currently due to injury concerns, he has already established himself as a smart bowler in the T20s. 
The second all-rounder saw Washington Sundar and Axar Patel compete for this spot. Both bring unique characteristics to the table. While Sundar is a good powerplay bowler, and a decent T20 batsman, Axar Patel is good for controlling runs with his slow left-arm spin. But what separates Axar from Sundar is his batting ability and experience, and hence is chosen as the 2nd all-rounder. 
Bowlers:

Rahul Chahar, Deepak Chahar, Mohammed Siraj & Jasprit Bumrah
Taking about the primary spinner, there is currently no better option than Rahul Chahar in India. There's Kuldeep Yadav as the contender, but Chahar in 2021 is a better T20 bowler than Kuldeep as the latter is not even a second-choice spinner for his franchise. Moreover, Chahar has done really well for Mumbai Indians off late, and is always in contention for the national squad. 
Coming to the pacers, Team India's best T20 bowler, Jasprit Bumrah leads this category without any second thought. At 27, Bumrah's name is already taken among the best pacers to have played this game. With good 5-10 years of Cricket left in him, Bumrah may end up breaking many records.
For the remaining 2 spots for the pacers, there were 4 options – Deepak Chahar, Shardul Thakur, Mohammed Siraj, and Navdeep Saini. If we had done this analysis in 2020, Shardul Thakur and Deepak Chahar would have made it to the squad without any debate. Both were in really good form in 2018-20.
But, as of 2021, Shardul Thakur and Navdeep Saini's form has taken a dip in T20s. The latter is also dropped from the limited-overs format. Hence, Deepak Chahar, who has been really good in IPL 2021 and Siraj, who too has been impressive in IPL in the last two years get an edge over the other two.
So, that concludes the best T20 playing 11 for Team India for under 30 Age players. Meanwhile, Virat Kohli (32), Rohit Sharma (34), Shikhar Dhawan (35), Yuzi Chahal (30), Ravindra Jadeja (32), Manish Pandey (31), Mohd. Shami (30), T Natarajan (30), and Bhuvneshwar Kumar (31) are good above 30 players.  
Best T20 Playing 11 for Team India for Players Under 30 Age:
KL Rahul (C), Prithvi Shaw, Sanju Samson, Shreyas Iyer, Rishabh Pant (WK), Hardik Pandya, Axar Patel, Rahul Chahar, Deepak Chahar, Mohammed Siraj & Jasprit Bumrah.
Good Reserves: Shubman Gill, Ishan Kishan, Washington Sundar, Shardul Thakur & Navdeep Saini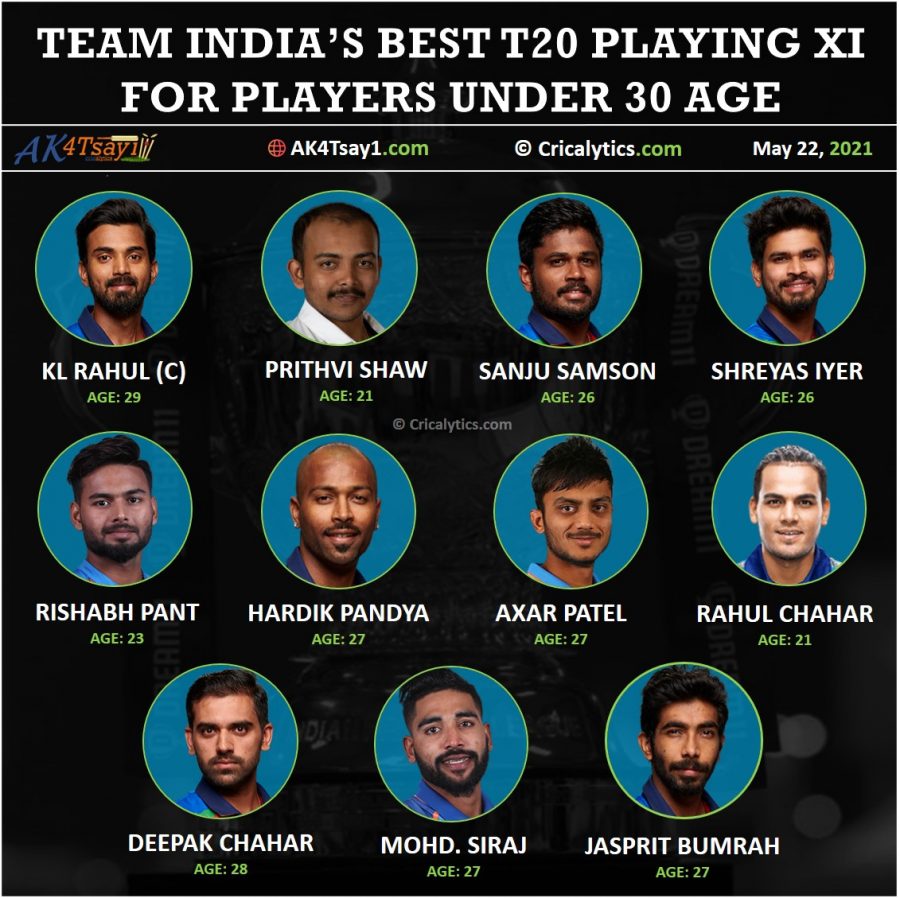 Thanks for reading! What's your T20 playing 11 for Team India for players under 30? Please email your thoughts to business@cricalytics.com.
---
ALSO READ: Exclusive: The Combined Best XI for the ICC World Test Championship
---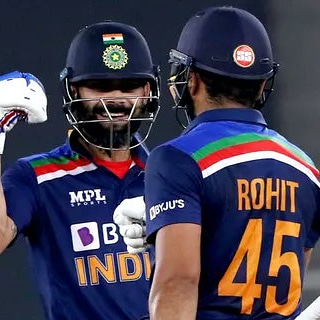 Adesh Kothari is the founder of AK4Tsay1 Cricalytics.
Cricket to him is like what 'Football is to Lionel Messi', 'Singing is to Lata Mangeshkar', 'Dancing is to Michael Jackson', and what 'Acting is to Clint Eastwood'.
Besides his effervescent love for Cricket, Adesh is an MBA by qualification.