Analyzing the Combined Best Playing XI for the World Test Championship?
Marnus Lauschagne, the stand-out player as we look at the combined best  playing 11 of the tournament for the ICC World Test Championship. 
The first season of the ICC World Test Championship is almost coming to an end with only the finals set to played in England from June 18-22, 2021. Starting with Ashes 2019 in August, it is has been quite a journey so far with India and New Zealand ending as the top 2 teams on the basis of PCT%, out of a total of 9 teams.
Overall, the World Test Championship 2019-21 saw a total of 58 matches being played between 9 teams. England played the most numbers of matches, 21, whereas Bangladesh played the least number of matches, 7. India won the most number of matches, 12 with a win% of 70.6. Overall, out of 58 matches, only 8 matches ended in a draw, which is an excellent result. 
Importantly, the WTC saw an unequal distribution of matches among all teams, hence, the number of runs scored and wickets taken is also somewhat screwed towards those teams. Considering this scenario, it is important to have a comparison of players basis the relative rating defined as below. 
Stats Wizard Methodology:
Batting: As always, we have analyzed the batting performances basis the batting rating calculated from the overall aspect of the game such as runs scored, consistency, the number of match-winning & good knocks, and relative percentage of Team runs. 
Bowling: We have analyzed the bowling performances basis the bowling rating calculated from the overall aspect of the game such as wickets taken, consistency, the number of match-winning and good spells, and relative percentage of Team wickets. 
Overall, the players selected basis the performance rating, and only players who have performed well in their respective positions are selected. The selected team is chosen keeping in mind 2 openers, 3-4 middle-order players, 1 wicket-keeper, at least 1 spinner, and 2-3 pacers. Moreover, preference has been given to players who have played at home as well as away from home.
Alright then, let's find out the best combined playing 11 for ICC World Test Championship 2019-21. 
Openers:
#1: Rohit Sharma (India) 
Inns: 17 // Runs: 1030 // Avg: 64.4 // Rating: 7.6
Rohit Sharma has not only been the best opener of the World Test Championship but also the best Indian batsman. While Rahane has 65 runs more than Rohit, Rohit's match-winning knocks and an average of 64.4 separates him from the rest of the Indian batsmen. 
Rohit played a total of 4 match-winning knocks in the WTC, but the best one came against England when he smashed 161 on one of the toughest batting wickets of Chennai. It was that knock that made sure India's WTC final hopes were up and alive. Overall, Rohit has scored a total of 1030 runs from 17 innings at a consistency of 47%.
#2: Dimuth Karunaratne (Sri Lanka)
Inns: 18 // Runs: 999 // Avg: 55.5 // Rating: 6.7
The captain of Sri Lanka makes it to the team as the second opener of the squad, beating the likes of David Warner, Mayank Agarwal, and Dean Elgar. Ending just 1 run short of the golden 1000 runs, Dimuth Karunaratne has been the best Sri Lankan batsman on the show. Be it scoring runs in the sub-continent or overseas, Dimuth did that with excellence.
The examples of these are his two golden knocks; one against South Africa where he fought a lone battle in his 103 at Johannesburg, and the other against New Zealand where he smashed a brilliant 122 to help Sri Lanka chase 268. Overall, Dimuth ended with a total of 999 runs at a superb average of 55.5.
Middle-order:
#3: Marnus Labuschagne (Australia)
Inns: 23 // Runs: 1675 // Avg: 72.8 // Rating: 9.2
Is there a doubt in the selection of not only the leading run-scorer of the World Test Championship but also the best batsman of the tournament, Marnus Labuschagne? It was only in 2018 when Marnus made his Test debut, but it has been a journey only upwards for the champion batsman.
Be it his Ashes performance or his performance at home, Marnus did well everywhere. If you don't trust me, trust the numbers, which have been fabulous. Marnus ended the WTC with a total of 1675 runs from 23 innings at a stunning average of 72.8 and consistency of 74%; both better than the rest. 
#4: Steve Smith (Australia)
Inns: 22 // Runs: 1341 // Avg: 63.9 // Rating: 7.9
Talk about Test cricket, and one name that is constant in the current era, i.e, Steve Smith. The former captain of Australia is a modern-day legend, and his WTC performance just seconds that view. Smith started with a mind-blowing performance in Ashes scoring over 700 runs, and ended as the 3rd-highest run-scorer with 1341 runs at an average of 63.9 and consistency of 57%. 
#5: Babar Azam (Pakistan)
Inns: 17 // Runs: 932 // Avg: 66.6 // Rating: 7.5
The number 5 position saw a tough fight between Kane Williamson and Babar Azam. While Kane was excellent at home, his performance away from home was poor, and his consistency was just 28%. However, Kane's advantage was his captaincy, which helped New Zealand reach the finals of WTC. 
Babar, on the other hand, was Pakistan's best batsman of the Championship. His consistency was better than Williamson at 59%, scored more runs than Williamson, had a better average and more match-winning knocks than Williamson. Moreover, Babar batted at 4 or 5 as compared to Williamson, who batted at 3. 
#6: Ben Stokes (England)
Mats: 17 // Runs: 1334 // Wkts: 34 // Rating: 7.6
The batting all-rounder of the team, Stokes selection in the team should hardly see any debates. He has been a match-winner for England, and also their Most Valuable Player for the WTC. His knock of 135 at Leeds vs Australia to help England with their record chase could well be called the knock of the Championship. Overall, Stokes ended as the fourth-highest run-scorer with 1334 runs and had a total of 34 wickets to his name. 
#7: Rishabh Pant (India)
Inns: 18 // Runs: 662 // Avg: 41.4 // Dismissals: 40 
This could be the toughest selection among all players as Rishabh Pant's competitor was Mohammad Rizwan, who could well be neck-and-neck work with Rishabh Pant, and even better than Pant in most of the criteria. But what worked in Rishabh's favour was not the runs he scored, but the situation in which he scored.
His aggressive approach paved the way for so many comebacks for Team India against Australia. In fact, if not for Rishabh Pant, India wouldn't have created a record series vs Australia. Overall, with 4 match-winning knocks, Pant scored a total of 662 runs at a strike rate of 70; best among the top 20 players. However, Rizwan would have been a good candidate had this team been short of a batsman. 
Bowlers:
#8: Ravichandran Ashwin (India)
Inns: 24 // Wkts: 67 // Avg: 20.9 // Rating: 9.7
A unanimous selection in the spinners category as Ravichandran Ashwin defied the odds by not only bowling well at home in India but also away from home. Ashwin has a total of 67 wickets from 24 innings at an average of 20.9. He also bowled well in Australia taking a total of 12 wickets from 6 innings. He also took 32 wickets in a series vs England; the most in World Test Championship. 
#9: Pat Cummins (Australia)
Inns: 28 // Wkts: 70 // Avg: 21 // Rating: 8.6
The World number 1 and the leading wicket-taker of the WTC, Pat Cummins is another unanimous selection in the 11. While Cummins largely benefited by playing in England and Australia, it takes nothing away from the champion bowler he has been. Only twice in 28 innings he has gone wicketless, and has overall taken a total of 70 wickets at a superb average of 21.
#10: Tim Southee (New Zealand)
Inns: 20 // Wkts: 51 // Avg: 20.7 // Rating: 8.8
Tim Southee could well be the surprise element in this list as he has managed to secure a place in the 11 with a rating of 8.8 by beating his teammates, Trent Boult, Kyle Jamieson, and Neil Wagner. Southee is NZ's leading wicket-taker with 51 wickets from 20 innings at a brilliant average of 20.7. Not just in New Zealand, Southee did well in Australia and Sri Lanka too. 
#11: Stuart Broad (England)
Inns: 32 // Wkts: 69 // Avg: 20.1 // Rating: 7.7
Another tough choice to make as the second-highest wicket-taker, Stuart Broad had to compete with fierce Kiwi pacer, Kyle Jamieson. Kyle Jamieson has the best average or 13.3, best wicket/innings ratio of 3, consistency of 91%, but Kyle Jamieson's all wickets came at home in New Zealand. That's why, Stuart Broad, who performed across the world is a preferred pacer. 
Moreover, Stuart Broad hasn't been bad either. He has a total of 69 wickets from 32 innings at a stunning average of 20.1; best among top 10 wicket-takers. He has been decent away from home taking 17 wickets at an average of 22.6. Additionally, Broad has maintained consistency of 69%.
The Combined Best Playing 11 for the ICC World Test Championship
Rohit Sharma, Dimuth Karunaratne, Marnus Labuschagne, Steve Smith, Babar Azam, Ben Stokes, Rishabh Pant (WK), Ravichandran Ashwin, Pat Cummins, Tim Southee & Stuart Broad. 
So, that completes the combined best playing 11 for the ICC World Test Championship 2019-21. You must have noticed, there's no captain in the team. We do have a good number of candidates in the team, and I would leave that onto you to select the captain. A special mention to Kane Williamson, Kyle Jamieson, Ravindra Jadeja, and Mohammed Rizwan, who have been excellent in the World Test Championship. 
Thanks for reading! What's your combined best playing 11 for the ICC World Test championship? Please email your comments to business@cricalytics.com
---
ALSO READ: Team India's Squad for WTC Final and England Tests – No Hardik Pandya
---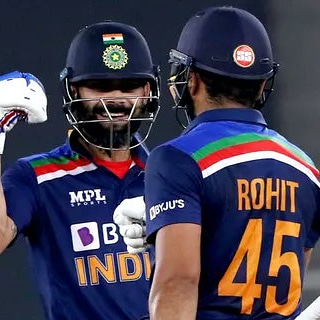 Adesh Kothari is the founder of AK4Tsay1 Cricalytics.
Cricket to him is like what 'Football is to Lionel Messi', 'Singing is to Lata Mangeshkar', 'Dancing is to Michael Jackson', and what 'Acting is to Clint Eastwood'.
Besides his effervescent love for Cricket, Adesh is an MBA by qualification.