Explained: World Test Championship New Rules – What's different?
PCT % retained for the second edition as we analyze the new rules for the ICC World Test Championship 2021-23. 
It's D-day of the first-ever ICC World Test Championship final as India take on New Zealand in the historic final at Southampton in England. An ODI World Cup equivalent tournament for Test cricket was long-time awaited ever since 2013, but it was finally materialized in 2019. 
With the first edition coming to an end in a week's time, the new season is going to begin in a couple of month's time; mostly with India vs England Test Series starting in August. This was exactly the same time two years back when the first edition had started.
But with the second edition, the interim CEO of ICC, Geoff Allardice has announced that there would be a few important changes in the rules. This is a great step forward to make the World Test Championship more fair and exciting. So, what are the new changes to the ICC World Test Championship Rules? Are all rules good, or do we still have gaps to address? Let's find out. 
#1: Complete Adoption of Percentage of Points (PCT%) 
While the adaption of PCT% (Percentage of Points) isn't new as it was also adopted in the first edition mid-way, the second edition should see this right from the first match. This is certainly a fair method to arrive at the rankings as compared to an aggregate points system. 
The aggregate points system saw teams playing a total of 6 series (3 home and 3 away) with each series carrying 120 points. However, with uncertain times ahead, we might as well see some series being washed out or abandoned due to the COVID-19 pandemic.
Given this uncertainty, PCT% sorting seems perfect as if gives importance to a percentage of points as compared to overall aggregate points. So, even if a team played a series or two less, they would still be in contention for the final 2 spots for the World Test Championship. 
#2: Same Points for all Matches: 
The biggest and the most important change in the World Test Championship rules is the division of points by matches, and not by series as we had seen in the first edition. This is certainly a fantastic rule as teams playing an unequal number of more matches as compared to others will be benefited the most. 
For example, England, who played the most number matches; 21 would have been benefitted the most from this rule. Similarly, India, who played 17 matches, but had a good win % would have been benefited too. But, a country like New Zealand, which played only 11 matches, could see a reduction in the overall PCT%. 
However, this rule does have its demerits. For example, a series between Sri Lanka vs Bangladesh or India vs Bangladesh would now be evaluated with the same points as that of BGT or Ashes. So, a team like India winning 2-0 vs Bangladesh would get the same points as would they get for winning 2-0 vs Australia. This is a slight disadvantage for teams winning more against top-ranked teams. 
Some Visible Issues: 
With the improvements that we have seen in the second edition, it still has a few issues left unaddressed. The first edition had 4 major issues in its rules; 2 of those are still visible in the second edition. So, which are the visible cons of the new rules? Let's find out. 
#1: Home and Away Concept
The home and away concept plays a vital and important role in Test Cricket as compared to ODI or T20I cricket. The new rules would retain this format as teams would get to play 3 home series and 3 away series with the opposition mutually agreed between both the countries. So, it could be a straight disadvantage for a team that plays more difficult away matches. 
#2: Teams won't play against all Opposition 
This rule made the tournament unfair in the first edition as not every team ended up playing every other team. For example, India decided not to play Pakistan and Sri Lanka, which devoid them of important points. It also makes the tournament unfair as competition isn't getting evaluated on consolidated performance.
Updated Points Table for 1st Edition based on New Rules: 
Now that we have seen the new rules, let's now look at how the ICC World Test Championship would have panned out if these rules were applied in the first edition as well. As the total number of points per match can be anything, and won't affect the PCT %, let's assume each match carries 60 points with 60 points for a win and 20 points for a Draw. 
So, according to the revised points table, India would still top the league with 740 points and 72.5 PCT %. This is an increase of a fraction point over the previous edition. New Zealand, on the other hand, would have seen a reduction of PCT % to 63.6%. This is because New Zealand's win % wasn't as good as that of Team India. 
For England and Australia, things would have been more tight. Australia, who lost quite a few matches would have been the PCT% drop to 61.9%. Whereas, England's PCT% remains intact at 57.1%. For other teams too, there isn't much change in the overall PCT%.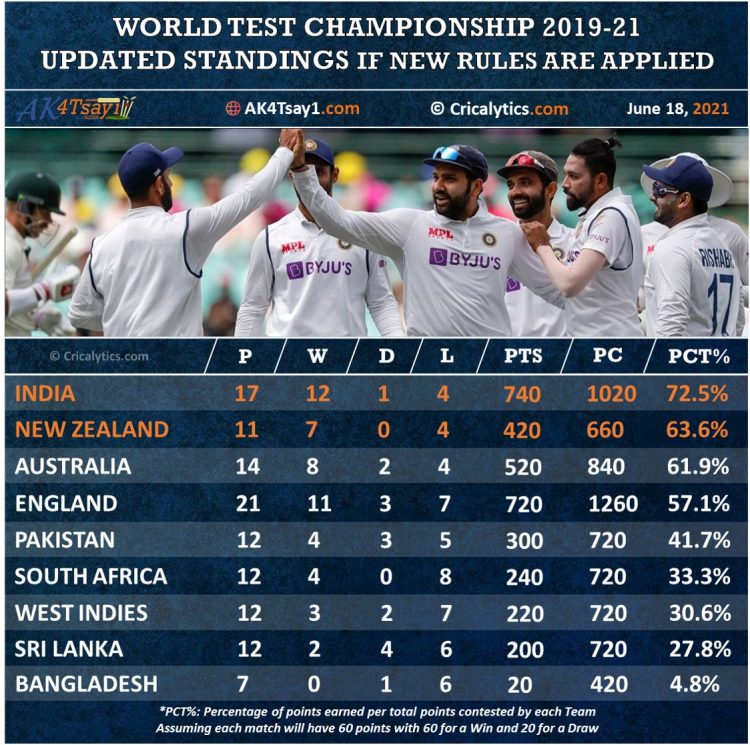 Overall, the new rules don't seem to affect the overall standing. But given the visible Cons, the new rules may see a few debatable series that can see the change of course in the second edition of the ICC World Test Championship. 
Thanks for reading! What are your views on the new rules of the ICC World Test championship? Please email your comments to business@cricalytics.com
---
ALSO READ: Analyzing the Combined Best Playing XI for the World Test Championship?
---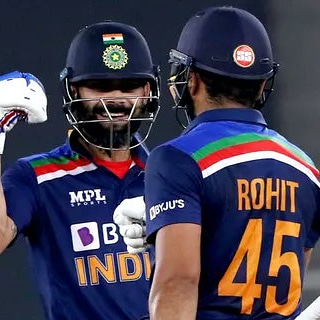 Adesh Kothari is the founder of AK4Tsay1 Cricalytics.
Cricket to him is like what 'Football is to Lionel Messi', 'Singing is to Lata Mangeshkar', 'Dancing is to Michael Jackson', and what 'Acting is to Clint Eastwood'.
Besides his effervescent love for Cricket, Adesh is an MBA by qualification.