WTC 2019-21 Special: Champions vs Rest of the World Best Playing 11
Champions New Zealand go head to head as we compare them with Rest of the World's best playing 11 for the World Test Championship (WTC) 2019-21.  
Amidst all the Challengers of Rain, Schedule, COVID 19, and much more, the first edition of the ICC World Test Championship finally came to a successful end. The dream final at Southampton witnessed the fire of India under Virat Kohli take on Ice of New Zealand under Kane Williamson. 
While the excitement for the World Test Championship final was partially demolished by rains, we did see a clear winner. Even with the rain removing two full days, the odds were in the favour of a New Zealand win as predicted by CasinoWings. Ultimately,  the same thing happened as New Zealand were crowned champions of the first-ever ICC WTC. 
In Windy and Swinging conditions for the final, New Zealand fought the battle with four front-line pacers in contrast to India, who fought the battle with 3 front-line pacers. India did give a good fight, but the second innings batting collapse left too little for the bowlers to defend. Ultimately, New Zealand won the final with 8 wickets in hand.
With the first edition of the World Test Championship finally coming to an end, it would be interesting to see how Rest of the World best playing 11 fares against the Champions 11? For New Zealand, it is their best 11 that played the final. Whereas for Rest of the World, we have 11 players to chose from 8 countries.
Methodology: 
While selecting the Champions 11 is the easiest thing, Rest of the World Playing 11 is selected basis the performance rating for batsmen as well as bowlers. This leaves out any biases or perceptions, and ultimately the best playing 11 is selected irrespective of which country they belong to.
Openers
Champions 11: Tom Latham & Devon Conway
Starting with openers, we have Tom Latham and Devon Conway representing the champions 11. Latham has been the best opener for New Zealand in the World Test Championship having scored 719 runs from 20 innings at a decent average of 38. 
Meanwhile, Devon Conway played only 1 match in the World Test Championship, and that is the final. Having debuted just a series before vs England, Devon showed a lot of temperament and skill in the final. He scored a valuable 50 in the first innings, and scored a decent knock in the second innings.
Rest of the World 11: Rohit Sharma & Dimuth Karunaratne
Rest of the World playing 11 sees Team India's Rohit Sharma and Sri Lanka's only representative Dimuth Karunaratne as the openers. Both were terrific as openers for their respective teams. Rohit can be termed the opener of the tournament with 1094 runs from 19 innings at a stunning average of 61.
Dimuth, on the other hand, played a lot of valuable knocks, and ended the tournament as the second-best opener with 999 runs from 18 innings at an average of 55. The other openers who looked in contention include David Warner and Dean Elgar. 
Middle-order
Champions 11: Kane Williamson, Ross Taylor & Henry Nicholls 
New Zealand have been blessed with a versatile and experienced middle-order of Kane Williamson, Ross Taylor, and Henry Nicholls. With two right-handers and 1 lefty, Kane brings the ice-cool temperament in the picture. Whereas Ross and Nicholls are slightly aggressive by nature, and are always in look for runs. 
Performance wise, Kane finished as the leading run-scorer for New Zealand with 918 runs from 16 innings at a good average of 62. Ross finished with 527 runs from 19 innings at an average of 33. Whereas Nicholls finished with 592 runs from 16 innings at an average of 39.5. 
Rest of the World 11: Marnus Labuschagne, Steve Smith & Babar Azam
Rest of the World 11 sees two brilliant Aussies, Marnus Labuschagne and Steve Smith at number 3 and number 4 respectively followed by Pakistan's Babar Azam. Others who were in contention, but weren't as good as these include Virat Kohli, Ajinkya Rahane, and Joe Root. 
Performance wise, Marnus can be rated as the best batsman of the World Test Championship with 1675 runs; most in the tournament from 23 innings at an average of 72.8. Steve Smith isn't far behind with 1341 runs from 22 innings at an average of 64. Babar, the only Pakistan representative scored a good 932 runs from 17 innings at an average of 67. 
All-rounder
Champions 11: Colin de Grandhomme // Rest of the World 11: Ben Stokes
Talking about the all-rounder spot, New Zealand have Colin de Grandhomme and Rest of the World have Ben Stokes in the ranks. There's absolutely no comparison here as Ben Stokes has created a legacy of his own. He has been the best all-rounder overall in WTC having been successful in both departments. Overall, Stokes has scored 1341 runs and has taken 34 wickets. 
Wicket-keeper
Champions 11: BJ Watling // Rest of the World 11: Rishabh Pant
The wicket-keeper position sees New Zealand's BJ Watling going head to head with India's Rishabh Pant. For Watling, it has been a perfect ending to his career. He became only the second wicket-keeper to end his career with a trophy. Overall, BJ Watling managed to score 418 runs and managed to take 48 dismissals from just 22 innings with a D/W ratio of 2.17. 
Meanwhile, Rishabh Pant has been the best wicket-keeper in the entire World Test Championship. Not only has he scored runs in bulk, but his wicket-keeping skills have also been top-notch; something he has always been heavily criticized for. Overall, Rishabh ended the WTC with 707 runs and 41 dismissals including 6 stumpings; the most in WTC. 
Bowlers
Champions 11: Kyle Jamieson, Tim Southee, Neil Wagner & Trent Boult
New Zealand have probably the best pace quartet among all teams. The versatility and skills that the tall Kyle Jamieson, accurate Tim Southee, swinging Boult, or fighter Wagner brings to the table are simply outstanding. All 4 have been outstanding with the stats, but the two that stand out from the rest include Tim Southee and Kyle Jamieson. 
Performance wise, Southee has been the highest wicket-taker with 56 wickets from 22 innings at an average of 20.8. Jamieson has taken 43 wickets from just 14 innings at an average of just 12.5. Boult has taken 39  wickets from 20 innings at an average of 27.7. Whereas Wagner has taken 35 from 16 innings at an average of 23. 
Rest of the World 11:

Ravi Aswin, Pat Cummins, Stuart Broad & Ishant Sharma
While New Zealand don't have any spin option, Rest of the World 11 see the leading wicket-taker of the tournament, Ravichandran Ashwin as the only spinner among both squads. The pace trio sees Australia's Pat Cummins, England's Stuart Broad, and India's Ishant Sharma in the ranks 
Ashwin has been the leading wicket-taker with 71 wickets from 26 innings at an average of 20.3. Cummins finished as the leading wicket-taker pacer with 70 wickets from 20 innings at an average of 21. Broad has been England's best bowler with 69 wickets from 32 innings at an average of 20.1. Ishant too had been Team India's best pacer with 39 wickets from 20 innings at an average of 17.8.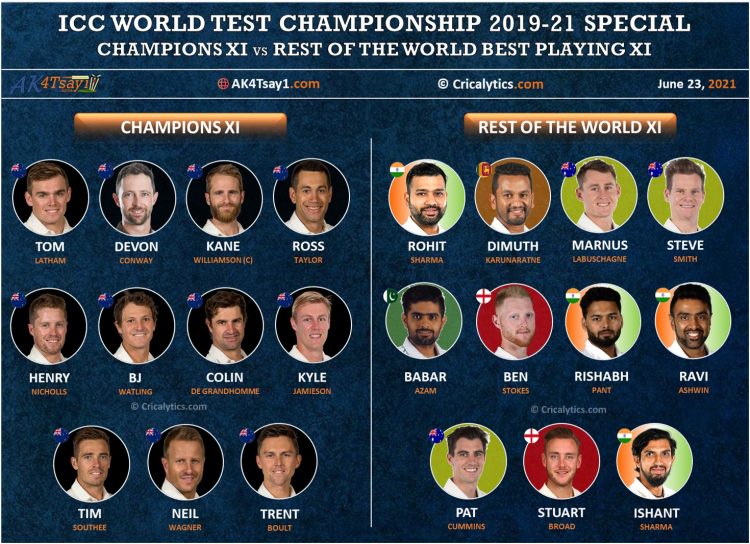 So that completes the World Test Championship best playing 11 comparison for Champions New Zealand and Rest of the World. Apart from the ones mentioned above, the ones that definitely deserve a shout-out include Ravindra Jadeja, Jasprit Bumrah, James Anderson, Joe Root, Dean Elgar, Josh Hazlewood, Anrich Nortje, Ajinkya Rahane, and Mohammad Rizwan. 
Thanks for reading! What is your combined best playing 11 for the World Test championship? Please email your comments to business@cricalytics.com
---
ALSO READ: Explained: World Test Championship New Rules – What's different?
---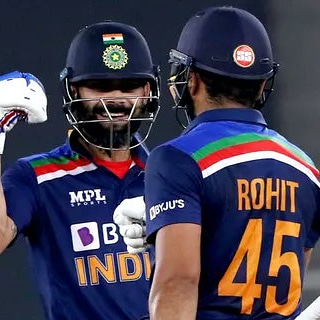 Adesh Kothari is the founder of AK4Tsay1 Cricalytics.
Cricket to him is like what 'Football is to Lionel Messi', 'Singing is to Lata Mangeshkar', 'Dancing is to Michael Jackson', and what 'Acting is to Clint Eastwood'.
Besides his effervescent love for Cricket, Adesh is an MBA by qualification.