India vs Sri Lanka 2021: Best Playing 11 for Team India for the ODI series
India vs Sri Lanka 2021: Shikhar Dhawan to lead as we look at the best playing 11 for Team India for the 2021 ODI series. 
We are almost a month away from the much-awaited Team India's limited-overs series tour of Sri Lanka. With a lot of first-choice seniors and the coach missing the series, it is going to be an epic tour to check the bench strength under the leadership of Shikhar Dhawan and Rahul Dravid. 
For Team India, this series would be mostly about testing the bench strength. They have selected a big pool of 20 members with as many as 6 uncapped players. Also, barring Shikhar Dhawan and Bhuvneshwar Kumar, all the other players are 30 or below. 
It would be interesting to see what strategy Rahul Dravid and Shikhar Dhawan apply. Dravid is often known to give chances to all its players on the A tour. But will he adopt a similar strategy for an International match? We will have to wait and watch. If he does that, then we would be 6 uncapped players less for IPL 2021. 
Overall, Team India begin the tour with the 3-match ODI series. While the actual predicted playing 11 can be looked at a few days before the series, let's look at the best playing 11 for Team India for the 2021 ODI series vs Sri Lanka. Before that, let's skim through the complete squad. 
India vs Sri Lanka 2021 Series – Official Squad for Team India: 
Batsmen: Devdutt Padikkal, Ishan Kishan (WK), Hardik Pandya, Manish Pandey, Nitish Rana, Prithvi Shaw, Ruturaj Gaikwad, Sanju Samson (WK), Shikhar Dhawan (C) & Suryakumar Yadav   
All-rounders: Krishnappa Gowtham & Krunal Pandya
Bowlers: Bhuvneshwar Kumar (VC), Chetan Sakariya, Deepak Chahar, Kuldeep Yadav, Navdeep Saini, Rahul Chahar, Varun Chakravarthy & Yuzvendra Chahal
Openers: Shikhar Dhawan and Prithvi Shaw
Team India have selected 4 primary openers for the Sri Lanka tour in the form of Shikhar Dhawan, Prithvi Shaw, Devdutt Padikkal, and Ruturaj Gaikwad. Being the Captain and most experienced player, Shikhar Dhawan should be the first-choice opener of the squad. But who should partner Dhawan at the top? 
Well, technically, all three have a good chance for selection depending on their merit. While Devdutt is the best performing domestic player, Ruturaj is an emerging right-hander, and has been performing well in IPL and other domestic tournaments. But the one that shall be preferred is Prithvi Shaw. 
After Prithvi Shaw was dropped from Team India's squad owing to poor form, Shaw returned to form with a bang in the domestic circuit. He had an amazing Vijay Hazare Trophy 2021, and followed that with a power-packed IPL 2021. Shaw looks more confident now, and having partnered with Dhawan in IPL, the selection should now be easier for the ODIs. 
Middle-order: Suryakumar Yadav, Sanju Samson, Manish Pandey, and Hardik Pandya
The middle-order selection should be an interesting one given the variety of options that are available. Suryakumar Yadav, who made an impressive debut against England should definitely see himself batting at 3. But the other two selections should be interesting. 
Team India have Sanju Samson, Manish Pandey, Nitish Rana, and Ishan Kishan for the remaining two sports. Of the two, Manish Pandey should most-likely play at 5 given he has previously played at that position. Samson's current IPL form should make the selection easier. In addition, Sanju is more suited for the 50 overs format. 
Hardik Pandya should bat at 6 without any second thought. However, it would be interesting to see if Hardik gives a few overs in the bowling department. A few overs from Hardik might be needed to ease the burden of Krunal's bowling. But will he bowl is a question mark? If he doesn't then Krunal will have to take the ownership.
Spinners:

Krunal Pandya and Yuzvendra Chahal
Given the sub-continent conditions, Team India have selected a variety of spinners in the squad. Along with the leader of the pack, Yuzvendra Chahal, Team India have spin-bowling all-rounders, Krishnappa Gowtham and Krunal Pandya. In addition, Team has a variety in the form of Kuldeep Yadav, Rahul Chahar, and Varun Chakravarthy.
While Yuzvendra Chahal should be the leading spinner, Team India will have to one of Krishnappa Gowtham or Krunal Pandya. Given the experience, it has to be Krunal playing an initial couple of matches, and depending on the performance, Gowtham or any other alternative can be thought off. But if Team India decide to play 5 bowlers, then we can see the Kulcha combo with Kuldeep Yadav as the 2nd spinner. 
Pacers: Bhuvneshwar Kumar, Deepak Chahar, and Navdeep Saini
Team India have selected a limited number of pacers in their squad namely Bhuvneshwar Kumar, Deepak Chahar, Navdeep Saini, and Chetan Sakariya. While Bhuvneshwar Kumar and Deepak Chahar select for themselves, it has to be one of Navdeep Saini or Chetan Sakariya as the third pacer.  
Chetan Sakariya made headlines with his impressive performance in IPL 2021. While he has performed really well in the Domestic tournaments, it has mostly happened in the T20 format. Hence, at least for the initial few matches, Sakariya may not be risked directly in the ODI format, and a more stable bowler, Navdeep Saini should get a chance.
India vs Sri Lanka 2021: Best Playing 11 for Team India for the ODI Series:
Shikhar Dhawan (C), Prithvi Shaw, Suryakumar Yadav, Sanju Samson (WK), Manish Pandey, Hardik Pandya, Krunal Pandya, Bhuvneshwar Kumar, Deepak Chahar, Navdeep Saini & Yuzvendra Chahal
So that completes the best playing 11 for Team India for the 2021 ODI series vs Sri Lanka. Except for 2-3 names, the remaining 8 are sure to start for the first ODI. The biggest question would be the utilization of the uncapped players Under Rahul Dravid's vision. 
Thanks for reading! What's your playing 11 for the 2021 India vs Sri Lanka ODI Series? Please, email your thoughts to business@cricalytics.com
---
ALSO READ: Explained: ICC World Test Championship New Rules – Any better?
---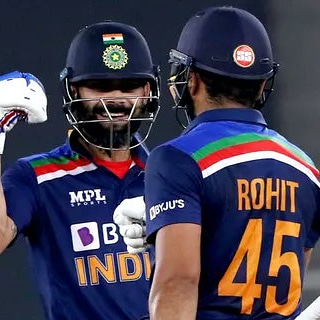 Adesh Kothari is the founder of AK4Tsay1 Cricalytics.
Cricket to him is like what 'Football is to Lionel Messi', 'Singing is to Lata Mangeshkar', 'Dancing is to Michael Jackson', and what 'Acting is to Clint Eastwood'.
Besides his effervescent love for Cricket, Adesh is an MBA by qualification.