IPL 2021 Special: Mid-season Paisa Barbaad XI of the Tournament
Hardik Pandya, one of the worst performer as we look at the IPL 2021 Paisa Barbaad 11 of the season so far.  
Talk about the Indian Premier League, and the two words that dominate the most are Talent and Money. While Talent is mostly reserved to the Indian domestic contingent, Money is a talking point for Indian as well as overseas players.
The Mini IPL 2021 Auction saw many overseas stars getting some handsome amount as annual compensation. The salary of some of the Indian stars is no different. In fact, Virat Kohli with a salary of INR 17 Cr. is the costliest player not just for IPL 2021, but in the history of IPL.
While Cricket is a game of team effort, and the franchise's ultimate goal is to win the IPL, the individual performances and salary often get overlooked if the team is doing well. But if things don't go well for the teams, it is the individual performance of the expensive players that are often visible.
In this article, we would take a look at a team of 11 players that have not lived up to the expectations when we compare their performance with their salary. We call it the mid-season Paisa Barbaad XI. To arrive at the list, we select players using our unique and unbiased methodology as shown below.
Methodology: 
Players are selected basis the Cost per Bang for Buck Points, which is calculated by dividing the IPL 2021 salary of a player by his BFB points. The players with the highest Cost per BFBP is selected in the list according to 4 major categories, viz., Openers, Middle-order, All-rounders, and Bowlers. Moreover, players who have played at least 3 innings are selected for evaluation. 
Whereas,
IPL 2021 Salary: The compensation paid by a franchise to a player for a particular season  
BFB Points: BFB points are calculated from the overall aspect of the game such as runs scored, wickets taken, consistency, acceleration bonus, economy rate bonus, number of dot balls bowled, number of catches taken, number of stumpings done, number of fours & sixes hit, number of match-winning knocks and spells, and so on. 
Cost per BFBP: It is a simple ratio of IPL 2021 salary of a player to his BFB points.  
Openers:
#1: Ishan Kishan (MI) 
Salary: INR 6.2 Cr //  BFB Points: 83.5 // Cost per BFBP: INR 742514.9
After a stunning season in IPL 2020, where Kishan was literally the MVP for Mumbai Indians, the 2021 season has seen Ishan Kishan get off to a dreadful start. Having played 5 matches so far, Kishan has got failures in all of them, and as a result, he has accumulated just 84 BFBP. With a high salary of INR 6.2 Cr., Kishan has a horrible cost per BFBP of INR 742K. 
#2: Virat Kohli (RCB)
Salary: INR 17 Cr // BFB Points: 386.5 // Cost per BFBP: INR 439844.8
Alright, before all those Viratians pounce on me, let me be clear that we are talking about Virat, the batsman, and not Virat, the captain. Sure, his captaincy has been good this season, but his batting has been below-par; especially when you are getting the highest salary among all players. 
Kohli hasn't been bad with a total of 198 runs from 7 innings with 1 fifty score, and a performance rating of 5.5. But, when you compare that performance with his salary, that's where things have taken a beating. With a salary of INR 17 Cr., Kohli has a cost per BFBP of INR 439K; worst among all openers. 
Middle-order:
#3: Suresh Raina (CSK)
Salary: INR 11 Cr // BFB Points: 250.5 // Cost per BFBP: INR 439121.8
Suresh Raina started the 2021 campaign with a fifty, but blame the form of Moeen or Faf, but since then, Raina hardly did anything. Overall, with just 123 runs from 6 innings, Raina, who collects a salary of 11 Cr, isn't adding enough value. His cost per BFBP of INR 439K is the second-worst among all CSK players. 
#4: Nicholas Pooran (PBKS)
Salary: INR 4.2 Cr // BFB Points: 64 // Cost per BFBP: INR 656250
A season to forget for Nicholas Pooran, and a need to press the restart button. This could probably be the worst start among all-star players who have played in IPL. Pooran could manage only. 28 runs from 6 innings with 4 ducks to his name. While his salary isn't that high with 4.2 Cr., his cost per BFBP isn't helping as it is among the worst with INR 656K. 
#5: MS Dhoni (WK) (CSK)
Salary: INR 15 Cr // BFB Points: 96 // Cost per BFBP: INR 1562500
Again to reiterate the fact that MS Dhoni, the Captain and keeper is still very much alive and kicking, but MS Dhoni, the batsman is somewhere missing. While MS Dhoni is definitely out of form, he is not even making more effort to have more game time.
He had many opportunities to get a good game time, but he simply sent either Rayudu, Curran, Jadeja, or Bravo to play ahead of him depending on the situation. Overall, he could only manage 37 runs from 4 innings so far. So, with a total of 96 BFB Points, Dhoni has the worst cost per BFBP of INR 1.56 Million. 
All-rounders:
#6: Hardik Pandya (MI)
Salary: INR 11 Cr // BFB Points: 75.5 // Cost per BFBP: INR 1456953.6
Another curious case for MI as the player who has been a match-winner for them in the past is having his worst season ever. While Hardik isn't adding value as a bowler, he could only manage 52 runs from 6 innings as a batsman. With a salary of 11 Cr., that's asking for trouble as he has the 2nd-worst cost per BFBP of INR 1.4 M. 
#7: Daniel Christian (RCB)
Salary: INR 4.8 Cr // BFB Points: 74.5 // Cost per BFBP: INR 644295.3
Having procured the services for 4.8 Cr., Daniel Christian was supposed to bring life to RCB's lower-order. But, all he could do was nothing. In the 3 innings Christian played, he took 0 wickets and scored just 3 runs. With a handsome salary of 4.8Cr., Daniel Christian has a cost per BFBP of INR 644K; the worst among all all-rounders. 
Bowlers:
#8: Sunil Narine (KKR)
Salary: INR 12.5 Cr // BFB Points: 208. 9 // Cost per BFBP: INR 598372.4
It's been a painful couple of years for the star West Indian, Sunil Narine. Once the MVP for KKR in 2018 and before, the remodelled action and weakness in batting has just resulted in poor performance after performance for him. He gets a good salary of 12.5 Cr., but could only manage 208.9 BFBP, and a has a cost per BFBP of INR 598K; worst among all spinners. 
#9: Bhuvneshwar Kumar (SRH)
Salary: INR 8.5 Cr // BFB Points: 174 // Cost per BFBP: INR 485714.3
The leading pacer for SRH, and the costliest Indian pacer, Bhuvneshwar Kumar has had poor returns so far in IPL 2021. He could only accumulate 174 points so far from 5 innings, which has resulted in a cost per BFBP of INR 485K. The MVP of the recently concluded England series needs to get his act together for the latter half of the tournament. 
#10: Jhye Richardson (PBKS)
Salary: INR 14 Cr // BFB Points: 115 // Cost per BFBP: INR 1217391.3
When Jhye Richardson got a bid of INR 14 Cr., it was always going to be fascinating to see if he could live up to his price tag. Well, finding his name on this list means, he hasn't. He played 3 continuous matches before getting dropped for poor performance. He could only manage 115 BFBP so far, but for a player with a salary of 14 Cr., that's horrible, to say the least. 
#11: Sandeep Sharma (SRH)
Salary: INR 3 Cr // BFB Points: 35 // Cost per BFBP: INR 858142.9
Well, SRH seem to be having their worst year in IPL history, and Sandeep Sharma and Bhuvneshwar Kumar are making sure they continue having it. Both have been poor performers this year with Sandeep being even more. He could only manage 35 points so far, which makes his cost per BFBP as INR 858K; worst among all Indian pacers.
So, that completes the Paisa Barbaad XI of the season so far. Please note, all these are quality players. The article in no way means to demean the contribution of these players for their National side and IPL franchises. With more than half of the tournament remaining, we just hope, they come back to form, and start performing to their potential. 
IPL 2021: Mid-Season Paisa Barbaad 11 of the Tournament so far:
Virat Kohli, Ishan Kishan, Suresh Raina, Nicholas Pooran, MS Dhoni, Hardik Pandya, Daniel Christian, Sunil Narine, Bhuvneshwar Kumar, Jhye Richardson & Sandeep Sharma
Thanks for reading! What's your Paisa Barbaad 11 for IPL 2021 season so far? Please email your comments to business@cricalytics.com
---
ALSO READ: IPL 2021 Exclusive: Bang for Buck Analysis for the first half of the Tournament
---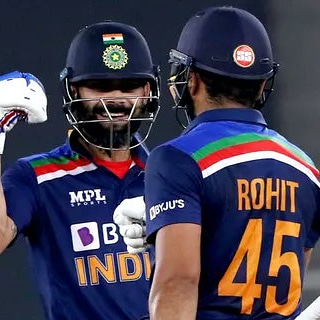 Adesh Kothari is the founder of AK4Tsay1 Cricalytics.
Cricket to him is like what 'Football is to Lionel Messi', 'Singing is to Lata Mangeshkar', 'Dancing is to Michael Jackson', and what 'Acting is to Clint Eastwood'.
Besides his effervescent love for Cricket, Adesh is an MBA by qualification.