2021 Special: The Above 30 Age-group Best T20 Playing XI for Team India
Fantastic top-order, the focus as we look at the best T20 playing 11 for Team India for players above 30 years of age. 
Talk about Team India's best and most experienced players currently, and you would see maximum players being above 30 years of age. Yes, these are the players who have been around in the Indian Team since the inception of T20 Cricket, and have seen the tremendous rise of the format we love, T20 Cricket. 
While the younger generation has brought some amazing brand of Cricket including shots that seem surreal, the experienced generation seems to mostly follow the traditional approach of scoring runs. They don't play shots that would make you go wow, but are more focused on shots that ooze elegance. 
When it comes to the current Indian T20 team, there's a player mix of young as well as experienced cricketers. However, the leadership role is mostly donned by experienced players. So, if we have to select a team of 11 players forming the best T20 playing 11, who would make it to the squad? Let's find out in this article. Before that let's look at our unique methodology for selecting the players. 
Methodology: 
The players are selected basis their performance in Domestic T20s and IPL in the last three years. The selected team is chosen by keeping in mind 2 openers, 3-4 middle-order players, 1 wicket-keeper, 1-2 all-rounders, at least 1 spinner, and 2-3 pacers. Moreover, the selected players must have played at least one International match. 
Openers:

Rohit Sharma & Shikhar Dhawan
There's no iota of doubt on the current two best T20 openers for Team India. At the age of 34 and 35 respectively, Rohit and Dhawan aren't youngsters anymore, but are certainly performing like that. Currently, Rohit Sharma is Team India's first-choice limited-overs opener, whereas Shikhar Dhawan is the first-choice backup for KL Rahul in T20 format. 
While Rohit has excelled more as a captain in IPL, he has been a really good batsman in T20Is, and a decent batsman in IPL. Meanwhile, Dhawan has been in stunning form in IPL. In fact, Dhawan has been the second-highest run-scorer in T20s for India in the last three years with over 3000 runs. However, Dhawan has been kind of decent in T20Is. 
Middle-order:

Virat Kohli, Suryakumar Yadav & MS Dhoni
The number 3 sees Team India's current captain and most dependable batsman in this format, Virat Kohli. Virat is currently 32 years of age, and still had a good 5-6 years of Cricket left in him. He is currently the leading run-scorer for India in IPL, T20s and T20Is. Kohli is also the second most consistent batsman for India in the T20 format behind only KL Rahul. 
The number 4 sees the newest debutant for Team India, Suryakumar Yadav. Before joining Mumbai Indians in 2018, Suryakumar wasn't a big name in the Cricketing world. But since his entry in MI, Surya has not just performed in IPL, he has also excelled in the Domestic circuit. He will be one of the strongest probable for the middle-order position when India select their team for the T20 World Cup 2021. 
Talk it a coincidence, but there's no better keeper-batsman than MS Dhoni above 30 years of age in the entire country. His form may have taken a dip since his retirement, but talk about MS Dhoni's performance in IPL 2018 and 2019, it was the best he has ever performed. He also helped CSK win their third title in 2018 and helped them be the runners-up in 2019. 
All-rounders:

Ravindra Jadeja & Ravichandran Ashwin
As Hardik Pandya is a unanimous all-rounder choice for Team India for the under 30 age group, Ravindra Jadeja is a unanimous all-rounder choice for Team India for the above 30 age group. Jaddu has been in the stunning form off-late, contributing in all three departments. He has been an attacking batsman down the order, an economical spinner, and is probably the world's best fielder. 
For the second all-rounder and spinner spot, Krunal Pandya and Ravichandran Ashwin were the two names. Both bring unique traits to the table, but Krunal's liability as a bowler, and Team demanding a good second spinner meant Ravi Ashwin gets selected ahead of him. However, Ashwin does have his issues, and that is his batting, which isn't suited for the T20s. 
Bowlers:

Bhuvneshwar Kumar, Mohammed Shami, T Natarajan & Yuzvendra Chahal
Talk about the pacers for the above 30 age group, and two names unanimously select themselves, Bhuvneshwar Kumar and Mohammed Shami. Both have been long-timers, and the preferred choice for pacers in T20s. While Bhuvi is currently 31, Shami is currently 30. Both have good 5-7 years of Cricket left in them, and that is an exciting sign for Team India. 
For the third pacer choice, the fight was between Ishant Sharma, Umesh Yadav, and T Natarajan. But, given the format, T Natarajan should be the name. Natarajan has seen a rise in the Cricketing world through his stellar performance in IPL 2020 and so on. While Natarajan is currently 30, he needs to keep up with his injuries. If he can do that, he has good 5-7 years of Cricket left in him. 
The leading spinner of the squad should see no other than the 30-year-old, Yuzvendra Chahal. The willy leggy has been Team India's leading spinner since 2016, and he continuous to do so. With T20 World Cup 2021 scheduled later this year, Chahal would be no doubt Team India's go-to spinner. 
Barring the above-mentioned names, a special mention for Mayank Agarwal, Manish Pandey, Krunal Pandya, Wriddhiman Saha, Dinesh Karthik, and Ishant Sharma. They have been more than decent in this format, and fall in the category of good players above 30 years of age. 
The Above 30 Age-group Best T20 Playing 11 for Team India:
Rohit Sharma, Shikhar Dhawan, Virat Kohli,  Suryakumar Yadav, MS Dhoni (C&WK), Ravindra Jadeja, Ravichandran Ashwin, Bhuvneshwar Kumar, Mohammed Shami, T Natarajan & Yuzvendra Chahal
Good Reserves: Krunal Pandya, Manish Pandey, Mayank Agarwal, Ishant Sharma & Dinesh Karthik
Thanks for reading! What's your T20 playing 11 for Team India for players above 30 years age group? Please email your thoughts to business@cricalytics.com.
---
ALSO READ: 2021 Special: The Under 30 Age Best T20 Playing 11 for Team India
---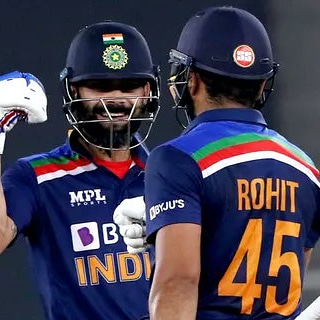 Adesh Kothari is the founder of AK4Tsay1 Cricalytics.
Cricket to him is like what 'Football is to Lionel Messi', 'Singing is to Lata Mangeshkar', 'Dancing is to Michael Jackson', and what 'Acting is to Clint Eastwood'.
Besides his effervescent love for Cricket, Adesh is an MBA by qualification.