World Test Championship 2023-25 Best Predicted Points Table
India expected to once again finish in the top 2 as we look at the best predicted points table standings for World Test Championship (WTC) 2023-25. 
The third edition of Test cricket's premier tournament, the World Test Championship, WTC 2023-25 has already kick-started with the Ashes earlier last week. The first two tournaments have seen two new winners in the form of New Zealand and Australia with India being the runner-up on both the occasions. 
The current WTC 2023-25 cycle will see a total of 136 matches being played between 9 teams. While England will play the most number of matches, 21, Bangladesh, Sri Lanka, and South Africa will play the least number of matches, 12. Meanwhile, as per cricket betting site Betway Satta, India are favourite to win the upcoming WTC with odds at 1.12. 
The ICC last week released the complete home and away fixtures for all 9 teams participating in the event. While the exact schedule is not known, we for sure, who will be playing against whom and on how many occasions? This gives us a great chance to analyze the fixtures, and identify the qualification probability for the final of the marquee event. 
So, let's analyze the fixtures of all 9 teams, and identify the teams that have the best chance of qualifying for the final of WTC 2023-25. Based on the analysis, four teams have a superb chance in this WTC cycle, and an explanation of those four teams is given below. Whereas the rest five teams' results are also shown below.  
Predicted Points Table Standings for World Test Championship (WTC) 2023-25
Methodology
Predicting the Standings in the points table is a humongous task. It's very difficult to know the on-the-ground situation, and how teams fare on a given day. But, we will focus on the current form and past history to arrive at the win probability, which will make our analysis fair. 
The points calculated based on the current format as we know are 12 points for a win, 6 for a tie, and 3 for a draw. In addition, there is a huge deduction of 1 point for a slow overate penalty for every over, hence, we will only consider penalty points based on last year's results. Alright then, let's look at the top 4 teams to finish in the points table. 
#4: England
Mat: 21 // Win: 12 // Draw: 1 // Loss: 8 // Points: 142 // PC: 252 // PCT%: 56.34
Fixtures: Aus (H*5), WI (H*3), SL (H*2), NZ (A*3), Ind (A*5) & Pak (A*3)
At number 4, we should expect England in the points table. England will be playing the maximum number of matches in this WTC cycle, and that is already a disadvantage for them. Given their fixtures, they will be playing Australia, West Indies, and Sri Lanka at home vs New Zealand, India, and Pakistan away from home.
Of the six series, Sri Lanka and West Indies series shall be the easiest of them, and expect them to win and whitewash their opponents in both series. Whereas Pakistan and New Zealand can give some challenge to England, but given their form, expect England to win two against both, and lose just one. 
Finally, Australia's home series and India's away series should be the most difficult ones for England. Both are 5-match series. If we analyze properly, the Ashes may end up tied 2-2 with one match being a draw. Whereas in the India away series, expect England to win one and lose four as we had seen from history. Also, given England's history of slow over-rates, 6 points are assumed as penalty points. 
#3: Australia
Mat: 19 // Win: 12 // Draw: 2 // Loss: 5 // Points: 152 // PC: 228 // PCT%: 66.67
Fixtures: Ind (H*5), WI (H*2), Pak (H*3), NZ (A*2), Eng (A*5) & SL (A*2)
At number 3, we should have the champions of WTC 2021-23, Australia. Australia will once again be a dominant force in this cycle, however, their performance may be slightly below par as compared to that of India or South Africa. It will definitely go down the wire, and these three teams should be neck-and-neck in the points table.
Australia's easiest series shall be the ones against Pakistan and West Indies at home, and against New Zealand away from home. Expect Australia to whitewash their opponents in all three series. The Sri Lanka away series on sub-continent pitches may be slightly tougher, and as we had seen in the history, the series may end up tied with both teams winning one each. 
The Ashes in England may be tough too for Australia, and as seen above, expect the series to end 2-2 with one match ending in a draw. Finally, Australia vs India at home may well decide who among these two teams will end up in the final. India may have won the last two BGT trophies, but this time won't be easy to win. Hence, as a safer bet, expect India vs Aus series to end 2-2 with one match ending in a draw.  
#2: India
Mat: 19 // Win: 13 // Draw: 1 // Loss: 5 // Points: 155 // PC: 228  // PCT%: 67.98 
Fixtures: NZ (H*3), Eng (H*5), Ban (H*2), Aus (A*5), WI (A*2) & SA (A*2)
Coming to the number 2 finish, we should once again see India qualifying for yet another final. India's strong point is their performance at home, and they will be facing New Zealand, England, and Bangladesh at home. While India should whitewash Bangladesh, they may not be able to whitewash England and New Zealand, so expect these two teams to win at least one Test. 
The away series against West Indies should be fairly easy for India, and the result should most-likely be 2-0. Thankfully, India are playing only two Tests vs South Africa. This is a masterstroke as India can win a Test in South Africa, but winning a series is extremely difficult. With the series ending 1-1 instead of 1-2, it is already advantage India.
Finally, as shown above, the Australia series should end at 2-2 with one match ending in a draw. This is the series that may decide the fate of both teams when it comes to their qualification for the WTC 2023-25 final. Also, given India's history of slow over-rates, 5 points are assumed as penalty points. 
#1: South Africa
Mat: 12 // Win: 8 // Draw: 1 // Loss: 3 // Points: 100 // PC: 144 // PCT%: 69.44
Fixtures: Ind (H*2), Pak (H*2), SL (H*2), NZ (A*2), WI (A*2) & Ban (A*2)
Finally, this could come as a shocker, but we should mostly see South Africa topping the WTC Cycle seeing they have the easiest fixtures among all teams. South Africa will be playing only 12 matches in WTC 2023-25, and that is already an advantage for them. Seeing their fixtures, they are not playing England and Australia in this WTC, and they are playing India at home.
This is already a big plus for them as they would then be left with only a few tough matches. The toughest of them would be the home series vs India and the Away series vs New Zealand. Expect these series to end 1-1. The Bangladesh away series may be tough too. While winning is difficult in Bangladesh, expect a draw from South Africa on Bangladesh's soil. 
Finally, the easiest of all for South Africa will be the home series vs Pakistan and Sri Lanka, and the away series vs West Indies. Honestly, none of these teams can challenge South Africa. The only way they could have challenged is if South Africa played Pakistan or South Africa on sub-continent pitches. So, expect South Africa to whitewash all three series.
Apart from the teams mentioned above, below is the breakup of the standings and predicted performance of Pakistan, Sri Lanka, New Zealand, West Indies, and Bangladesh. 
#5 – Pakistan: 72 Points // PCT%: 42.985

#6 – Sri Lanka: 48 Points // PCT%: 33.33

#7 – New Zealand: 52 Points // PCT%: 30.95

#8 – West Indies: 36 Points // PCT%: 23.107

#9 – Bangladesh: 20 Points // PCT%: 13.89
Conclusion: 
Concluding the analysis, we should most-likely see a final between India and South Africa. Australia also have a really good chance, and the series vs India would be extremely crucial for them. Whereas if England win the Ashes series, it would act as a big weightage for them. 
Thanks for reading! What's your view on World Test Championship 2023-25 Points table standings? Please email your thoughts to business@cricalytics.com.
---
ALSO READ: India vs West Indies 2023: Confirmed ODI Squad Players Team List
---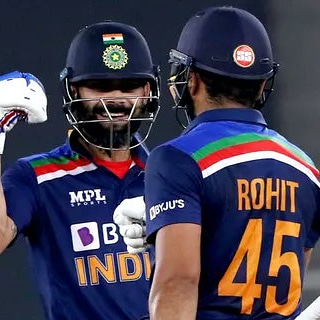 Adesh Kothari is the founder of AK4Tsay1 Cricalytics.
Cricket to him is like what 'Football is to Lionel Messi', 'Singing is to Lata Mangeshkar', 'Dancing is to Michael Jackson', and what 'Acting is to Clint Eastwood'.
Besides his effervescent love for Cricket, Adesh is an MBA by qualification.