Exclusive: Syed Mushtaq Ali Trophy 2022 Dream Team of the Tournament
Prithvi Shaw and Abhishek Sharma to open as we look at the dream team of the tournament for the Syed Mushtaq Ali Trophy (SMAT) 2022.
The Syed Mushtaq Ali Trophy 2022 has been completed, and the Indian Domestic T20 tournament has delivered yet another blockbuster season. After winning the Vijay Hazare Trophy earlier this year, the Rishi Dhawan led Himachal Pradesh almost clinched the SMAT 2022, but it was the Mumbai team who came out as winners. 
The Ajinkya Rahane led Mumbai India dominated the tournament on account of some fantastic teamwork and individual performances. While Mumbai and Himachal were the top two teams, the likes of Punjab, Vidarbha, and Saurashtra were inspirational too with their performances. 
But how about the top players of the tournament that dominated the tournament? Well, let's analyze the performance and find out the Syed Mushtaq Ali Trophy (SMAT) 2022 Best 11 of the Tournament. Meanwhile, for T20 World Cup, India are now hot favorite to win the T20 World Cup 2022 as per the leading website, Betway.  
Stats Wizard Methodology:
Batting: As always, we have analyzed the batting performances basis the batting rating calculated from the overall aspect of the game such as runs scored, consistency, the number of match-winning & good knocks, acceleration bonus, and power-hitting bonus. 
Bowling: We have analyzed the bowling performances basis the bowling rating calculated from the overall aspect of the game such as wickets taken, consistency, the number of match-winning and good spells, number of maidens bowled, and economy rate bonus.
Overall, the best Team of the tournament for SMAT 2022 is selected basis of the performance rating. Only players who played at least the Quarterfinals and have performed well in their respective positions are selected. Also, the team has a combination of a maximum of 2 openers, 3-4 middle-order players, 1-3 all-rounders, a minimum of 3 pacers, and a minimum of 1 spinner. 
Openers:
#1: Abhishek Sharma (Punjab) 
Inns: 10 // Runs: 259 // Wkts: 10 // SR: 126.9 
The first-best opener of the tournament is the all-rounder from Punjab, Abhishek Sharma. The 22-year-old talented all-rounder from Punjab had a fantastic SMAT 2022 season. He ended the tournament with 259 runs and 10 wickets, and was undoubtedly the Most Valuable Player for Punjab.  
#2: Prithvi Shaw (Mumbai) 
Inns: 10 // Runs: 332 // SR: 181.4 // HS: 134
Partnering Abhishek Sharma at the top is the attacking opener from Mumbai, Prithvi Shaw. Shaw ended the 2022 campaign as the second-highest run-getter. But what differentiates Shaw from others is his attacking approach as his 332 runs came at a strike rate of 181.4. Apart from helping Mumbai enter the finals, he also hit the highest score of the tournament, 134 off 61 balls.
Middle-order:
#3: Prabsimran Singh (Punjab)
Inns: 9 // Runs: 320  // SR: 141.6 // HS: 80*
At number three we have the third-highest run-getter of the tournament, Prabsimran Singh. The talented attacking batter from Punjab managed to score 320 runs from 9 innings at a brilliant average of 53.3 and a strike rate of 141.6. He has four 50+ scores in the tournament, which is joint-best alongside Tilak Varma. 
#4: Yash Dhull (Delhi)
Inns: 8 // Runs: 363 // SR: 131.5 // HS: 73
At number 4 we have the leading run-getter of the tournament, Yash Dhull. At just 19 years of age, Yash Dhull has been phenomenal in all forms of Domestic cricket. Dhull scored a total of 363 runs this season at a brilliant average of 72.6; the highest among all batters with 200+ runs. With IPL 2023, we should see a more active role from Yash Dhull in the Delhi Capitals camp.  
#5: Nitish Rana (Delhi)
Inns: 8 // Runs: 317 // Wkts: 11 // SR: 139.0 // HS: 107
Probably the most valuable player of the season, Nitish Rana has not only scored runs but also taken wickets in bulk. He ended the season with the best all-rounder stats with 317 runs and 11 wickets to his name. If he continues this golden form in IPL 2023 for Kolkata Knight Riders, India would get an important all-rounder, which they had been wanting for long. 
Finishers:
#6: Samarth Vyas (Saurashtra) 
Inns: 7 // Runs: 314 // SR: 177.4 // HS: 97*
Samarth Vyas may not be a well-known entity, but for Saurashtra, he was an attacking batter. He ended the tournament with 314 runs from just 7 innings, but at a brilliant strike rate of 177.4; second-best among the top 20 run-getters. With IPL 2023 Auction in action soon, we should see Samarth Vyas getting good attraction.  
#7: Jitesh Sharma (Vidarbha)
Inns: 10 // Runs: 224 // SR: 175 // SR: 50*
The wicket-keeper finisher of the team, Jitesh Sharma has continued his brilliant run from IPL 2022, where he flourished while playing for Punjab Kings. The SMAT 2022 was a superb affair for Jitesh as he ended the tournament with 224 runs from 10 innings at a good average of 56 and a fantastic strike rate of 175. You won't find any better player to bat at 7, who can hit from ball 1. 
Bowlers:
#8: Rishi Dhawan (C) (HP)
Inns: 7 // Wkts: 13 // ER: 7.2 // BBI: 3/25
The Captain of Himachal Pradesh and also our team, Rishi Dhawan has been an inspirational leader for Himachal Pradesh. After helping Himachal win the Vijay Trophy 2022, Rishi Dhawan helped Himachal reach the finals of SMAT 2022. His performance was equally good; mostly as a bowler as he took 13 wickets from just 7 games at an average of 13 and an economy rate of 7.0. He also had two superb performances in the Knockouts, which differentiates him from others.  
#9: Mayank Dagar (HP)
Inns: 7 // Wkts: 12 // ER: 5.2 // BBI: 2/14
The primary spinner of the team, Mayank Dagar may not have flashy statistics to his name, but his value was in consistent performances. Except for 1 inning, Mayank has taken 2 wickets in every match; thus achieving a consistency of 83.3%. On top of it, Mayank Dagar's 12 wickets came at an economy rate of just 5.2. 
#10: Siddharth Kaul (Punjab)
Inns: 10 // Wkts: 19 // ER: 6.7 // BBI: 5/12
The leading wicket-taker of the season, Siddharth Kaul finished the tournament with 19 wickets from 10 innings. His economy rate was also good at 6.7 and his bowling strike rate of 11.6 means he took almost 2 wickets per innings. With IPL 2023 coming soon, hopefully, Royal Challengers Bangalore give him more opportunities to flourish. 
#11: Vidhwath Kaverappa (Karnataka)
Inns: 8 // Wkts: 18 // ER: 6.4 // BBI: 5/11
The star of the Karnataka line-up and the second-highest wicker-taker of the season, Vidhwath Kaverappa took a total of 18 wickets from just 8 innings. His Wickets/innings ratio of 2.25 is the best among all bowlers with 10 wickets or more. With IPL 2023 coming soon, watch out for him as the likes of RCB and SRH will be after him. 
SMAT 2022: Syed Mushtaq Ali Trophy Combined Best 11 of the Tournament: 
Abhishek Sharma, Prithvi Shaw, Prabsimran Singh, Yash Dhull, Nitish Rana, Samarth Vyas, Jitesh Sharma (WK), Rishi Dhawan (C), Mayank Dagar, Siddharth Kaul, V Kaverappa
So, that completes the dream team of the tournament for IPL 2022. Apart from the ones mentioned above, Tilak Varma deserves special mention. He certainly deserved a spot in the final 11, but only missed out due to his team being unable to qualify for the Quarterfinals. The other good players who did well include Ruturaj Gaikwad, Rajat Patidar, Tushar Deshpande, Shams Mulani, and Yash Thakur.
Thanks for reading! What's your dream team of the tournament for the Syed Mushtaq Ali Trophy 2022? Please email your comments to business@cricalytics.com
---
ALSO READ: IPL 2023: Strongest Predicted Retained Squad Players for Mumbai Indians (MI)
---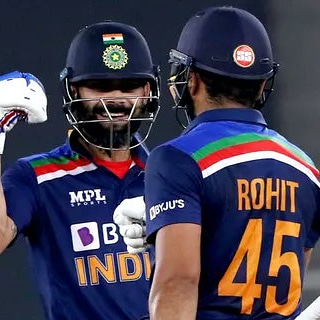 Adesh Kothari is the founder of AK4Tsay1 Cricalytics.
Cricket to him is like what 'Football is to Lionel Messi', 'Singing is to Lata Mangeshkar', 'Dancing is to Michael Jackson', and what 'Acting is to Clint Eastwood'.
Besides his effervescent love for Cricket, Adesh is an MBA by qualification.