StatsWizard: Top 5 Knocks by Indian Batsmen against England in ODIs
Yuvraj Singh's 138, Rohit Sharma's 137, and Kedar Jadhav's 120 lead the batting charts as we find the top 5 knocks by Indian batsmen against England in ODIs.
India vs England may not spark the level of patriotism that India vs Pakistan would generate, but it still reminds us of the infamous British rule which divided the country top to bottom. 
The 21st century marked the actual beginning of an intense rivalry between the two teams after Team India's famous Nat-West series final win against England in 2002, which saw Sourav Ganguly removing his T-shirt in an unparalleled excitement. 
For India, Dilip Vengsarkar hit the first century against England in the year 1984 when he played a determined knock of 105(124) at Pune, the same ground which saw India recording their highest chase against England in 2017.
The two teams are now set to play each other in a unique scenario at World Cup 2019, which would see India getting huge support from their neighbors, Pakistan, Sri Lanka, and Bangladesh. 
With England too almost facing a must-win scenario against India, we turn the clock to revisit the top 5 most amazing knocks by Indian batsmen against England in ODIs. 
METHODOLOGY:
As always, we have analyzed the top batting knocks on the basis of the batting points calculated from the overall aspect of the game such as runs scored, acceleration bonus (1), relative strike rate and runs bonus(2), number of fours, number of sixes, match-winning knock points, and the player of the match points.
To leave out the biases and perception, we have kept the things simple by comparing the overall batting points of all the knocks to find out the top 5 knocks against England in ODIs.
So, without any delay, let's find out the top 5 knocks by Indian batsmen against England in ODIs.
---
#5: ROHIT SHARMA'S 137*(114) | NOTTINGHAM | 2018 
Runs: 137* | Balls: 114 | Fours: 15 | Sixes: 4
Strike Rate: 120.17 | Batting Points: 234.82 Points
At number 5, we have a classic century from Rohit Sharma, who helped India chase a tricky target of 269 in 50 overs. 
After an excellent spell of 6-25 by Kuldeep Yadav, India managed to keep England to just 268 in 49.5 overs. 
Often known to play great knocks under pressure, Rohit Sharma knew that if he stays till the end, India would chase the trick target of 269 without any issues.
The calmness of the mind, the clarity in the shot selection, and the ability to strike gold on loose balls helped Rohit Sharma make the tricky chase look simple as his 137*(114) guided India to a victory in just 41st over.
For his determined knock under pressure, Rohit Sharma gets a total of 234.82 batting points. 
---
#4: VIRENDER SEHWAG'S 126(104) | COLOMBO | 2002 
Runs: 126 | Balls: 104 | Fours: 21  | Sixes: 1
Strike Rate: 121.15 | Batting Points: 248.55 Points
At number 4, we have the 'Sultan of Multan' with one of his classic centuries while chasing.
After restricting England to 269-7 in 50 overs, Sehwag and Ganguly crafted the chase with perfection. Sehwag, like he usually does, played the role of the aggressor, while Ganguly played second fiddle to him.
The duo scored individual centuries, but it Sehwag's blazing century that lit up the chase. The attacking opener made 126(104) at a Strike Rate of 121.15, which saw him hit 21 fours; the most by any Indian against England in ODIs
Sehwag got out in the 29th over leaving India just 78 runs to win in 126 balls. With India comfortably seated in the driver's seat, Sourav Ganguly then guided India to the victory in the 40th over as he brought up his own century.
For an excellent display of batting by youngster, Virender Sehwag gets a total of 248.55 batting points. 
---
#3: KEDAR JADHAV'S 120(76) | PUNE | 2017
Runs: 120 | Balls: 76 | Fours: 12 | Sixes: 4
Strike Rate: 157.89 | Batting Points: 256.34 Points
A knock to remember as the pocket-sized dynamo, Kedar Jadhav combined perfectly with the skipper, Virat Kohli to guide India to an improbable record victory against England in 2017.
Chasing a mammoth 351, India were tottering at 63-4 in 12 overs as Kedar Jadhav joined the skipper, Virat Kohli at the crease.
It needed a miraculous effort from these two together if India had to chase this target, and the duo went about business without getting bogged down by the lack of wickets or run-rate.
Kedar Jadhav's aggressive intent at the one end let Virat Kohli play his natural game as the duo started mauling the England bowlers. 
Kedar reached his fifty in just 29 deliveries, and then went on to score a fabulous hundred in just 65 deliveries.
In the end, Kedar's miraculous effort of 120(76) with 12 fours and 4 sixes left India with less than run a ball needed in the last 10 overs.
Pandya then played a special cameo of 40(37) that helped India chase the target in 48.1 overs. 
For his super century under pressure conditions, Kedar Jadhav gets a total of 256.34 batting points. 
---
#2: YUVRAJ SINGH'S 150(127) | CUTTACK | 2017
Runs: 150 | Balls: 127 | Fours: 21 | Sixes: 3
Strike Rate: 118.11 | Batting Points: 271.28 Points
Yuvraj Singh's highest score in ODIs as he combined perfectly with MS Dhoni to lift India from a dire state of 25-3 to a mammoth 381-6 in 50 overs. 
Batting first, India were rocked back by Chris Woakes as the wickets of KL Rahul, Dhawan, and Kohli left India reeling at 25-3 in 4.4 overs.
India were in a desperate need of a partnership if they had to score a competitive total. That's when Yuvraj Singh, who had returned to the Indian side played like the 19-year-old Yuvraj Singh, who scripted the famous Nat West series win at Lord's.
Yuvi combined perfectly with MS Dhoni as they stitched a gigantic 259 runs partnership for the fourth wicket.
Of the 259 runs, Yuvraj Singh scored an enormous 150(127) with 21 fours and 3 sixes. A 200 was on the cards for Yuvraj, but he ultimately got out in the 43rd over.
Courtesy to his fabulous 150 and MS Dhoni's superb century, India managed to score 381 on the board; a target which they wouldn't have dreamt off when they were tottering at 25-3. 
England did give a fight back, but they ultimately fell short of the target by 15 runs. 
For scoring the highest score of his career under pressure, Yuvraj Singh gets a total of 271.28 batting points.
---
#1: YUVRAJ SINGH'S 138*(78) | RAJKOT | 2008
Runs: 138* | Balls: 78 | Fours: 16 | Sixes: 6
Strike Rate: 176.92 | Batting Points: 314.25 Points
At nunber 1, we have probably, the best knock Yuvraj Singh has played in his career.
It was a knock full of free-flowing strike play, reminiscing the knock he played against the same team a year back in T20 World Cup. 
After a superb start of 156-2 in 25 overs provided by the openers, Sehwag and Gambhir, Team India needed someone to carry on the momentum instead of rebuilding the innings once again. 
Yuvraj, who walked after the fall of Sehwag's wicket took some time to adjust as he scored just 6 runs of his initial 12 deliveries, but, the three boundaries off Harmison's over got him going.
His first six came in the 35th over when he reached the score of 37(37), and after that, there was no stopping to the dangerous, Yuvraj Singh as he unleashed the monster within. 
He reached his fifty in just 42 balls, and his hundred took just 65 balls; making it the-then fastest hundred against England in ODIs.
After his hundred, he took Flintoff to tantrums scoring 26 off the 8 balls he faced off him in the death overs.
In the end, Yuvi remained not-out on 138*(78) with 16 fours and 6 maximums as India reached a mammoth total of 387-5 in 50 overs. 
Courtesy to some brilliant bowling by Zaheer Khan and Munaf Patel, England were bundled out for just 229 in 37.4 overs. 
For his atrocious hitting, Yuvraj Singh gets a total of 314.25 batting points. 
---
So, these are the top 5 knocks by Indian batsmen against England in ODIs. Some other knocks that deserve a special mention are. 
SPECIAL MENTIONS:
MS Dhoni's 134(122) at Cuttack in 2017 | Batting Points: 225.84

Yuvraj Singh's 103(76) at Margao in 2006 |  Batting Points: 223.87

Navjot Singh Sidhu's 134*(160) at Gwalior in 1993 | Batting Points: 218.5

Suresh Raina's 100(75) at Cardiff in 2014 | Batting Points: 213.03

Virat Kohli's 112(98) at Delhi in 2011 | Batting Points: 206.59
---
ALSO READ: World Cup 2019: Official Away Jersey for Team India announced
---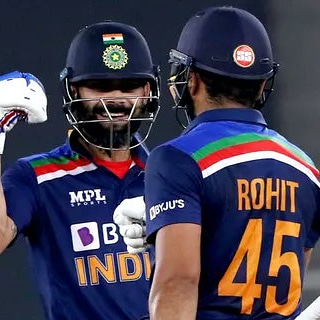 Adesh Kothari is the founder of AK4Tsay1 Cricalytics.
Cricket to him is like what 'Football is to Lionel Messi', 'Singing is to Lata Mangeshkar', 'Dancing is to Michael Jackson', and what 'Acting is to Clint Eastwood'.
Besides his effervescent love for Cricket, Adesh is an MBA by qualification.