IPL 2021 Analytics: Mid-Tournament Most Bankable Player Report Card
Harshal Patel marginally edges Shikhar Dhawan as we look at the Most Bankable Player report card for the first half of IPL 2021. 
Every year in IPL, teams typically bank on 3-4 players to help them have a successful campaign. These are the players who excel in either batting, bowling, or all-rounder department. The IPL 2021 has been no different, and we can see 1-2 players for bottom-ranked teams and 3-4 for top-ranked teams doing well. 
The IPL 2021 is currently suspended, but the good thing is that all teams have played 7 matches with Delhi Capitals and Punjab Kings playing 8 each. With home advantage being reduced, some teams and their players have found it difficult to adapt. However, quality players did adapt well, and it can be seen from the overall performance.
So, looking at the performance of all the players, let's look at the top 10 players in our Most Bankable Player report card for the first half of IPL 2021. Before that, let's quickly skim through our unique methodology to derive at the report card.
Methodology:
According to us, the Most Bankable Player (MBP) is someone who has excelled in his role perfectly. So, a batsman has to maximize his value in the batting and fielding departments. A bowler has to maximize his value in the bowling and fielding departments, while an all-rounder has to maximize his value in all three departments.
To calculate the Most Bankable Player points, we have considered the overall aspect of the game such as runs scored, wickets taken, consistency, acceleration bonus, economy rate bonus, number of dot balls bowled, number of catches taken, number of stumpings done, number of fours & sixes hit, number of match-winning knocks and spells, and so on. 
To leave out the biases and perceptions, we have calculated the most bankable players by comparing the overall MBP points of all the players, basis our unique methodology. Please also note that the more you play, the better your chances of having good MBP points. That's exactly the reason MBP is usually won by a player playing the maximum number of matches, and who has performed well. 
#10: Kieron Pollard (MI) – 612.4 Points
Runs: 168 // Bat Pts: 409.3 // Bowl Pts: 183.1 // Catches: 2
The first on the list is a surprise package. It is mostly difficult for part-time all-rounders to find a place in the most bankable players list, but such has been the batting and bowling performance of Mumbai Indians that Pollard makes it to the list with a few good batting performances and some decent bowling spells.
With a total of 612.4 points, Kieron Pollard's value came majorly as a Finisher. He has 409.3 batting points and 183 bowling points, which is quite good for a part-time bowler. Moreover, Kieron Pollard is also the only Mumbai Indians player in the top 10 list. 
#9: Rashid Khan (SRH) – 622.7 Points
Wkts: 10 // Bat Pts: 21.5 // Bowl Pts: 581.2 // Catches: 2
9th on the list is SRH's most bankable player, Rashid Khan. SRH are currently at the bottom of the points table, but doesn't stop Rashid Khan from contributing to his team. He is currently the best spinner in the competition, and that is reflected from his 581.2 bowling points; the best among all spinners. Thanks to 21.5 batting points, Rashid has a total of 622.7 MBP points. 
#8: Prithvi Shaw (DC) – 643.5 Points
Runs: 308 // Bat Pts: 643.5 // Catches: 0
After a horror 2020, Prithvi Shaw has returned to form in a stunning fashion for Delhi Capitals. His aggressive approach combined with a slight tweak in the technique has helped him score plenty of runs for the Delhi Capitals. Him along with Shikhar Dhawan have been the best batting pair this season. Thanks to Prithvi Shaw's strike rate of 165 and good consistency, Shaw has managed to score a total of 643.5 MBP points. 
#7: KL Rahul (PBKS) – 649.5 Points
Runs: 331 // Bat Pts: 599.5 // Catches: 5 
Talk about IPL currently, and 1 name remains a constant when it comes to top performers, i.e KL Rahul. His epic consistency and hunger to score more runs have paid rich dividends to a franchise, which struggles overall as a team. KL Rahul technically contributes in three departments- Batting, keeping, and captaincy. While captaincy cannot be measured in numbers, KL has a total of 649.5 MBP points for batting and wicket-keeping. 
#6: Faf du Plessis (CSK) – 674.5 Points
Runs: 320 // Bat Pts: 624.5 // Catches: 5
The second-best batsman on the list, and also CSK's best batsman this season so far, Faf du Plessis has had yet another fantastic season as an opener. IPL 2021 seems to be Faf's best season yet as he is the most consistent batsman this season with a consistency of 85%, and has scored over 300 runs in just 7 matches. Combined with stunning fielding, Faf has a total of 674.5 MBP points to his name. 
#5: Moeen Ali (CSK) – 692.9 Points
Runs: 206 // Bat Pts: 422.6 // Bowl Pts: 250.3 // Catches: 2
At number 5 we have a player who is not even a regular feature for his national side. Such is the quality of MS Dhoni and CSK management that they extract the best out of their resources. Moeen Ali has been CSK's bankable batsman when it came to quickfire knocks at the top. He played attacking knocks in almost all the matches, and combined that with decent 5 wickets to his name. Overall, Moeen has 692.9 MBP points with 422.6 in the batting department and 250.3 in the bowling department. 
#4: Ravindra Jadeja (CSK) – 707.7 Points
Runs: 131 // Bat Pts: 293.1 // Bowl Pts: 334.6 // Catches: 8
The third CSKian on the list, and probably the best of the lot, Ravindra Jadeja for me is personally the most bankable player among all franchises. Jadeja contributed superbly in all three areas. He scored quick cameos down the order including the most-famous 37 runs off Harshal Patel's over. He took wickets for his side, and who can forget the brilliant fielding efforts. Overall, Jadeja has a total of 707.7 MBP points; spreads uniformly in batting and bowing depts. 
#3: Chris Morris (RR) – 719.1 Points
Wkts: 14 // Bat Pts: 102.6 // Bowl Pts: 576.5 // Catches: 4
At number 3 we have the best bowling all-rounder of the season so far, and RR's most bankable player, Chris Morris. After all the talks for being the most expensive player in the history of IPL, Chris Morris did deliver a punch in the bowling department. Wish he had gotten a good game in the batting department as he did extremely well in the limited opportunities. Overall, Morris has 719.1 points with a maximum coming in the bowling department. 
#2: Shikhar Dhawan (DC) – 738.5 Points
Runs: 380 // Bat Pts: 658.5 // Catches: 8
At number 2 we have the current orange cap winner, and also the most bankable batsman of the season, Shikhar Dhawan. The additional 1 match did help Dhawan to leapfrog KL Rahul and Faf du Plessis. But that doesn't take anything away from Dhawan, who has been superb this year as well. Thanks to Shaw's form, Dhawan played with more freedom. Moreover, barring his batting, Dhawan has been the safest catcher this season. 
#1: Harshal Patel (RCB) – 769.9 Points
Wkts: 14 // Bat Pts: 71.9 // Bowl Pts: 688 // Catches: 1
At number 1 we have the surprise package leading the MBP ratings, Harshal Patel. Technically, Dhawan has performed better than Harshal, but thanks to Harshal's decent contribution in the batting department, his 71.9 batting points changed the equation to take him to number 1. Else, he would have been in the fifth position with only bowling points. 
Nevertheless, Harshal's wicket-taking ability has helped him get points in abundance. Barring the 7th match, Harshal took at least 2 wickets in each match, which is an exceptional effort. He did go for over 9 RPO, but that's predominantly due to death overs bowling, and a strategy misalignment in a few death overs.
So, that completes the Most Bankable Player report card for the first half of IPL 2021. While these are the top 10 players on the list of Most Bankable Player Report card for IPL 2021, following them are these 10 players
Pat Cummins (KKR) – 599.1

Avesh Khan (DC) – 593.4

Andre Russell (KKR) – 567

Sanju Samson (RR) – 545

Rahul Chahar (MI) – 533.7

Jonny Bairstow (SRH) – 516

Sam Curran (CSK) –  514

Kyle Jamieson (RCB) – 513.6

AB de Villiers (RCB) – 506.6

Jos Buttler (RR) – 485.1
Thus, in the top 20, we have 4 players from CSK,  3 each from DC, RR & RCB, 2 each from MI, KKR & SRH, and 1 from PBKS. 
Thanks for reading! Who according to you has been the most bankable player of IPL 2021 for the first half of the tournament? Please email your comments to business@cricalytics.com 
---
ALSO READ: IPL 2020: Most Valuable Player Report Card by Cricalytics
---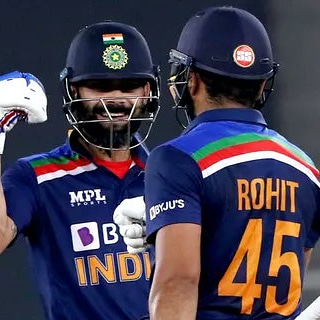 Adesh Kothari is the founder of AK4Tsay1 Cricalytics.
Cricket to him is like what 'Football is to Lionel Messi', 'Singing is to Lata Mangeshkar', 'Dancing is to Michael Jackson', and what 'Acting is to Clint Eastwood'.
Besides his effervescent love for Cricket, Adesh is an MBA by qualification.