IPL 2021: The Mid-Season Flop or Worst Playing XI of the Tournament
IPL 2021: Nicholas Pooran, the worst performer as we look at the mid-season flop 11 of the tournament.
In the form of sad news for all the cricketing fans across the world, the 14th edition of the IPL , the IPL 2021 is currently indefinitely suspended due to rising COVID-19 cases among players and supporting staff. It started with KKR's Varun Chakravarthy and Sandeep Warrier, and then the news came about CSK supporting staff, Amit Mishra and Wriddhiman Saha being covid +ve.
Hence, with rising cases, the BCCI Vice-president, Rajiv Shukla officially confirmed the temporary suspension of the league. While it is definitely a piece of sad news, BCCI did the right thing by suspending it currently as players' and other supporting staff's safety is more important.     
Nevertheless, the IPL has always been a platform for talented and potential cricketers. Every year we see players playing to their potential, and performing exceedingly well in either batting, bowling, or both departments. However, not every player has a happy outing in the tournament with a few struggling to get going. 
Not that these players don't put in much effort. They always do, but sometimes, no matter how hard you try or how much potential you have, it does become difficult to perform well. The IPL 2021 does see a few players that have struggled to get going in the first half of the tournament. 
On that note, let's look at a team of 11 players that can be termed the Mid-season flop 11 of the tournament. Please note, we completely respect the selected players, and in no way mean to undermine their commitment to the game.
#1: Shubman Gill (KKR) 
Inns: 7 // Runs: 132 // SR: 117.9 // HS: 43
After having a stunning IPL 2020 where he amassed more than 400 runs, a lot was expected from Shubman Gill in the KKR camp. With a good Indian team experience last year, a lot more responsibility was expected from Gill. However, not once in the 7 innings, Gill looked confident. Overall, Gill managed just 132 runs with the highest score of 43, which came at almost a run-a-ball. 
#2: Ishan Kishan (MI)
Inns: 5 // Runs: 73 // SR: 83 // HS: 28
Mumbai Indians' best player of IPL 2020 suffered a dramatic collapse of form in IPL 2021. On tough wickets of Chennai, Kishan could only manage 73 runs from 5 innings at a mediocre strike rate of 83. Not once in the five innings, he looked comfortable to take charge. Such was his performance that MI were forced to drop him to play an additional bowler. 
#3: Nicholas Pooran (PBKS) 
Inns: 7 // Runs: 28 // SR: 84.8 // HS: 19
Probably the worst performer in the first half of IPL 2021, Nicholas Pooran just couldn't get going. A meagre 28 runs from 7 innings is a performance that cannot be described in words. On top of it, Pooran's worst nightmare was the four ducks he scored in the 7 innings. The top-order heavy PBKS once again succumbed to poor middle-order show with Pooran'S failure. 
#4: Eoin Morgan (KKR)
Inns: 7 // Runs: 92 // SR: 112.2 // HS: 47*
Not just Morgan's captaincy and decision making, Morgan's batting was equally poor. Not getting the batting order right, and taking baffling decisions, Morgan's batting reflected his thinking. He could only manage 92 runs from 7 innings at a poor strike rate of 112.2. With top-order failing to make an impression this season, a responsible captain was expected to do well, but he failed big time. 
#5: Vijay Shankar (SRH)
Inns: 5 // Runs: 58 // SR: 111.5 // Wkts: 3
With the 3D tag and all the backlash surrounding that, Vijay Shankar just couldn't get away from it. The only way it could have been avoided was through good performance, but Shankar continued his poor run in IPL. He managed just 58 runs from 5 innings at a strike rate of 111.5. In the bowling too, Shankar had only 3 wickets to his name. 
#6: Hardik Pandya (MI)
Inns: 6 // Runs: 52 // SR: 118.2 // HS: 16
Team India's current best finisher, and probably the highest-rated all-rounder before the start of the tournament Hardik Pandya struggled to get going in all the 7 matches he has played so far. Imagine a player of his potential scoring just 52 runs from 6 innings at an unimaginable strike rate of 118. Certainly, the pitch and mental fatigue took over Pandya's mind. India would need his form to come back with T20 World Cup scheduled later this year. 
#7: Krunal Pandya (MI) 
Inns: 7 // Runs: 100 // SR: 131.6 // Wkts: 3
Just like his junior brother, the Senior Pandya also had a horrid year with the bat as well as with the ball. On the Chennai pitch, Krunal Pandya was expected to give good bowling returns, but Krunal failed big time with 3 wickets from 7 games. With misfiring middle-order, Krunal could not do well in the batting department too with 100 runs from 7 innings. 
#8:

Rahul Tewatia (RR) 
Inns: 5 // Runs: 86 // ER: 9.8 // Wkts: 2
The best Indian all-rounder from IPL 2020 which even led to his selection in the Indian team, Tewatia has had very poor returns so far in the IPL. He could only manage 86 from 5 innings, and being the leader spinner of the squad, Tewatia could only manage 2 wickets at a poor economy rate of 9.8.
#9: Ravichandran Ashwin (DC)
Inns: 5 // Wkts: 1 // ER: 9.1 // BBI: 1/47
With a solo wicket in the five innings,  Ravi Ashwin must have probably got the worst start to an IPL season. In bowling heavy line-up of Delhi Capitals, Ashwin's performance went under the radar. It was good he decided to leave the bubble, and spend time with his family as anyway, he would have got dropped for his performance. 
#10: Bhuvneshwar Kumar (SRH)
Inns: 5 // Wkts: 3 // ER: 9.1 // BBI: 1/16
One of Team India's best pacers, and recently coming off a fantastic series, it is quite ironic to see Bhuvneshwar Kumar's name here. In the absence of T Natarajan, Bhuvi was expected to bowl with even more responsibility. However, he was overall poor in the 5 matches, and managed just 3 wickets at a poor average of 58 and an economy rate of 9.1. 
#11: Shardul Thakur (CSK) 
Inns: 7 // Wkts: 5 // ER: 10.3 // BBI: 2/53
The only player from CSK, and the one that also surprises given his last two years performance. Shardul has been one of the best bowlers for Team India and CSK in the last two years, but he bowled and performed like a third-grade bowler. Barring his one spell, Shardul leaked runs on abundance. His wickets column may be decent, but an economy rate of 10.3 made things worst. 
IPL 2021: The Mid-Season Flop 11 of the Tournament: 
Shubman Gill, Ishan Kishan (WK), Nicholas Pooran, Eoin Morgan (C), Vijay Shankar, Hardik Pandya, Krunal Pandya, Rahul Tewatia, Ravichandran Ashwin, Bhuvneshwar Kumar, Shardul Thakur. 
So, that completes the midseason flop 11 of the tournament for IPL 2021. All these players are quality players, and they should come good once again. As the saying goes, "Form is temporary, Class is permanent".
Thanks for reading! What's your flop 11 at the halfway stage for IPL 2021? Please email your comments to business@cricalytics.com
---
ALSO READ: IPL 2021 Special: The Mid Tournament Best Playing XI by Cricalytics
---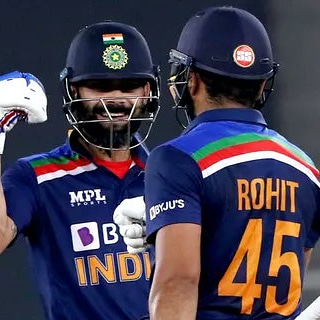 Adesh Kothari is the founder of AK4Tsay1 Cricalytics.
Cricket to him is like what 'Football is to Lionel Messi', 'Singing is to Lata Mangeshkar', 'Dancing is to Michael Jackson', and what 'Acting is to Clint Eastwood'.
Besides his effervescent love for Cricket, Adesh is an MBA by qualification.