IPL 2021: The Mid-Season Best Uncapped Team of the Tournament
Harshal Patel and Avesh Khan, the best performing players as we look at the uncapped players' team of the tournament for IPL 2021.
The IPL 2021 may be suspended currently due to the COVID-19 pandemic, but the timing of the suspension may just be right. Out of the originally planned 60 matches, IPL has already completed almost 50%, i.e 29 matches. This gives us a perfect platform to analyze the performance of all players involved in the tournament. 
While the focus of IPL is always the capped Indian players and overseas players, the uncapped players do spring a surprise with their performance. The year 2021 seems to the best year in history with so many uncapped players outperforming the capped players, and getting the attention. 
On that note, here's a list of 11 uncapped players that would form a unique team of the tournament for IPL 2021. As usual, the selection of players is determined by our unique methodology, which takes performance rating into consideration as this leaves out any biases or perception.
Stats Wizard Methodology:
Batting: As always, we have analyzed the batting performances basis the batting rating calculated from the overall aspect of the game such as runs scored, consistency, the number of match-winning & good knocks, acceleration bonus, and power-hitting bonus. 
Bowling: We have analyzed the bowling performances basis the bowling rating calculated from the overall aspect of the game such as wickets taken, consistency, the number of match-winning and good spells, number of maidens bowled, dot balls bowled, and the economy rate bonus. 
Overall, the combination of the best uncapped players team of the tournament for IPL 21 includes 2 openers, 3-4 middle-order players, 1-2 all-rounders, a minimum of 3 pacers, a minimum of 1 spinner. The only exception we have taken is of wicket-keeper exclusion as there wasn't any good wicket-keeper to select. 
#1: Devdutt Padikkal (RCB) – 5.9
Inns: 6 // Runs: 195 // SR: 152.3 // HS: 101*
Without a doubt the best uncapped batsman of the season. Even though Devdutt Padikkal hasn't had the success that he replicated in IPL 2020, Padikkal's fearless approach at the top was a refreshing change. With 195 runs from 6 innings, Padikkal increased his strike rate to 152.3, which is excellent. He is also the only uncapped player this year to hit a century. 
#2: Ruturaj Gaikwad (CSK) – 5.1
Inns: 7 // Runs: 196 // SR: 128.9 // HS: 75
After smashing 3 successive half-centuries last year, Ruturaj Gaikwad was shown the trust by the CSK management as the first-choice opener this year. However, he failed on the first three occasions. Even then MS Dhoni persisted with him, and the trust paid off as Ruturaj returned with brilliant knocks in the next 4 matches. Overall, Ruturaj's 196 runs from 7 innings is a superb effort. 
#3: Nitish Rana (KKR) – 4.9
Inns: 7 // Runs: 201 // SR: 122.6 // HS: 80
Probably the most experienced uncapped player, Nitish Rana has only improved year of year. However, there still seems to be a lack of consistency. Although Nitish Rana is a leading run-scorer among uncapped players, he would be disappointed for not scoring well after his back-to-back fifties. I Hope Nitish Rana comes back to form in the second half of IPL 2021. 
#4: Rahul Tripathi (KKRK) – 4.5
Inns: 7 // Runs: 187 // SR: 135.5 // HS: 53
With Shubman Gill and Nitish Rana struggling for form, Rahul Tripathi didn't stop his attacking approach. Right from ball 1, Tripathi looked busy with his approach. Although the runs column isn't heavy, Tripathi played a lot of good cameos that helped KKR a lot. Overall, Tripathi has scored 187 runs at a strike rate of 135.5, which is good. 
#5: Deepak Hooda (PBKS) – 4.5
Inns: 7 // Runs: 116 // Wkts: 2 // HS: 64
For all the talent Deepak Hooda has, he never delivered to the potential. However, with an attacking 64 in the first match, 2021 felt like a year where Deepak would unleash himself. But all that went in vain as he could only manage 52 runs in the next 6 matches. Nevertheless, he also had 2 wickets to complement his batting performance. 
#6: Shahrukh Khan (PBKS) – 3.4
Inns: 8 // Runs: 107 // SR: 127.4 // HS: 47
A lot of talk surrounding this finisher from Tamil Nadu, and did he not deliver? PBKS' management called him the Pollard of India, and rightly so as he did show the glimpses of his hitting abilities. His 47 vs CSK when the entire team was struggling reflected a lot of maturity for a player who is only playing his first IPL. 
#7: Lalit Yadav (DC) – 5.9
Inns: 5 // Wkts: 3 // ER: 6 // Runs: 54 // SR: 98.2
In the absence of Axar Patel, Delhi Capitals needed an attacking batsman down the order, and a part-time bowler. Lalit impressed in both the divisions. Primarily an attacking batsman, Lalit adapted his batting to the situation, and he provided the stability to Delhi on a few occasions. Even in bowling, he delivered above his weight with 3 wickets at an economy rate of just 6. 
#8: Harshal Patel (RCB) – 9.8
Inns: 7 // Wkts: 17 // ER: 9.2 // BBI: 5/27
It's always difficult for an uncapped player to take wickets in bulk in a single season of IPL. But Harshal Patel broke that myth as he not only took wickets in bulk but he is currently also the purple cap holder with 17 wickets from 7 innings. An astonishing feat from a bowler who was never a first-choice bowler for his previous franchises. Kudos to RCB for seeing the T20 bowler in him, and trusting his abilities. 
#9: Varun Chakravarthy (KKR) – 5.3
Inns: 7 // Wkts: 7 // ER: 7.8 // BBI: 2/32
Without a doubt the best uncapped spinner available in the country. Varun started slowly on Chennai pitches, but improved game-on-game. However, Varun would be remembered not for his performance in IPL 2021, which has been decent, but he would be remembered for being the reason behind the suspension of IPL 2021. Nevertheless, we hope for a speedy recovery for Varun Chakravarthy. 
#10: Avesh Khan (DC) – 8.5
Inns: 8 // Wkts: 14 // ER: 7.7 // BBI: 3/32
Another uncapped player who can definitely be termed the second-best bowler of the season behind Harshal Patel. If not for Ishant Sharma's injury or Anrich Nortje's Quarantine, we wouldn't have seen Avesh bowl in IPL 2021. So glad it happened as Avesh delivered much more than what was expected out of him. A total of 14 wickets from 8 matches at an economy rate of 7.7 is a commendable effort. 
#11: Arshdeep Singh (PBKS) – 4.9
Inns: 6 // Wkts: 7 // ER: 8.2 // BBI: 3/35
A tough choice between Chetan Sakariya of RR and Arshdeep Singh of PBKS for the final pacer slot. Overall, Arshdeep Singh had slightly better returns than Chetan Sakariya, and hence deserved the place more than Chetan Sakariya, who too was brilliant in this debut season. In fact, Chris Morris named Chetan Sakariya as the find of the season, and I don't disagree. 
Nevertheless, Arshdeep Singh felt the only PBKS bowler to take wickets and also sustain the run flow. But kudos to PBKS management, whose think-tank always surprises. They dropped their best bowler yet after 6 matches for an unknown reason. With 7 wickets from 6 matches, Arshdeep is PBKS's 2nd-highest wicket-taker. In addition, Arsh's economy rate of 8.2 is also one of the best among pacers. 
IPL 2021: The Best Uncapped Players Team of the Tournament: 
Devdutt Padikkal, Ruturaj Gaikwad, Nitish Rana, Rahul Tripathi, Deepak Hooda, Shahrukh Khan, Lalit Yadav, Harshal Patel, Varun Chakravarthy, Avesh Khan & Arshdeep Singh.
So, that completes the mid-season best uncapped team of the tournament for IPL 2021. Special mention to Chetan Sakariya, who deserves a place in the team as much as other pacers. Also, to acknowledge the contribution of Riyan Parag, Harpreet Brar, and Shahbaz Ahmad, who were good too. 
Thanks for reading! What's your uncapped Team of the Tournament at the halfway stage in IPL 2021? Please email your comments to business@cricalytics.com
---
ALSO READ: IPL 2021 Exclusive: The Mid-Season Flop XI of the Tournament
---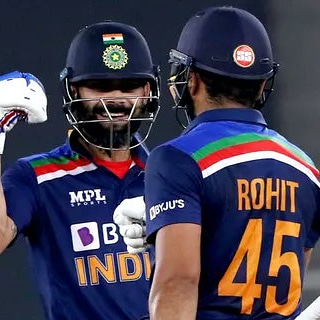 Adesh Kothari is the founder of AK4Tsay1 Cricalytics.
Cricket to him is like what 'Football is to Lionel Messi', 'Singing is to Lata Mangeshkar', 'Dancing is to Michael Jackson', and what 'Acting is to Clint Eastwood'.
Besides his effervescent love for Cricket, Adesh is an MBA by qualification.