Unique Playing 11 for Team India if all 3 Formats are Played Together
Virat Kohli, Rohit Sharma, and KL Rahul to lead as we find the unique playing 11 for Team India if all 3 formats are played at the same time. 
The COVID-19 pandemic has brought so many changes in the cricketing world that teams and players have no option but to adapt to the 'new normal' playing conditions. While the new normal playing conditions do bring many challenges, it possibly brings the biggest positive a team can achieve, and that is the exposure of bench strength. 
Such is the situation now in 2021 that we will finally see two separate playing 11 for Team India with a squad of 20 playing the Test series in England and another expected squad of 20-22 playing ODI and T20I series vs Sri Lanka in Sri Lanka.
While both the squads include a lot of reserves to averse the risk, imagine a situation, which may be inevitable in future where Team India need to play all three format at the same time. If the situation does arise, it would be interesting to explore the playing 11s and reserves for Team India.
Meanwhile, as of today, If we have to find the unique playing 11 for Team India if all three formats are played at the same time? Which player will make it to which format? Let's find out in this article. 
Criteria:
The best way to go about creating a unique playing 11 for Team India for a particular format is by selecting the Captain first. Secondly, focusing on selecting the players according to their format preference. Also, only those players are considered that are in contention of a spot in the team; doesn't matter if they are first-choice backups. 
Test Playing 11:
The first format, which actually has a lot of players that only play this format is Test cricket. There's no brainer when it comes to who would captain Team India in this format as it should be no other than Virat Kohli. Kohli has been India's best Test captain according to stats, and there's no strong alternative if Kohli plays ODI or T20I. 
The Test team has 4 players that only play this format, and that is Cheteshwar Pujara, Ajinkya Rahane, Umesh Yadav, and Ishant Sharma. With 5 places now sorted, let's focus on the openers. Ideally, Rohit Sharma and one of Mayank Agarwal or Shubman Gill would have played as an opener. But Rohit is needed as a captain in ODI format, hence Mayank and Gill shall be the openers. 
Talk about wicket-keeper choice, and we have no other option than the match-winner Rishabh Pant. While one may argue that Wriddhiman Saha can be accommodated to play Rishabh in ODI or T20I. But in my opinion, Rishabh Pant's Test stats are far more valuable as compared to ODIs and T20Is. Hence, he has to play as a wicket-keeper in Tests. 
Talking about the remaining three spots, the duo of Ravindra Jadeja and Ravichandran Ashwin is invaluable in this format. Hence, they should play as the spin-bowling all-rounder of the squad. For the final Pacer, Jasprit Bumrah would have been the ideal pick, but since he would add more value in ODIs, Mohammed Siraj would be a superb pick here.
Team India's Unique Playing 11 for the Test match:

Mayank Agarwal, Shubman Gill, Cheteshwar Pujara, Virat Kohli (C), Ajinkya Rahane, Rishabh Pant (WK), Ravindra Jadeja, Ravichandran Ashwin, Umesh Yadav, Mohammed Siraj & Ishant Sharma.
Reserves: Wriddhiman Saha, Hanuma Vihari, Avesh Khan, and Prasidh Krishna. 
One Day International Playing 11:
Talking about the ODI Squad, we should see Team India's current best opening duo, Rohit Sharma and Shikhar Dhawan with Rohit at the helm. Ideally, we should have seen Virat at 3, but in his absence, Team India's current best number 4 batsman, Shreyas Iyer shall be promoted to the number 3 position.
The number 4 is a tricky one with Dinesh Karthik or Sanju Samson as the options for the keeper-batsman position. Both are good picks for this position, but DK would add more value as a finisher in T20Is. Hence, Sanju Samson is a good pick here. Meanwhile, Manish Pandey at 5 completes the rest of the batting lineup.
Coming to all-rounders, Hardik is a non-debatable choice at number 6. For number 7, we have Krunal Pandya, Washington Sundar, and Axar Patel as the options. Overall, Krunal and Sundar can add more value to the T20I squad. Hence, Axar, who is an economical bowling all-rounder looks good to play at 7.
The bowling lineup selected for the ODIs is also the lineup, that represented India in the ODI WC 2019. With Bhuvneshwar Kumar, Mohammed Shami, Jasprit Bumrah, and Yuzvendra Chahal in the ranks, this is the strongest bowling lineup for Team India as of today in ODIs.
Team India's Unique Playing 11 for the ODI match:
Rohit Sharma (C), Shikhar Dhawan, Shreyas Iyer, Sanju Samson (WK), Manish Pandey, Hardik Pandya, Axar Patel,  Bhuvneshwar Kumar, Mohammed Shami, Jasprit Bumrah & Yuzvendra Chahal.
Reserves: Navdeep Saini, Kuldeep Yadav, Nitish Rana, and Devdutt Padikkal. 
T20 International Playing 11:



You must have seen the absence of KL Rahul in the above-mentioned playing 11s,  and that is because there's no better batsman than KL Rahul to lead Team India's playing 11 in the T20Is. He has been India's best batsman in the T20s in the last three years, and has also captained India. 
Partnering Rahul at the top shall be Prithvi Shaw, who has made a stunning comeback in Domestic cricket last year. At number 3 & 4, we have the dynamic Mumbai Indians duo, Suryakumar Yadav and Ishan Kishan. The number 5 should see the WK finisher in the form of Dinesh Karthik. 
Coming to the all-rounders, we have the remaining two best available all-rounders, Krunal Pandya and Washington Sundar. While Krunal is a batting all-rounder, Sundar is a bowling all-rounder. Shardul Thakur and Deepak Chahar further strengthen our batting at 8 and 9. 
Natarajan, who became the first player to debut for India in the same tour, shall lead the pace bowling. The leading spinner sees a tough fight between Rahul Chahar, Varun Chakravarthy, and Kuldeep Yadav. Based on the current form and preference, Rahul Chahar seems the best choice. 
Team India's Unique Playing 11 for

the T20I match:
KL Rahul (C), Prithvi Shaw, Suryakumar Yadav, Ishan Kishan, Dinesh Karthik (WK), Krunal Pandya, Washington Sundar, Shardul Thakur, Deepak Chahar, Rahul Chahar & T Natarajan. 
Reserves: Rahul Tewatia, Chetan Sakariya, and Ruturaj Gaikwad, and Rahul Tripathi.
So, that completes the unique playing 11 for Team India if all 3 formats are played at the same time. Barring the mentioned 33 players, we have 12 more reserves with 4 each in each format. Even the reserves form a strong playing 11; thanks to IPL of course. 
Thanks for reading! Which unique playing 11 looks the strongest for Team India? Please email your thoughts to business@cricalytics.com.
---
ALSO READ: Exclusive: The Current Best T20 Playing XI – One Player Per Country
---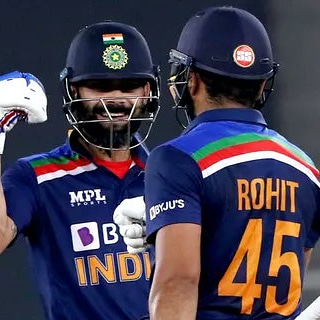 Adesh Kothari is the founder of AK4Tsay1 Cricalytics.
Cricket to him is like what 'Football is to Lionel Messi', 'Singing is to Lata Mangeshkar', 'Dancing is to Michael Jackson', and what 'Acting is to Clint Eastwood'.
Besides his effervescent love for Cricket, Adesh is an MBA by qualification.