Asia Cup 2023: Rating and Ranking Best Openers of All 6 Teams
Indian Team players, the standout as we look at the ranking of the openers of all 6 teams for ACC's Asia Cup 2023.  
The 2023 Asia Cup is just a few weeks away, and the excitement is already at its peak to witness the grand tournament in the ODI format. This year's Asia Cup shall witness six teams fighting it out for the much-coveted trophy with Sri Lanka as the defending champions. 
If we observe all six teams closely including the newly added Nepal, the best batters of all these teams are mostly openers. While India have Rohit Sharma and Shubman Gill, Pakistan have Fakhar Zaman and Imam Ul-Haq. Even the ICC ranking sees 5 of the top 10 batters being openers. 
Every team is equipped with a solid set of openers that will play a crucial role to get their team off to a flying start. But which of the six teams have the best set of openers for Asia Cup 2023? Well, let's look at the ranking and rating of the best openers of all six 6 teams for Asia Cup 2023 using our tried and tested Stats Wizard methodology. 
Methodology:
Openers are classified as two first-choice good openers and a primary backup opener.

All openers are relatively rated on a scale of 10 against the benchmark opener, basis their current ICC ODI Batting ranking.
Benchmark Opener for Asia Cup 2023: Fakhar Zaman
Openers Ranking and Rating for Asia Cup 2023: 
#6: Bangladesh – 6.42
Two Solid Openers: Litton Das & Mohammad Naim
Primary Backup Opener: Tanzid Hasan
The loss of Tamim Iqbal, their best opener has reduced their cumulative openers rating considerably, thus bringing their ranking from 5 to 6. Bangladesh now have Litton Das and Mohammad Naim as their primary openers with Tanzin Hasan as their key backup opener. With these three, Litton is rated at 8.25. Whereas Naim and Hasan are rated 5.5 and 5 respectively. Overall, Bangladesh have a rating of 6.42 in the openers category. 
#5: Nepal – 6.61
Two Solid Openers: Aasif Sheikh & Kushal Bhurtel
Primary Backup Opener: Arjun Saud
The number 5 position belongs to Nepal openers, who are only marginally better than Bangladesh openers. Aasif Sheikh and Kushal Bhurtel are Nepal's best openers, and Arjun Saud is their backup opener. While Aasif Sheikh has a rating of 7, Kushal has 6.5, and Arjun Sad has a rating of 6. Overall, due to their experience, they get a cumulative rating of 6.61 in the openers category. 
#4: Sri Lanka – 7.61
Two Solid Openers: Pathum Nissanka & Dimuth Karunaratne
Primary Backup Opener: Sadeera Samarawickrama
Coming to number 4, we have Sri Lanka with a cumulative rating of 7.61 in the openers category. Sri Lanka have Pathum Nissanka and Dimuth Karunaratne as their key openers with Sadeera Samarawickrama as their key backup opener. Pathum leads the category with a rating of 8.75, but Dimuth and Sadeera aren't so strong with a rating of 7.5 and 6 respectively.  
#3: Afghanistan – 7.61
Two Solid Openers: Rahmanullah Gurbaz & Ibrahim Zadran
Primary Backup Opener: Riaz Hassan
Number 3 sees Afghanistan openers with a similar rating as that of Sri Lanka. However, as compared to Sri Lanka, Afghanistan's best opener, Ibrahim Zadran has a better ICC ranking, thus rated at 9. Other than Ibrahim, Afghanistan have an attacking opener in the form of Rahmanullah Gurbaz and a good backup opener in the form of Riaz Hassan. 
#2: Pakistan – 8.76
Two Solid Openers: Fakhar Zaman & Imam Ul-Haq
Primary Backup Opener:  Abdullah Shafique
Coming to number 2, we have Pakistan with an amazing set of primary openers, but a below-par backup opener. Fakhar Zaman and Imam Ul-Haq are the two best openers in the world currently with an ICC ranking of 3 and 4 respectively. If only playing 11 openers are considered, they are better than India's Rohit Sharma and Shubman Gill basis the ICC rankings.
However, it is the backup opener where Pakistan marginally miss out. Abdulla Shafique is the backup opener, and he has only played 3 ODIs to date. As long as Fakhar and Imam are playing, Pakistan won't have an issue, but the moment one of these two gets injured, Pakistan would be in deep trouble, and thus that reduces their overall rating to 8.76.  
#1: India – 9.22
Two Solid Openers: Rohit Sharma & Shubma Gill
Primary Backup Opener: Ishan Kishan
The number 1 team with the best openers belong to India, and there are no second thoughts about it. Shubman Gill and Rohit Sharma are the team's first-choice and best openers with a rating of 9.25 and 9 respectively. However, Kishan isn't bad either with an ICC ranking of 36 and an opener rating of 8.5.
Given that all three are successful opening batters, it makes India a dangerous team when it comes to their openers. While Rohit and Gill will be the primary openers in the squad, Kishan shall play when any one of these two isn't available. Overall, India have a rating of 9.22 in the openers category. 
So, that's about the openers ranking of all six teams for Asia Cup 2023. While Team India have a great trio of openers, Pakistan have the best duo. Contrastingly, Team India have two right-handed openers, and Pakistan have two left-handed openers. Seeing the strength of these two teams, openers will have a huge focus in the tournament.  
Thanks for reading! Which team has the best openers in Asia Cup 2023? Please email your thoughts to business@cricalytics.com
---
ALSO READ: Asia Cup 2023: Best Predicted Squad Players List for Team India
---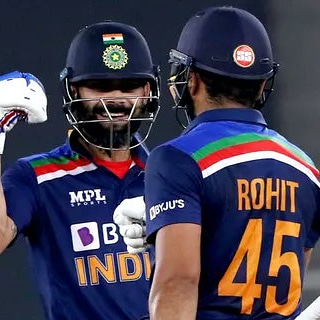 Adesh Kothari is the founder of AK4Tsay1 Cricalytics.
Cricket to him is like what 'Football is to Lionel Messi', 'Singing is to Lata Mangeshkar', 'Dancing is to Michael Jackson', and what 'Acting is to Clint Eastwood'.
Besides his effervescent love for Cricket, Adesh is an MBA by qualification.