Exclusive: Ranji Trophy 2022 Combined Best 11 of the Season
Yashasvi Jaiswal and Yash Dubey to open as we look at the combined best 11 of the season for Ranji Trophy 2022. 
13th March 2020 was the last time a Ranji Trophy final was conducted. Contagious COVID-19 had disrupted the domestic schedule in the country, and the longest format of the game couldn't see the light of the day in 2021. With Cricket adapting well to the COVID-19 norms, Ranji Trophy finally came to life in the year 2022 with the matches being conducted in two phases; before and after IPL 2022.
Madya Pradesh, who were running after their maiden Ranji Trophy title kept their nerves to defeat the hot-favourites Mumbai. In a tense battle in the finale, a big first-innings lead helped Madhya Pradesh maintain the pressure; thus defeating the Mumbai Ranji team by 6 wickets with Rajat Patidar and Yash Dubey being the stars of the final.
Overall, the 2022 Ranji Trophy season wasn't as big as the previous editions. The group stage matches were limited to 3, and that was followed by Quarter Finals, Semi Finals, and Final. All the group stage matches were conducted before IPL 2022 in February and March. Whereas all the Knockout matches were conducted after IPL 2022 in June.
With such limited exposure, we still witnessed some amazing performances with the bat and ball. So, in this article, we shall look at 11 such wonderful performers who would form the Ranji Trophy 2022 Combined Best 11 of the Season. Before that, let's look at the methodology that would help us select these players.
Methodology:
As usual, we have removed any biases or perceptions while selecting the best 11. Our robust methodology gives precedence to 'Performance Rating' to select players in the playing 11. Given the plethora of talent and performance that was uncovered during the season, selecting the final  XI was a seriously tough job.
Also to note, teams have played very few group stage matches. Hence, preference was given to those players who have played at least the semi-finals, unless we saw some really extraordinary performance in the group stage itself that we just couldn't ignore in the final 11. 
Openers
#1: Yashasvi Jaiswal (Mumbai) 
Inns: 6 // Runs: 498 // Avg: 83 // Hs: 181
Yashasvi Jaiswal played only the Knockouts after IPL 2022, and in the 6 innings he played, Yashasvi managed to score 3 centuries and a half-century. Having played just 1 First class match before this season, Yashasvi didn't let the pressure get on him as he played with supreme confidence. A total of 498 runs from 6 innings in Knockouts makes him stand out as one of the best batters of the Season. 
#2: Yash Dubey (MP) 
Inns: 10 // Runs: 614 // Avg: 76.8 // Hs: 289 
The second opener on the list is the Madhya Pradesh opener, Yash Dubey. Dubey had close competition from Yash Dhull for this spot, but his valuable century in the final vs Mumbai remains the highlight of the tournament. Overall, Dubey finished with 614 runs from 10 innings at a superb average of 76.8. This also includes a mammoth 289 that he hit against Saurashtra earlier in the Season. 
Middle-order
#3: Shubham Sharma (MP)
Inns: 9 // Runs: 608 // Avg: 76 // Hs: 116
The number 3 had a close competition between Shubham Sharma of UP and Armaan Jaffer of Mumbai. But it goes to Shubham mostly for longevity. Just like Dubey, Shubham was a consistent performer for MP scoring 608 runs from 9 innings at an average of 76. His highest scorer was just 116 with 4 centuries, but he also had a few 20s and 30s to his name, thus reducing his low scores % to a minimum. 
#4: Rajat Patidar (MP)
Inns: 9 // Runs: 658 // Avg:  82.3 // Hs: 142
Another MPian, and this time we have the RCB blood Rajat Patidar. Ever since Rajat hit that amazing century in IPL 2022 Knockouts, he hasn't looked back, and has continued his amazing form in Ranji Trophy as well. Patidar ended the 2022 Ranji season as the second-highest run-scorer with 658 runs from 9 innings. He was also the leading run-scorer in the final with scores reading 122 and 30*. 
#5: Sarfaraz Khan (Mumbai)
Inns: 9 // Runs: 982 // Avg: 122.8 // Hs: 275
The number 5 position inevitably belongs to the best batter of the Season, Sarfaraz Khan. The Mumbai batter scored 900+ runs in his second successive Ranji season. The year 2022 saw him as the leading run-getter with 982 runs from 9 innings at a bradmanesque average of 122.8. This includes 4 centuries and 3 half-centuries. Such has been Sarfaraz's performance that he could be selected for the home Test series vs Bangladesh later this year. 
Lower-order
#6: Chetan Bist (Nagaland) (WK) 
Inns: 6 // Runs: 623 // Avg: 311.5 // Hs: 155*
The only player from the plate division, and it's Chetan Bist from Nagaland. Even as Bist played for Nagaland along with a preliminary Quarter final vs Jharkhand, he was undoubtedly the best wicket-keeper batter for the number 6 position. He ended with 623 runs from 6 innings at an unbelievable average of 311.5. He was dismissed only twice, and he remained not out on 4 occasions including the 122* vs Jharkhand in Quarter Final. 
#7:  Shahbaz Ahmed (Bengal)
Inns: 10 // Runs: 482 // BA. Avg: 60.3 // Wkts: 20
Number 7 belongs to the best all-rounder of the Season, Shahbaz Ahmed. Another RCBian blood that plays for Bengal ended as the leading run-getter for Bengal with 482 runs from 10 innings. In addition, Shahbaz took 20 wickets; again most for Bengal. Even if Bengal didn't qualify for the final, Shahbaz's contribution cannot be undermined. In times to come, Shahbaz can replicate what Jadeja has done quite often. 
#8: Shams Mulani  (Mumbai) 
Inns: 11 // Wkts: 45 // Bo. Avg: 16.8 // Runs: 321
Coming to number 8, we have another spin bowling all-rounder, Shams Mulani. A slow left-arm orthodox bowler from Mumbai, Shams Mulani ended as the leading wicket-taker of the Season with 45 wickets from just 11 innings. This includes six 5-fer and two 10-fer. In addition, Mulani scored 321 runs batting lower down the order. With a strong brand like Mumbai, expect the 25-year-old Mulani to be in contention for the Indian Test Team and IPL. 
Bowlers: 
#9:  Kumar Kartikeya (MP)
Inns: 11 // Wkts: 32 // Avg: 21 // BBI: 6/50
The final spinner of the lot, and it's the multi-skilled spinner from Madhya Pradesh, Kumar Kartikeya. Kartikeya recently came into the limelight after making his debut for Mumbai Indians in IPL 2022 where he showed he could bowl slow-left-arm and left-arm chinaman. He had a successful Ranji Trophy 2022 season as he ended with 32 wickets to his name from just 11 innings. He had three 5-fers to his name in addition to a match-winning spell of 4/98 in the final vs Mumbai. 
#10: Gaurav Yadav (MP)
Inns: 10 // Wkts: 23 // Avg: 18.9 // BBI: 5/11
#11: Mukesh Kumar (Bengal) 
Inns: 9 // Wkts: 20 // Avg: 24.8 // BBI: 4/49 
Talking about the pacers, there wasn't too much completion as there weren't many good wicket-taking pacers this season. It was a season dominated by spinners, and in that two pacers that impressed the most include Gaurav Yadav and Mukesh Kumar. While Gaurav took 23 wickets from 10 innings, Mukesh took 20 wickets from 9 innings. Both were instrumental for their team to play a good supporting role to the spinners.
So, that completes the combined best playing 11 of the tournament for Ranji Trophy  2022. 
Ranji Trophy 2022: Combined Best 11 of the Season: 
Yashasvi Jaiswal, Yash Dubey, Shubham Sharma, Rajat Patidar, Sarfaraz Khan, Chetan Bist (WK), Shahbaz Ahmed, Shams Mulani, Kumar Kartikeya, Gaurav Yadav & Mukesh Kumar
Thanks for reading! What's your best playing 11 of the Season for Ranji Trophy 2022? Please email your comments to business@cricalytics.com 
---
ALSO READ: Syed Mushtaq Ali Trophy 2021 Best Team of the Tournament
---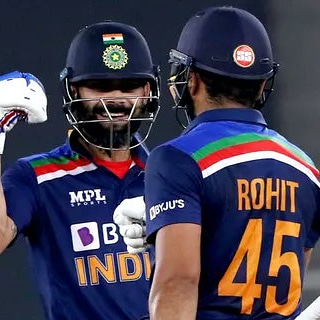 Adesh Kothari is the founder of AK4Tsay1 Cricalytics.
Cricket to him is like what 'Football is to Lionel Messi', 'Singing is to Lata Mangeshkar', 'Dancing is to Michael Jackson', and what 'Acting is to Clint Eastwood'.
Besides his effervescent love for Cricket, Adesh is an MBA by qualification.