India vs SA 2022 – Team India's alternate best Playing 11 for ODI Series
KL Rahul expected to open the innings as we look at the ideal playing 11 for Team India for the 2022 ODI series vs SA.
1-2 is how the scoreline ended as India lost a close-fought Test series vs South Africa. If any, this was the best chance for Team India to register their maiden Test series victory in South Africa. The Proteas had probably the weakest batting lineup in their history, and they were without their best pacer, Anrich Nortje. 
The ODI series is just a few days away, but Team India have already suffered two huge blows from the squad standpoint. Washington Sundar couldn't board the flight as he was tested position ahead of the tour. Whereas Mohammed Siraj suffered an injury in the second Test, but seems to have recovered.
With the Test series ending on a negative, Team India now move on to their next assignment, the ODI series. It was probably a year back when Team India fielded a full-strength ODI Squad. Since then, it has been either about IPL, T20Is, or Test matches. Hence, the series promises to be an important contest. More so with a fresh leader in KL Rahul. 
In addition, the team is also without their first-choice Captain, Rohit Sharma. So, with so many important changes, what could be the ideal playing 11 for Team India for the ODI series vs SA? Let's find out in this article. Before that, let's skim through the updated squad for Team India post the changes. 
India vs SA 2022 – Offical ODI Series Squad for Team India:
Batsmen: KL Rahul (C), Ishan Kishan (WK), Rishabh Pant (WK), Ruturaj Gaikwad, Shikhar Dhawan, Shreyas Iyer, Suryakumar Yadav & Virat Kohli
All-rounders: Venkatesh Iyer & Jayant Yadav
Bowlers: Bhuvneshwar Kumar, Deepak Chahar, Jasprit Bumrah,  Mohammed Siraj, Prasidh Krishna, Ravichandran Ashwin, Shardul Thakur & Yuzvendra Chahal
Coach: Rahul Dravid // Captain: KL Rahul // Vice-captain: Jasprit Bumrah 
Opener: Shikhar Dhawan & KL Rahul
The presence of Shikhar Dhawan in the squad confirms the first opener for Team India. However, the most important question that Team India and captain KL Rahul would face is whether to open with himself or keep playing in the middle-order as he had been playing for the last two years. This would be an extremely important call, and to be honest, there's no right or wrong answer to it.
KL Rahul's stats have been amazing playing as a Finisher in ODIs. However, he is technically one of the best openers going around. Mostly the answer will boil down to the utilization of Suryakumar Yadav and Shreyas Iyer. With two strong middle-order options available, Team India can think of opening with KL Rahul and playing one of these two in the middle-order. 
Middle-order: Virat Kohli, Rishabh Pant (WK) & Suryakmar Yadav
This would be the first time since taking over the captaincy in 2016 that Virat Kohli would be playing under someone else's captaincy in ODIs. He is also long due for his 71st century. Like all the other fans, we are hopeful of Virat Kohli to return as a different beast having been deprived of the captaincy duties. 
When BCCI announced the ODI Squad, they were pretty clear that Rishabh Pant would be the primary wicket-keeper of the squad. The Pocket Rocket has only recently managed to be the only Asian Wicket-keeper to hit a Test century in South Africa. It would an important tournament for Pant to make a big impact in the ODIs. This would make Team India confident ahead of World Cup 2023. 
Suryakumar Yadav or Shreyas Iyer. This would be another important question that Team India would have with KL Rahul playing as an opener. While Shreyas Iyer has more International experience, Suryakumar has off late been in stunning form for Team India. Taking cues from Team India's T20 World squad, it should be Suryakumar who should be preferred above Iyer for the number 5 spot. 
All-rounder: Venkatesh Iyer 
Make no mistake, but Team India have only one good proper all-rounder option in the squad, and that is Venkatesh Iyer. There was Washington Sundar, but he couldn't travel to South Africa due to covid. There's Shardul Thakur, Jayant Yadav, and Ravichandran Ashwin, but they can't be called proper all-rounders in ODIs. They can definitely give a few important runs down the order, but are more of bowlers who can bat. 
Spinners: Ravichandran Ashwin & Yuzvendra Chahal
With Washington Sundar not available, it becomes easier for Ravichandran Ashwin to make the ODI playing 11 comeback. Ashwin hadn't played for India in ODIs since 2017, and it would be an important occasion for the GOAT off-spinner. Him and Yuzvendra Chahal can go well together. While one takes the ball into the right handers, the other takes it away. 
Pacers:

Jasprit Bumrah, Shardul Thakur, Bhuvneshwar Kumar
Talking about the pacers, the trio of Jasprit Bumrah, Bhuvneshwar Kumar, and Shardul Thakur should be the three pacers of the squad. Had Siraj been available, he could have given a push to Shardul, but Shardul's batting abilities and good performance in the ODIs in the last couple of years tilts the balance in his favor. 
Meanwhile, it would be an important series for Jasprit Bumrah and Bhuvneshwar Kumar. The experienced duo would want to make an impact while leading the pace bowling lineup. However, it may be possible that Jasprit Bumrah is rested after playing an exhaustive Test series. But given that is already selected, expect Bumrah to play at least the first two ODIs.
So, that completes the ideal playing 11 for Team India for the ODI series vs SA. KL Rahul to open or not. Suryakumar Yadav or Shreyas Iyer. Will Ravichandran Ashwin play or does India plan to go ahead with 4 pacers. These will be the three key questions for India for the first ODI. 
India vs SA 2022: Ideal Playing 11 for the ODI Series
Shikhar Dhawan, KL Rahul (C), Virat Kohli, Rishabh Pant (WK), Suryakumar Yadav, Venkatesh Iyer, Shardul Thakur, Ravichandran Ashwin, Bhuvneshwar Kumar, Jasprit Bumrah & Yuzvendra Chahal
Thanks for reading! What's your playing 11 for Team India for the ODI series vs South Africa? Please email your thoughts to business@cricalytics.com
---
ALSO READ: IPL 2022 Special: Best Predicted Squad for Chennai Super Kings (CSK)
---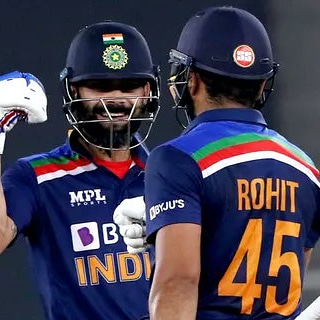 Adesh Kothari is the founder of AK4Tsay1 Cricalytics.
Cricket to him is like what 'Football is to Lionel Messi', 'Singing is to Lata Mangeshkar', 'Dancing is to Michael Jackson', and what 'Acting is to Clint Eastwood'.
Besides his effervescent love for Cricket, Adesh is an MBA by qualification.