India vs WI Stats Wizard: Top 5 knocks in One Day Internationals (ODIs)
India vs WI: Virender Sehwag, Rohit Sharma, and Sir Viv Richards lead the charts as we find the top 5 knocks in ODIs.
India vs West Indies rivalry in ODIs goes back to the 1983 World Cup, where Team India lifted the World Cup defeating West Indies despite being the underdogs. It was the moment that changed the fortune of both, West Indies and India's cricket forever.  
Since the ODI cricket came into existence, West Indies Cricket have produced some of the best batsmen of the game like Sir Viv Richards, Clive Lloyd, Garfield Sobers, etc. While India isn't far behind when it comes to batting talent in the form of Sachin Tendulkar, Virender Sehwag, Rohit Sharma, Virat Kohli, etc.
So, as an ode to these greats, we have done this special article to revisit some of the best knocks hit by these legends of the game.
So, which knocks from these players rank among the best in India vs WI OdiS? Let's find out in our article using our revamped methodology. 
METHODOLOGY:
We have analyzed the top batting knocks on the basis of the batting points calculated from the overall aspect of the game such as runs scored, acceleration bonus, relative strike rate and runs bonus, number of fours, number of sixes, number of match-winning knock points, and the player of the match points.
To leave out the biases and perception, we have kept the things simple by comparing the overall batting points of all the knocks to find out the top 5 knocks in India vs WI ODI series.
So, without any further delay, let's find out the top 5 knocks in India vs WI ODI series.
---
#5: ROHIT SHARMA'S 162(137) | MUMBAI | 2018 
Runs: 162 | Balls: 137 | Fours: 20 | Sixes: 4
Strike Rate: 118.2 | Batting Points: 266.3
The man of big scores, Rohit Sharma has his name on this record too with one of his finest knock, which deserved a double century.
Such is the situation currently for Rohit Sharma that once he reaches the magical 3 figures, almost everyone is expecting a double hundred from this man. 
But, this was not a typical Rohit Sharma innings as he had a strike rate of around 90 throughout his knock. His scores in multiple of 25s read 25(31), 50(60), 75(79), and 100(98). 
As he usually does, he tore apart the bowling after reaching his hundred as he managed to add another 62 runs from 39 deliveries. However, another 200 wasn't meant to happen that night as Rohit top-edged to the third man in the 44th over. 
Courtesy to his and Rayudu's century, India reached a massive score of 377/5 in 50 overs, and eventually won the match by a gigantic 224 runs. 
So, for scoring yet another big score, Rohit Sharma's knock is fifth on the list with a total of 266.3 batting points.
Rohit Sharma made a stunning 162(137) against West Indies | Image Source: ICC
---
#4: RICARDO POWELL'S 124(93) | SINGAPORE | 1999 
Runs: 124 | Balls: 93 | Fours: 9 | Sixes: 8
Strike Rate: 133.3 | Batting Points: 266.9
One of the cleanest hitters of the ball, Ricardo Powell had just one ODI century in his entire life, and that came against India. 
Having debuted in the same year, 1989, this was the knock that gave Ricardo Powell the much-needed attention. However, he couldn't hold on to his hitting talent as consistency took a hit on his selection. Nevertheless, it was a fantastic aggressive knock from Ricardo Powell, who single-handedly helped West Indies chase the target of 255 in 47.4 overs. 
With West Indies struggling at 67-4 after 16.3 overs, and another 188 required from there from 33.3 overs, Ricardo Powell joined Shivnarine Chanderpaul at the crease. His aggressive batting released all the pressure from other batsmen as others played second fiddle to him as West Indies chased the target in 47.4 overs. 
Powell hit 9 fours and 8 sixes in his knock of 124, making it 67% runs in boundaries; the most by a West Indies batsman against India. 
Thus, for his aggressive approach, while chasing, Ricardo Powell's knock is fourth on the list with a total of 266.9 batting points.
---
#3: DESMOND HAYNES'S 152(126) | GEORGETOWN | 1989 
Runs: 152 | Balls: 126 | Fours: 12 | Sixes: 6
Strike Rate: 120.6 | Batting Points: 290.0
The highest score by a West Indies batsman against India, the legend, Desmond Haynes's knock of 152(126) is one of the best knocks by any batsman against India. 
Desmond Haynes has been one of the best batsmen for West Indies, and he has contributed heavily in both, the ODIs as well as the Tests. He has played n number of match-winning knocks for the team, but this is certainly his best.
Batting first, Haynes's knock of 152 runs lifted West Indies to a superb total of 289-2 in just 43.5 overs. His contribution of 152 is almost 53% of the team's runs, making it the highest by any West Indies batsmen against India. 
Anyway, courtesy to some superb bowling from Sir Viv Richards and Courtly Walsh, West Indies won the match by 101 runs. 
So, for hitting the best knock of his career, Desmond Haynes's knock is third on the list with a total of 290.0 batting points.
---
#2: SIR VIV RICHARDS'S 149(99) | JAMSHEDPUR | 1983 
Runs: 149 | Balls: 99 | Fours: 20 | Sixes: 3
Strike Rate: 150.5 | Batting Points: 310.8
Certainly the best knock of Sir Viv Richards against India, and one of the best by him against any side. It was a knock that was way above par by any standards in that era. 
In a decade where the average strike rate of a batsman was 56, Sir Viv Richards hit a mammoth 149(99) at an astonishing strike rate of 150.5.
It was his knock that lifted West Indies to a score of 333-8; the then highest score for West Indies in ODIs. It is also West Indies' highest score against India in ODIs.
Batting first in a 45 overs game, Gordon Greenidge and Sir Viv Richards mauled the Indian bowlers, but it was Sir Viv Richards's that gave the much-needed momentum to the innings as he tore apart the Indian bowling line-up hitting 20 fours and 3 sixes in his 149(99). 
Team India couldn't chase the target of 334 as they could only manage 229-5 in 45 overs. 
Thus, for playing a supernatural knock, Sir Viv Richards' knock is second on the list with a total of 310.8 batting points.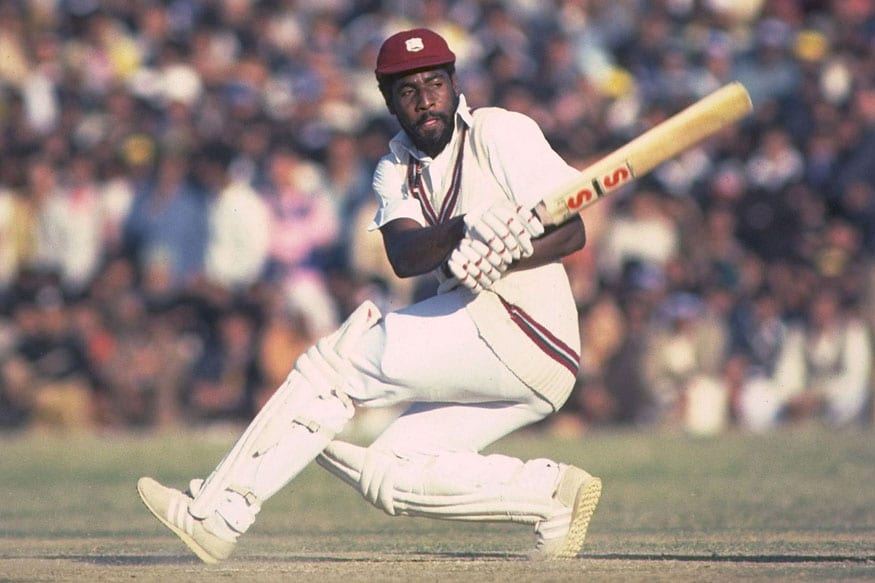 ---
#1: VIRENDER SEHWAG'S 219(149) | INDORE | 2011 
Runs: 219 | Balls: 149 | Fours: 25 | Sixes: 7
Strike Rate: 146.9 | Batting Points: 389.9
A double century in ODIs is always special, and if that double century is the then highest score in ODIs, it calls for a shoutout. 
Virender Sehwag's 219 was a perfect example of effortless hitting and pure stoke play. Even the great Sunil Narine was taken to shambles as Sehwag lifted India to 418-5; team India's highest score in ODIs.
Batting first, Sehwag had only gear in which he played, and that was the fifth gear. He blasted the bowlers right from the start as he scored his fifty in 41 balls, hundred in 70 balls, and 150 in 112 balls. Having reached his 150 in just the 35th over, 200 was always on the cards for Sehwag.
He reached that milestone in the 44th over, thus becoming only the second batsman after Sachin Tendulkar to score a double hundred.
We all were expecting Sehwag to play all 50 overs, but he mistimed one in the 47th over, thus ending his knock-on 219(149). But, Rohit and Kohli made sure India reach a mammoth 418 in 50 overs. 
West Indies couldn't chase the target as they fell short of the target by 153 runs.
For scoring the then highest score in ODIs, Virender Sehwag's knock is the best knock in an India vs West Indies ODI series with a total of 389.9 batting points.
---
So, these are the top 5 knocks in an India vs West Indies ODI series.
SPECIAL MENTION:

 
Apart from these, Virat Kohli's knock of 140(107) chasing 323 in 50 overs in 2018 is also right up there among the bests. 
---
ALSO READ: India vs WI: Team India's expected playing 11 for the first ODI
---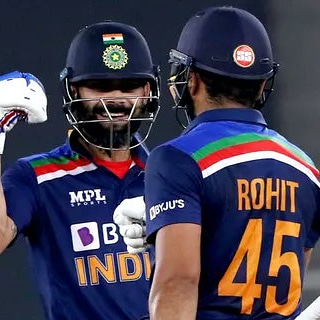 Adesh Kothari is the founder of AK4Tsay1 Cricalytics.
Cricket to him is like what 'Football is to Lionel Messi', 'Singing is to Lata Mangeshkar', 'Dancing is to Michael Jackson', and what 'Acting is to Clint Eastwood'.
Besides his effervescent love for Cricket, Adesh is an MBA by qualification.