India vs West Indies Stats Wizard: Top 5 knocks in T20 Internationals
Rohit Sharma's incredible century and Evin Lewis's twin centuries, the highlights as we find the top knocks in India vs West Indies T20I series. 
The meeting between the two-times World T20 champions, West  Indies and the first T20 champions, India is always special.
At one end, we have the West Indies team with one of the most aggressive players in World Cricket in the form of Gayle, Russell, Lewis, Sammy, Pollard, etc. Whereas, on the other hand, we have the Indian team with traditional T20 players in the form of Rohit, Kohli, Raina, Dhoni, etc.
Surprisingly, both are successful in their own way. While Rohit and Kohli are the leading run-getters in T20 Internationals, Gayle, Lewis, Russell, etc. are the most explosive batsmen in the world. 
So, which knocks from these players rank among the best when these two teams meet in T20Is? Let's find out in our article using our revamped methodology. 
METHODOLOGY:
We have analyzed the top batting knocks on the basis of the batting points calculated from the overall aspect of the game such as runs scored, acceleration bonus, relative strike rate and runs bonus, number of fours, number of sixes, number of match-winning knock points, and the player of the match points.
To leave out the biases and perceptions, we have kept the things simple by comparing the overall batting points of all the knocks to find out the top 5 knocks in India vs West Indies T20I series.
So, without any further delay, let's find out the top 5 knocks in India vs West Indies T20I series.
---
#5: JOHNSON CHARLES'S 79(33) | LAUDERHILL | 2016 
Runs: 79 | Balls: 33 | Fours: 6 | Sixes: 7
Strike Rate: 239.4 | Batting Points: 170.1
Johnson Charles made India sweat with his aggressive knock in what was Team India's first-ever match in the US.
While the pitch did offer some assistance to the batsmen, it still required someone to make full use of it. So, In the absence of the Universe Boss, Chris Gayle, Johnson Charles seized the opportunity perfectly, and produced a match-winning knock of 79 in just 33 deliveries in only 9 overs; quite incredible. 
Such was Charles's aggressive strokeplay that he smashes 66 of his 79 runs in boundaries at a strike rate of 239.4 including 6 fours and 7 maximums.
Sadly, he had a horrid end as he got yorked by Shami while trying to scoop him over fine leg. 
Nevertheless, for providing an unbelievable start, Johnson Charles's knock is fifth on the list with a total of 170.1 batting points.
---
#4: KL RAHUL'S 110(51) | LAUDERHILL | 2016 
Runs: 110 | Balls: 51 | Fours: 12 | Sixes: 5
Strike Rate: 215.7 | Batting Points: 190.2
This is KL Rahul's best knock in T20 Internationals, but unfortunately, it came in a losing cause. 
Chasing 246 in 20 overs, KL Rahul came in to bat when almost 200 runs were required off 15 overs. To score a century from there, and take India almost to the finishing line was a commendable task by KL Rahul, who sadly remained not-out in the chase. 
KL combined perfectly with Rohit and Dhoni to stitch two wonderful partnerships, and in the process attacked the KKR duo, Narine and Russell to reach his century in just 46 deliveries. 
With 8 required off the last over, It definitely looked as if KL and MS would take India home, but unfortunately, India fell short of the target by 1 run as MS Dhoni sliced the ball in the air on the last ball in search of a double.
Nevertheless, for bringing India so close, KL Rahul's knock is fourth on the list with a total of 190.2 batting points.
---
#3: EVIN LEWIS'S 100(49) | LAUDERHILL | 2016 
Runs: 100 | Balls: 49 | Fours: 5 | Sixes: 9
Strike Rate: 204.1 | Batting Points: 193.8
Evin Lewis' first hundred in T20 Internationals couldn't have had a more special occasion and a more special ground than this. 
Complementing Johnson Charles's knock, Lewis played till the end as he made sure West Indies reached a gigantic target of 245 at the end of 20 overs. 
With Charles going bonkers at the other end, Lewis simply played the waiting game cashing-in on the loose deliveries. Even after that, his strike rate was 200 as he reached his fifty in just 25 deliveries. 
The best highlight of the match was Stuart Binny's over where Lewis smashed him for five successive sixes, and almost a sixth one, but mistimed a full toss to long-on. 
However, after being 82(32) at the end of 11 overs, Lewis could only manage 18 runs in his next 17 deliveries as he ended his knock after reaching his maiden century. 
Anyway, for scoring a stunning maiden century, Evin Lewis's knock in third on the list with a total of 193.9 batting points.
---
#2: ROHIT SHARMA'S 111(61) | LUCKNOW | 2018 
Runs: 111 | Balls: 61 | Fours: 8 | Sixes: 7
Strike Rate: 181.2 | Batting Points: 209.3
The man of big scores, Rohit Sharma never ceases to amaze as he smashed his fourth century in T20Is; making him the only person in the world to achieve this feat.
It was a typical Rohit Sharma innings where he started slowly, but then brought his ace game to play some gorgeous strokes to floor the opposition. 
After reaching his fifty in 38 deliveries, a fear of a three-digit score displayed on opposition's camp, and Rohit did exactly the same. He brought out his extravagant strokeplay to score his hundred in 58 deliveries.
In process, he also smashed Brathwaite for 19 runs in the last over to lift India to a match-winning 195-2 in 20 overs. 
West Indies never looked comfortable in the chase as they fell short of the target by 71 runs. 
So, for his break-taking strokeplay, Rohit Sharma's knock is second on the list with a total of 209.3 batting points. 
---
#1: EVIN LEWIS'S 125(62) | KINGSTON | 2017 
Runs: 125 | Balls: 62 | Fours: 6 | Sixes: 12
Strike Rate: 201.6 | Batting Points: 254.2
So, the best knock in an India vs West Indies T20I series belongs to Evin Lewis, who hit his second hundred to single-handedly chase a daunting task of 191 in just 18.3 overs. 
Chasing 191, Lewis made a mockery of Indian bowling as he smashed a mind-blowing 125(62) balls with 6 fours and 12 sixes; fourth highest in T20Is. Lewis accounted for almost 64% of team's runs; the most in an India vs West Indies T20I series.
Not for a single moment did Lewis made feel that they were slipping away from the chase as he smashed runs at a rapid pace reaching his fifty in 24 balls, 75 in 37 balls, and 100 in 53 balls.
In the end, Lewis remained not-out on 125(62) as West Indies chased the target in 18.3 overs. 
Thus, for single-handedly guiding West Indies to a victory, Evin Lewis's knock in a distant first on the list with a total of 254.2 batting points. 
---
So, these are the top 5 knocks in an India vs West Indies series in T20 Internationals. 
Apart from these 5, Virat Kohli's 89(47) at T20 World Cup 2016 deserves a special mention as he single-handedly helped India post a huge score, even though it came in a losing cause. 
---
ALSO READ: Why Prithvi Shaw's suspension is a blessing for KL Rahul
---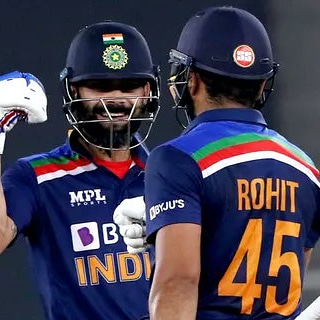 Adesh Kothari is the founder of AK4Tsay1 Cricalytics.
Cricket to him is like what 'Football is to Lionel Messi', 'Singing is to Lata Mangeshkar', 'Dancing is to Michael Jackson', and what 'Acting is to Clint Eastwood'.
Besides his effervescent love for Cricket, Adesh is an MBA by qualification.