Rishabh Pant: The promise and the burden of legacy
Rishabh Pant, the gifted child fights an estranging battle of MS Dhoni legacy.
India vs Australia, 4th ODI, over 43.1: Chahal bowled a wide to Turner. Rishabh Pant missed a stumping chance once again, and the Mohali crowd started chanting "Dhoni, Dhoni…". That's how the crowd greeted the 21-year-old wicket-keeper, Rishabh Pant in the absence of the legendary, MS Dhoni.
The missed stumping certainly created a big impact as Ashton Turner turned the match with his heroics after that. However, what followed post the stumping was certainly not a pleasing sight if you were Rishabh Pant.
It is natural that Pant is bound to face criticism if he does mistakes regularly. But, why is Rishabh Pant, the wicket-keeper facing so much criticism?. Why is he getting compared to MS Dhoni?. Why isn't this normal for anyone to accept the fact that he is just 21, and it is normal for any wicket-keeper to feel the nerves, and in-process make few mistakes.
We shall look at the answers to these questions at the end. Before that, let's rewind the clock to understand how Rishabh Pant, the player got into the recognition. Why he is one of the first names when it comes to representing India as a wicket-keeper batsman in all three formats.
U19 WORLD CUP 2016:
Rishabh Pant first came into recognition as an 18-year-old hard-hitting wicket-keeper batsman representing India in the 2016 U19 World Cup.
This was a good starting point for Pant, who stamped an initial mark in world cricket with a successful tournament. He scored a total of 267 runs from 6 innings at an average of 44.5 and a superb strike rate of 104. He was Team India's second-highest run-scorer in the tournament.
Along with him was another young wicket-keeper batsman, Ishan Kishan, who was also the captain of the Indian side.  However, unlike Pant, Ishan Kishan had a miserable tournament. He could manage only 73 runs from 6 innings at an average of 12.16 and a strike rate of 73.73.
RANJI TROPHY 2016-17:
This was the turning point of Rishabh's career as he reached new heights playing for Delhi in the Ranji Trophy 2016-17 season. 
He made a staggering 972 runs from 8 innings at an average of 81 and a breath-taking strike rate of 107.28. In-process, he smashed a triple century of just 320 balls. Don't forget, we are talking about the longest format of the game here.
While batting is his secondary role, he did decently in wicket-keeping too accounting for 25 dismissals.
It was basis his exploits in the Ranji Trophy, Rishabh Pant was awarded a T20I cap against England in February 2017.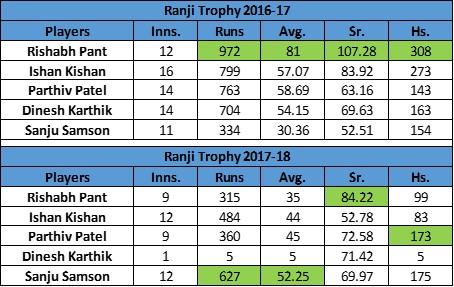 IPL 2016, 2017 & 2018:
He had a decent debut season playing for Delhi Daredevils in 2016. He could manage only 198 runs from 10 innings at an average of 24.75 and a strike rate of 130.26 with one fifty. While the numbers aren't good, the fact that Pant batted in the lower-order for many matches didn't help either.
By the time IPL 2017 came, his talent, aggressive style of batting and key performances had already made Rishabh Pant a hot property in World Cricket. Hence, I won't touch much on these two tournaments except for few facts.
In IPL 2017, he scored 366 runs at an average of 26.14 and a strike rate of 165.61. His strike rate of 165.61 was the second-highest in the tournament among players scoring 300 runs or more.
In IPL 2018, he was the second-highest scorer in the tournament scoring 684 runs from 14 innings at a superb average of 52.61 and a strike rate of 173.6.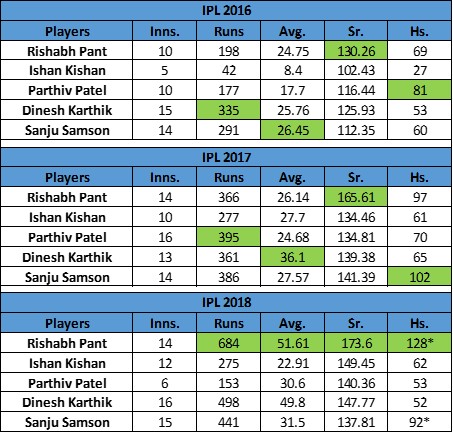 WICKET-KEEPING ISSUES 
Rishabh Pant debuted for Team India in February, 2017, but never did he get a consistent run until the England Test series, which happened in August 2018.
It goes without saying that Rishabh Pant was then drafted in the Indian side purely because of his batting performances. It reflected in the test series against Australia and England too where he shattered records after records in the batting department.
However, his wicket-keeping came under scrutiny when he played primarily as a wicket-keeper for India in the test series against England and Australia.
In these tours, he dropped as many catches as he collected, he failed to gather the ball cleanly on many of the occasions and he made many other minor mistakes too.
THE LEGACY:
We all know that MS Dhoni is the best wicket-keeper in the world currently. The legendary wicket-keeper has taken the wicket-keeping standards to such a high level that any mistake from Rishabh Pant is going to draw criticism and comparisons, and he is going to get bullied for that.
Don't get me wrong, criticism is important and necessary for players to improve their game. However, circumstantial comparisons or references are not good for any budding cricketer.
Recollect the 2004 series when 24-year-old, Dhoni debuted for Team India. He was a similar hard-hitting attacking batsman. He too was criticized for his wicket-keeping. However, he didn't have a legacy to maintain considering how poor our previous wicket-keepers were.
CONCLUSION:
As we see Rishabh Pant today, we see a batsman, who is fearless, and can change the dynamics of the game with his unique striking ability. We see a 'Work-In-Progress' wicket-keeper, who needs to work a lot to create an impact as a wicket-keeper. Moreover, we see a potential wicket-keeper batsman, who can carry forward the legacy created by MS Dhoni
All said and done, Rishabh Pant, the wonder kid is on a path, which is very difficult where he must carry-forward the burden of the legacy created by MS Dhoni and in-process carve a niche for himself.
Thanks for reading! Will Rishabh Pant be able to live up to the expectations of MS Dhoni legacy? Please, let's know in the comments. 
---
ALSO READ: Rishabh Pant equals this unique 46-year-old unique record
---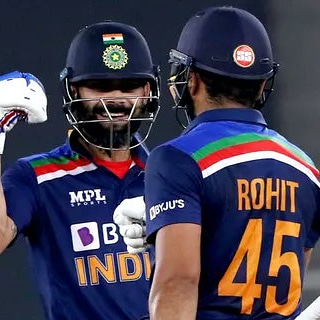 Adesh Kothari is the founder of AK4Tsay1 Cricalytics.
Cricket to him is like what 'Football is to Lionel Messi', 'Singing is to Lata Mangeshkar', 'Dancing is to Michael Jackson', and what 'Acting is to Clint Eastwood'.
Besides his effervescent love for Cricket, Adesh is an MBA by qualification.