T20 WC 2021: Semi-final Qualification Scenarios for India Explained
T20 World Cup 2021: India flying high with back-to-back wins as we look at the updated semi-final qualification scenarios for Team India. 
In what can be called a dramatic comeback, India have now won two after losing two bih matches in the T20 World Cup so far. It all started with Team India's worst T20I loss against Pakistan were they were defeated by Pakistan for the first time in a World Cup by 10 wickets. It didn't end there as the next match against New Zealand saw India go down by 8 wickets. 
However, post these two matches, India looked a completely different unit as they not only scored in excess of 200 against Afghanistan but they also managed to bowl out Scotland for just 85 runs. Both these big victories have now taken India to 4 points, and at a NRR of +1.619; the best in group 2. 
With three matches left in Group 2 along with two important matches, a dream comeback for Team India is on the cards if two of the next three important fixtures yield a result that favors India. So, what are the semi-final qualification scenarios for Team India for T20 World Cup 2021? Let's find out in this article. 
Team India Quafication Scenarios:
M: 4 // W: 2 // PTS: 4 // NRR: +1.619
Next match: Namibia 
Group 2 now has three matches left with New Zealand facing Afghanistan, Pakistan facing Scotland, and India facing Namibia. Practically, Pakistan have qualified for the semi-final, and their match against Scotland won't have any impact on Team India's qualification chances. However, a win for them will confirm a top-of-the-table finish. But a loss could mean they finish second in Group 2 to face England.
The most important match left among the pending fixtures is definitely the New Zealand vs Afghanistan match. Team India's qualification depends primarily on this match. If New Zealand win this match, India stand eliminated as New Zealand shall finish at 8 points and India can at max get to 6 points.  
However, if Afghanistan win against New Zealand, it would be gold for Team India. But a mere win may not be enough for Team India. They are currently at 4 points from 4 games with a NRR of +1.619. Whereas Afghanistan are at 4 points from 4 games at a NRR of +1.481.
Afghanistan vs NZ Match conditions
If Afghanistan win against New Zealand, the following two conditions need to go in Team India's favour to make sure India are through to the semis assuming a mandatory India win against Namibia. 
If Afghanistan bat first, they need to not win by more than 44 runs. In this case, Afghanistan's NRR shall remain below that of India. Explaining the scenario, let's assume Afghanistan score 140 in 20 overs. If New Zealand can manage even 97, Afghanistan's NRR shall stay at 1.618 – less than India.


If Afghanistan bowl first, they need to chase the target in not less than 15 overs. This will make sure, Afghanistan's NRR is below that of Team India. Explaining the scenario, let's assume New Zealand score 150 in 20 overs. In this case, Afghanistan should take more than 15 overs to stay below the NRR of India. 
In both the above scenarios, a small victory of approximately 32 runs or chasing whatever target Namibia give in approximately 16 overs shall be enough for Team India.  The good thing is, India would be playing the last league game. So if Afghanistan manage to sneak whatever victory possible, India can plan their match against Namibia accordingly.
Conclusion:
Concluding the analysis, the whole point of India's qualification primarily rests on Afghanistan vs New Zealand. Only if Afghanistan win against New Zealand, the secondary point of NRR and India's win against Namibia gets activated. But there's definitely a light down the tunnel. While currently it is Orange, the probability of that turning Red or Green is 50:50.  
Thanks for reading! Do you think India will qualify for the semi-final of the T20 World Cup 2021? Please email your comments to business@cricalytics.com
---
ALSO READ: IPL 2021 Exclusive: Best Bang for Buck Playing 11 of the Season
---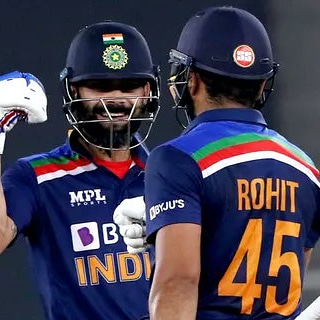 Adesh Kothari is the founder of AK4Tsay1 Cricalytics.
Cricket to him is like what 'Football is to Lionel Messi', 'Singing is to Lata Mangeshkar', 'Dancing is to Michael Jackson', and what 'Acting is to Clint Eastwood'.
Besides his effervescent love for Cricket, Adesh is an MBA by qualification.